If you've ever interacted with transportation firms, you must be aware of Comchecks. Comdata checks have made the driver's lives easier. Whether you're a broker or a carrier, Comcheck will tremendously work for you.
If you're new to Comdata, you must be thinking about Comchecks. Well, Comchecks are a distinct type of payment.
According to various folks, you can cash your Comdata checks at any truck shop. Sometimes your bank may also accept your Comchecks for payment. You must be craving to know more about Comchecks, aren't you?
In this writing, you'll get every essential information about Comdata checks. So, spare a few minutes and read the article till the end.
Key Takeaways:
Comdata has introduced a specific payment tool for drivers: Comdata checks or Comchecks.
You can cash your Comchecks at the following Truck stops.
You can find a Comdata store near you using the Comdata store locator for Comchecks payment or any query.
You can also contact customer service for any confusion at 1-866-265-3228.
What Do You Know About Comdata Checks?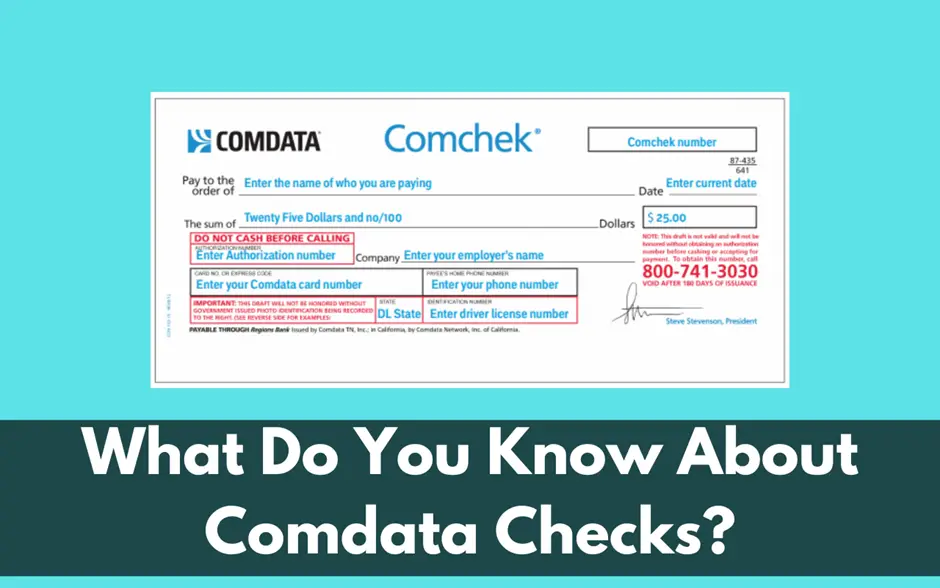 Comchecks are one of the best inventions in the transportation industry. Comdata has launched a unique payment tool, Comchecks, for the convenience of drivers, carriers, and brokers.
There's no rocket science behind Comchecks. They may also resemble the standard payment checks.
But a few additional factors make Comdata checks different from usual checks. These traits include.
Presence of supplemental tracking numbers.
The toll-free number is printed on the check's facade.
Businesses are using Comchecks for payment purposes. A lot of firms have adapted Comchecks to pay the following.
Contractors
Employees
Suppliers
Business Costs
And many more. So, if you're a driver and don't want to take plenty of cash, Comchecks are the best choice.
Where Can You Get Your Comcheck?
Hopefully, you've got what Comchecks are. You might be thinking about where you can get your Comdata checks.
If you're working with a transport company, probably the industry will provide you with a few Comchecks.
Nonetheless, if you didn't get your Comcheck from your firm, don't worry. You can get your Comdata Checks from the following.
1- Comdata
Whenever you ask about getting Comchecks, the most initial term will be Comdata. Yes, you heard it right.
You can request your Comdata checks directly from Comdata. You need to follow the given steps.
Enter your account code by accessing the online website of Comdata.
Place your order for Comchecks.
You'll receive your Comdata checks in a short time. You just have to verify your identity with the firm. For any query, you can consult with customer service.
2- Truck Stops
You can also get your Comchecks from any truck stop. Most truck stops possess blank checks. Furthermore, they can also print the Comchecks.
To get Comchecks from truck stops, you must provide accurate information, including express code and driver's data.
You'll get three blank Comchecks quickly at a time.
Here are a few major truck stops in the U.S. that can provide you with Comchecks.
And a few more. You'll be amazed that you can also cash your Comdata Checks from enlisted truck stops.
How To Verify Your Comcheck?
Let's assume you've got your Comcheck; now it's time to verify your checks. You might wonder why you need to verify your Comcheck.
The verification process declares whether your Comcheck balance is remaining or empty.
The Comcheck verification is helpful for both seller and buyer. It protects you from being scammed and also takes care of your funds. You'll need to share some information to verify your Comcheck.
The report will include pursuing data.
The Comcheck Number
The Comdata Number
The Comdata Expiration Date
The Comdata Security Code
The Amount Of The Comcheck
The shared information must be accurate to verify your Comcheck. Once your Comcheck is confirmed, your payment will be processed in no time.
How To Use Comdata check?
Comdata checks are almost like money orders. If you're on a long journey and cannot carry a lot of cash with you, then you can pay for your vehicle repairs and fuel charges with Comchecks. First of all, you must understand the usage of Comdata checks.
Using Comchecks for payment is just like a piece of butter. Here's a detailed guide for using Comdata checks.
1- Data Entry
The initial step of using Comchecks is data entry. You have to fill in the accurate information in the particular slot. You'll be asked about the following aspects.
Comcheck's Date
Amount Of Your Comcheck (Must be in dollars)
Pay To Order Of (In this spot, you'll enter the name of a merchant whom you are paying)
And proceed.
2- Contact Helpline
You may need to contact the Comdata hotline. You can call Comdata at 800-741-3030. The Comdata representative will clear all your queries and continue the payment request.
3- Fill in the Required Info
You'll be asked to enter a few more personal questions to proceed with your request. Here you'll enter the given terms.
Comdata Card Number
PIN Code (Must Be of 4 Digits)
Now, click on the button saying "Request a Comcheck."
4- Enter Your Amount
Finally, it's time to set your payment amount at Comcheck request. While entering your amount, you must pretend that decimals are invisible. Let it be more understandable for you with a quick example.
For $40 – Enter 4000
For $400 – Enter 40000
And accordingly, enter your desired amount.
5- Enter Comcheck Number
Now, you have to enter your Comcheck number. Do you know where you will find the Comcheck number?
The number will be spotted in the upper right corner of your check.
6- Submit Your Comcheck
Submit the Comcheck to the dealer you are proposing payment to. You can also deposit the Comcheck into your bank account if you prefer to do so.
The bank deposit is brought in just as if you are depositing a routine check. And that's it. Your payment will be made.
Can You Use Comdata Cards For Payments?
Yes, with Comchecks, you can also request your Comdata card. Cards are even more convenient rather than using Comdata checks. You can also make transactions on ATMs via Comdata cards.
However, if you pay via Comdata card, your fee will be more than Comchecks payments.
How To Activate Your Comdata Card?
If you have decided to utilize the Comdata card and received it, the first step is its activation. You can't make your payments without activating your Comdata Card.
Your Comdata card will arrive with an activation code you must use before accessing the card.
You can also turn on your card online by following the given steps.
Login to your account with your username and password.
Scroll down to the main menu and click on the "Card" icon.
Here you'll see an option saying "Card & Activation."
Select the "Active Card" option and proceed.
Write down the 16-digit card number and the activation code you got when your card was mailed.
Enter the other crucial information, including your address, phone number, etc.
That's it. Your card will be activated in a few working hours. Now, it's up to you to secure your account number and PIN code to avoid fraud. For any complication, you can contact customer support.
Comdata Customer Service
Many of you may still have a few queries. If yes, don't be concerned. You can also connect with a live representative at Comdata Customer service. You can call customer service at 866-265-3228.
You can also converse with customer service by contacting the official website of Comdata. The best thing about Comdata is it also provides a 'live chat' option to its customers.
You must go for a live chat with a representative if you have a quick query. But unfortunately, you can't access the live chat feature 24/7. Here are the fixed timings.
Monday To Friday: 8 am – 6 pm CST
Weekends are off for the live chat feature. So, you can drop your query at their other contact features.
Pros & Cons Of Comcheck Payments
Here are the advantages and disadvantages of using Comdata checks payments.
Pros
Easy Access To Funds
No need to carry a considerable amount of cash.
Enable drivers to get the amount faster.
Comdata records each transaction.
Straightforward access to transaction history.
Cons
Driver must contact Comdata to verify every Comcheck.
Time-taking Process.
Comcheks usually have a processing fee. Fees increase with higher payment amounts.
Bottom Line
Hopefully, you have understood each & every aspect of Comdata checks. In this writing, you have comprehended Comchecks, verified your Comchecks, and used Comchecks.
You can also request your Comdata card and activate it in a few moments anywhere.
The pros and cons of using Comcheck payments are also given in the article. Now, it's up to you whether you want to utilize it.