As Walmart's one of the biggest retailers in the US, you probably expect the most popular services.
You're never too far from one of their branches, and the company has ensured you never need to turn from them.
One of the financial services to take the world by storm, especially since the pandemic, is a buy now pay later option.
However, Walmart does not accept Afterpay as a buy now pay later option starting from 2021.
But that doesn't mean you don't have the opportunity to pay in installments because the retailer has partnered with several other flexible payment providers.
Why Can't I Use Afterpay at Walmart?
Simply put, they don't have a partnership. Walmart is partnered with other companies to provide customers a buy now pay later option for their purchases.
After the pandemic spread, many people lost their jobs and could no longer afford even daily necessities.
One of the services that picked up speed during this time is companies allowing you to pay for in-store purchases.
Afterpay is one such company. Obviously, a retailer like Walmart would also have this option, but buyers can't use Afterpay. There are, however, several other options when shopping at the store.
Does Walmart Allow Buy Now Pay Later Services?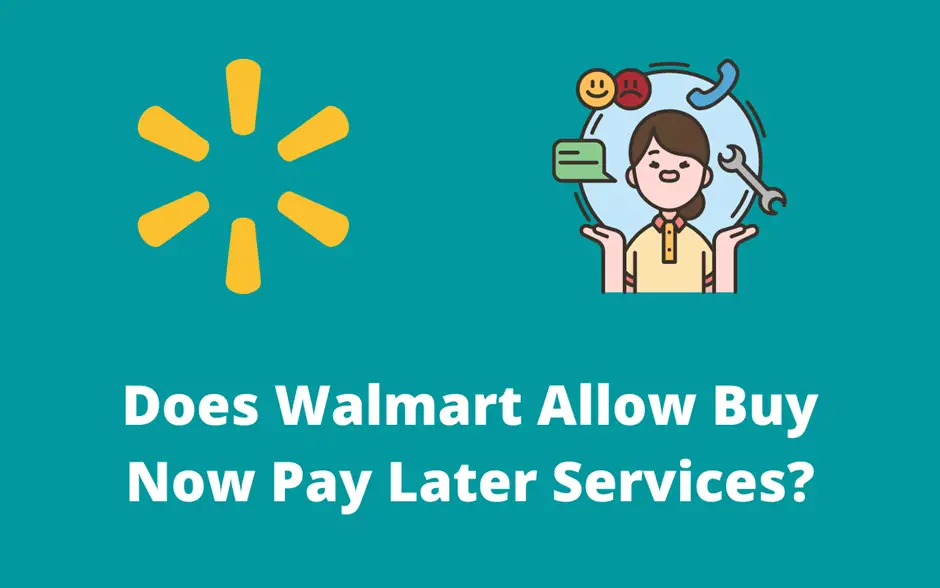 Yes, Walmart has several buy now pay later options through multiple companies. Although you can't pay using Afterpay, Walmart allows customers to make purchases through Quadpay (now Zip), Affirm, Paypal Pay in 4, and Klarna.
You can extend your playing time through any of these.
Affirm lets you make affordable payments on purchases as Walmart's premier partner in buy now pay later payments.
You can choose to pay over three months, and in the case of things like laptops or other expensive goods, this time can be stretched up to 24 months.
They're known to be transparent with their transactions, and you'll be able to see the total amount of interest and how much you'll be paying each month.
They also mention that they have no hidden fees or extra costs for things like annual fees or service fees to open and close accounts.
What Buy Now Pay Later Services Should I Use at Walmart?
It depends on what sort of purchase you're making.
Affirm is Walmart's official partner, and you'll have many plans with varying interests if you use Affirm.
Payment plans vary in interest and the number of installments. You can opt for the standard four months or stretch it to 24 months for large-scale orders.
Walmart also lets you use Zip, formerly known as Quadpay. The service enables you to split your purchase into four equal payments made over six weeks.
The retailer also has a partnership with Klarna. You'll just need to download their app and sign up for their services.
As long as you are approved, you can select Walmart and start shopping. Again, it splits your payment into four installments every two weeks.
Is Affirm Better Than Afterpay?
That depends on you, but Affirm is available at Walmart. If you want an option for the retailer, then Afterpay isn't for you.
Affirm lets you start with $0 when you first buy an item, and there are several loan plans you can choose from.
The interest can be as low as 0% or 10%, or up to 30% depending on the purchases and the total amount.
Whether or not there will be a credit check may also depend on the loan, though it usually takes place. You can rest assured that it is a trustworthy service because it has over 100,000 partnered merchants.
If you go for Affirm, your payment schedule at Walmart also varies according to your purchase. For orders ranging from $144-$799.99, you can spread installments over 3, 6, or 12 months.
For orders ranging from $800-$2,000, the schedule can be made over 12, 18, or 24 months. The actual plan will depend on your eligibility and the exact price, though they are flexible.
You will make your payments for Walmart purchases through the Affirm website or app. This is because you've taken the loan from Affirm and not the retailer.
How Does Affirm Work at Walmart?
Like any buy now pay later service, you'll choose your plan and pay your loan over a set time.
As mentioned, you'll be able to decide your payment plan according to your order.
Other than that, you can also return a financed item bought from Walmart through Affirm.
You'll need to go on the Walmart site and, once refunded, mail the item. You can also have in-store purchases returned directly.
You'll also need a mobile number from America to use Affirm. Using it won't affect your credit score, though it may change once you buy something.
FAQs
Does Walmart Affirm Check Your Credit?
Yes, if you're requesting a loan from Affirm, then they may check your credit score.
When you apply for a loan, Affirm sends a soft credit check which doesn't affect your score. Remember that you will get penalized if you end up not paying your loans on time. Not making payments will affect your credit score.
If you make payments on time, Affirm will not repair your score, so be careful when using their services.
Does Target offer Afterpay as a Buy Now Pay Later Service?
Yes, Target offers Afterpay services only for purchases made online or on their app.
Previously, you could also use Afterpay in Target stores, but it is no longer an option. However, you can still use it if you shop on their website or app. They also have a minimum and maximum limit: $35 to $1000.
Other than that, as long as you're eligible for a debit card, you can use Afterpay for Target purchases.
What Services are Similar to Afterpay?
Several buy now pay later services on the market such as Zip, Paypal, Klarna, Splitit, and more.
Different companies have partnerships with various retailers. Although Walmart doesn't have Afterpay, they do provide other options.
You can use Afterpay for online Target purchases. Adore Beauty, Sephora, Shein, and Kmart are among the stores offering Afterpay as an option.
Most retailers let you split your payment into installments through partnerships with different companies.
How Can I Sign up For Afterpay?
You just need to go to their site and enter your details to start the process.
Signing up for Afterpay is relatively simple. You'll need to ask to sign up on their website. After you've filled in the relevant details, the company will run a soft credit check.
Once you're approved, you'll get a welcome email. The site will ask for your debit card information before making the payments.
Signing up or canceling your account is free, so you don't have to worry about extra charges.
Does Afterpay Charge Interest?
No, Afterpay does not charge interest on any purchases.
Although it seems too good to be true, many buy now pay later services are completely interest-free. However, it's advisable if you make payments on time.
This is because the Afterpay business model relies largely on money from partnered merchants. Since people can afford more purchases if they don't have to pay for everything at once, stores hope to attract more customers using Afterpay.
Does Afterpay Charge Late Fees?
Yes, you will be penalized $10 if you're late on a payment.
You should be careful with your payments because you'll have to pay the initial late fee. If you don't manage to have your account brought up to date within a week, you'll have to pay another $7 fee.
In some instances, the Afterpay website also mentions that late customers in the US may have to pay 25% of the order price.
We hope this answers all your queries about Afterpay and buy now pay later options at Walmart!