The term "Payment Plan" means an agreement that involves equal monthly payments. Borrowers or creditors always organize and decide about an agreement beforehand. The plan takes place for a set duration of time.
It usually occurs at the pace of installments, which are paid at the due and predetermined time.
Some payment plans in consumer finance contain a monthly schedule—for example, auto loans and point-of-sale retail loans. Also, the customer makes a determined payment monthly in a finance payment plan. Until the borrower pays the balance in full, the amount continues. Other names for payment plans are layaway plans, installment plans, and credit plans.
Understanding The Concept Of A Payment Plan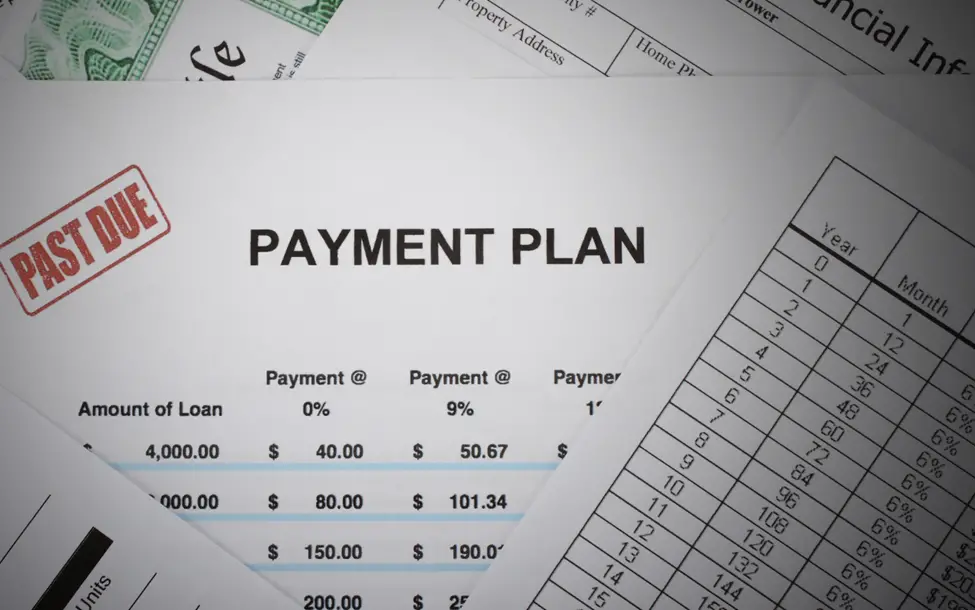 A payment plan is also known as an Installment Payment Plan. It ensures the payment of outstanding debts on time.
The sectors which involve critical and expensive purchases apply the "payment plan." Auto, mortgage, and college tuition payments come under the category of these sectors.
These sectors carry out customized payment plans for their respective customers. Yet, some businesses also carry out these plans for better sales.
Meanwhile, with credit cards, a more flexible payment schedule is necessary. The flexible schedule has a minor monthly rule. Hence, it allows borrowers to choose the amount and time of payment.
Payment plan agreement
The payment plan agreement is a formal legal document. A payment plan agreement permits one party to pay off a more significant debt over time with a series of smaller installments.
The agreement aims to highlight the amount of money one must pay. It also clarifies the time of payment and all other underlying possibilities.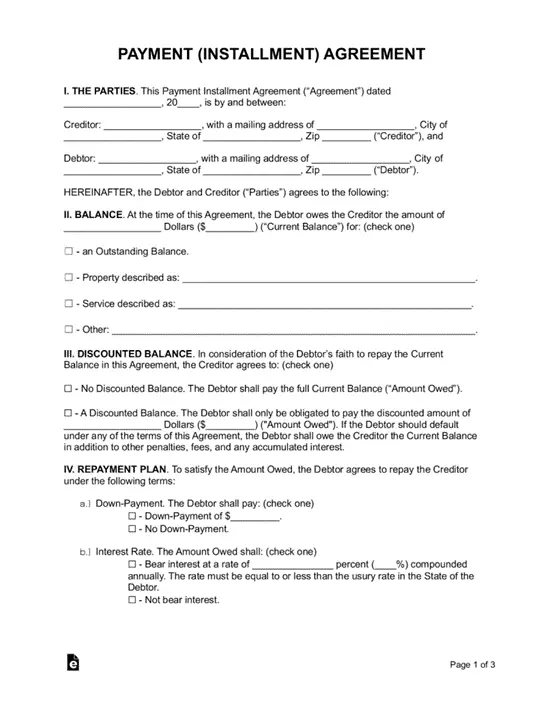 Image source: e-forms
The above image is a "payment plan agreement". It shows the terms and conditions and the flexibility of options.
Interest rate in Payment Plans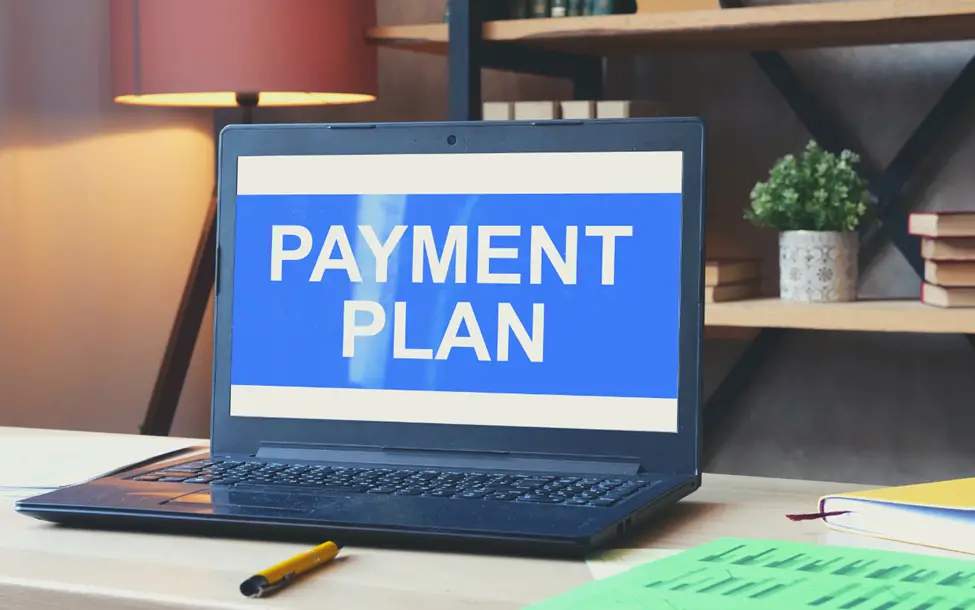 A distinct quality of payment plans involves very little or no interest. In comparison, all other financing channels apply the interest rate with fluctuations. The feature Counts the benefits of payment plans.
Payment Plan Options
There are several options available by which we can carry out the payment plans. Customers and borrowers are free to choose the possibility of their own choice.
We refer to this situation as the "flexibility" of the company for customers. Some of the payment options are:
Debit card
Checks
Cash
Online payments
Cashier checks
Automatic withdrawal
What sector applies a payment plan?
As stated earlier, we apply a payment plan over the sectors where dealings are complex to handle.
Besides it, balance is also expensive. Some are real estate, mortgages, auto industries, businesses, and college tuition.
Payment plan in reverse mortgage
A payment plan in a reverse mortgage is a "term payment plan." To determine a term payment, you first need to understand "reverse mortgage."
A reverse mortgage is exactly the opposite of a traditional mortgage. It applies to senior citizens of age 62 or above who borrow monthly payments.
The Term payment plan is a kind of formula to receive payments on a reverse mortgage. In this scenario, you receive an equal monthly sum over a predetermined time.
Payments are no longer accepted after the term has ended. This payment type suits senior citizens, especially those above 62 and older.
Payment Plans in Business
First, a question pops up "why do we need payment plans for businesses?" The reasons are plain. Whenever there is business, financial dealings are there! Some of the quite fair reasons are:
If your product/services are out of budget for your customer, they are still necessities.
Need for alternative credit card financing
Exceptional basis
While deciding on the payment plan, you must deliberate a few things to protect your business. We can enlist them a:
Be clear
Give them detailed terms upfront
Be clear about the rewards and penalties
Clarity of essential items like plan duration, total fee, and broken payments.
How to set up a Payment Plan?
Creditor and debtor define the terms and conditions in a mutual legal agreement. They do so after mutual consent.
A payment plan is the best option for a debtor to clear out the outstanding debts.
The steps for setting up a payment plan are:
Terms and conditions
Payment related to products/services and costs associated with outstanding debts (past debts). Two payment plans are out there.
As dictated earlier, both parties, with their consent, agree to the terms. They hence figure out the best payment plan suitable for both of them.
Payment Agreement
Write the terms of the payment as an agreement. Jot down essential words over the contract.
It would help if you undertook the following things into consideration when writing the agreement:
Creditor and debtor's name/address
balance acknowledgment
interest rate
late payment
payment instructions
Payment schedule
Get to know the debtor's details. Debtor's details become a necessity in case of automatic payments. Such types of payment charge either a credit card or bank account for an installment period.
Release form
After the payment of the entire balance, the debtor is released. Creditors can do it through a Release Form.
Hence, the debtor can use it to cut any unpaid debt on their credit report. The debtor must have no further financial obligations.
Steps for a successful payment plan
The success of a payment plan in any business or big industry needs decent arrangements. Some ‌steps for a successful payment plan are:
First, ask for full payment.
If it's out of the customer's budget, split the balance into two parts. Assign due dates for each piece.
Figure out the details about the customer's financial situation.
As you examine the scenario, ask open-ended questions.
Instead of the regular monthly payments, suggest weekly or twice weekly payments. You will receive more monthly money, speeding up the debt repayment process.
Get to a helpful and reasonable deal with customers.
 Record a commitment.
Send the client a letter outlining your knowledge of the contract.
Seek signatures on the respective agreement.
Send a confirmation letter over the agreement of the arrangement.
 Ten days before the due date of payment, send a reminder.
The customer will receive notice in writing. The statement will say they still have days to pay before the agreement ends.
Payment Plans: a savior
Not every time; dedication wins! This situation happens in business most of the time. There may come a problem when invoices remain unpaid despite your super efforts—thinking of all these awful comings, plan‌!
In such turmoil, payment plans are the best strategy. Why so? Because Payment Plans render flexible options for payment to customers.
And guess what? The system doesn't need a single penny for paying agencies.
The last thing to do is "stick" to the plan. Don't get diverged from whatever payment plan you have figured out.
Advantages of offering payment plans
A payment plan has many advantages, as it is an all-in-one solution for customers' problems. Some of the positive points of the payment plan are:
Predictable cash flow
Convenient setup
Encourage customer loyalty
Increase the sales
Build confidence in the customer
Security for customer
Automation
Drawbacks of Payment Plan
Despite the exceptional benefits of the payment plan, several loopholes are there. The drawbacks enlist:
Late payment fee
Affect consumer loan
Check least credit score
Aggressive collection techniques