In 2019, a global pandemic took the world by storm. COVID-19 made people follow strict staying-at-home orders and changed a few other things.
While COVID made employees' life easier by allowing them to work from home and take care of their kids, it has made travel much trickier.
Even in 2022, when there is a major decline in COVID cases and restrictions have been uplifted, there are a few new travel realities that must be addressed to make the journey easier.
Traveling with ease gives peace of mind to any traveler. Having a Known Traveler Number with you is quite crucial if you want to travel with peace of mind.
Acquiring your Known Traveler Number might require a lot of effort, but in the end, it will be a worth-having tool in your post-pandemic traveler's arsenal.
When reserving flights, you might have seen an optional box requiring your Known Traveler Number (KTN).
While many people know what KTN number is and have already acquired it, some might not know much about it, especially people new to traveling.
Are you also wondering what the KTN number is and how it works? Read on to find an answer to all your KTN queries!
What is a Known Traveller Number?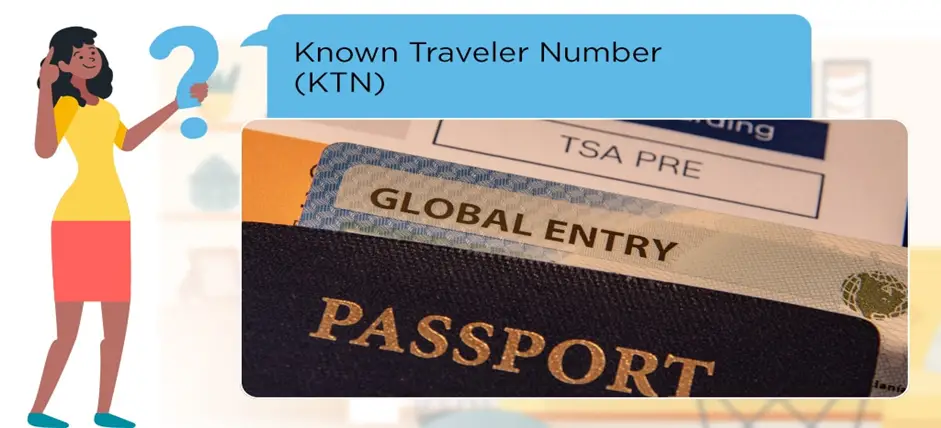 In 2013, the U.S Transportation Security Administration launched TSA PreCheck. It was launched to make airport security a smoother and hassle-free experience for travelers at selected airports across the United States of America.
A Known Traveler Number (KTN), also commonly referred to as a Trusted Traveler Number, is a special number allotted to travelers by the United States Transportation Security.
Depending on the company they choose, any traveler that pays fees of $85 or more is designated a special number after a complete background check, in-person interview, and fingerprint scan.
When booking your flight online, you must look for a special field to enter your KTN. Once you find the special field, add your KTN to your booking carefully.
Doing so will ensure that your TSA PreCheck Approval appears on the reservation and later on your boarding pass.
If you have a KTN mentioned on your boarding pass, it will help you expedite the airport screening process, making you skip unnecessary lines and save yourself a lot of precious time.
Who Can Use Your Known Traveler Number?
Do you often wonder whether your sister, brother, or spouse can use your KTN? Absolutely not.
Anyone approved for TSA PreCheck, Global Entry, Clear, or Nexus will be issued a Known Traveler Number that will provide service to only the person approved.
If your sister, brother, or spouse also wants to make their travel experience hassle-free, they will have to apply for their own KTN number and go through a similar testing process as you.
Furthermore, it is worth mentioning that only U.S citizens, nationals, and permanent residents can apply for the Known Traveler Number.
However, a few companies, such as Global Entry, SENTRI, and NEXUS, also allow foreign citizens to apply for a KTN.
The testing process for foreign citizens might be a little more complicated than the process for U.S citizens and nationals.
However, once you clear that hurdle, your KTN will be sent to you, and you will no longer have to undergo an unnecessary security screening process at selected U.S airports.
Why Do You Need a Known Traveler Number?
Are you a travel enthusiast? Well, you must apply for a KTN.
Having your Known Traveler Number will make you eligible for using the TSA PreCheck safety screening lanes at selected U.S airports. Your KTN will make your airport security experience smoother and hassle-free.
Also, if you are a Global Entry member, you can utilize the expedited custom processing by just showing your KTN at selected U.S airports.
However, the benefits of KTN vary depending on which Trusted Traveler Program you are registered to.
For example, if you have a KTN issued by TSA PreCheck, you will be allowed to enter TSA PreCheck safety lanes.
However, if you are a member of Global Entry, you will have the right to enter Global Entry lanes.
How to Get a Known Traveler Number?
You must register yourself in any Trusted Traveler Program to get a KTN. The application process for all Trusted Traveler Programs is quite simple. First, applicants will be asked to fill out an online application.
Later, an in-person applicant interview will be scheduled for a background check, fingerprint scan, and submission of other documents.
However, you must remember that only websites ending with "gov" are legitimate websites for designating Known Traveler Numbers.
Therefore, you must not give your personal information to any non-gov site claiming to be the KTN application portal.
Here are a few Trusted Traveler Programs that you can  participate in to qualify for a Known Traveler Number:
TSA PreCheck
TSA PreCheck is undoubtedly one of the most popular and reliable Trusted Traveler Programs.
Now, you might be wondering what is all the hype around TSA PreCheck about. TSA PreCheck is the only Trusted Traveler Program under the U.S Transportation Security Administration.
TSA PreCheck has made it easier for many travelers to get through airport security. When applying for a KTN, TSA PreCheck remains the first choice for many people because of the convenience and comfort it provides its members.
If you also want to get your KTN issued by TSA PreCheck, you will have to fill out the application and wait for the approval.
Once the application is approved, you will be designated a KTN valid for 5 years. After the expiration date, you will have to renew your TSA PreCheck membership – KTN.
Global Entry
Another Trusted Traveler Program preferred by foreign people visiting the U.S frequently is Global Entry.
It pre-screens and does a necessary background check and fingerprint scan for potential red flags.
This pre-scan aims to determine whether you have a criminal record and pose a risk to the visiting country – the United States of America.
However, suppose the member does not have any potential red flags. In that case, the Global Entry will grant them a membership – Known Traveler Number, which will make things quite easier for foreign people at selected U.S airports.
Now, you might be wondering where Global Entry interviews happen. Well, these interviews happen at an enrollment center in any major international airport worldwide.
For applying for a Global Entry membership that is KTN, you will have to provide your biometrics and have an in-person interview with a CBP Officer.
If everything goes well, you will be designated a Global Entry KTN.
SENTRI
SENTRI – Secure Electronic Network for Travelers Rapid Inspection is another Trusted Traveler Program that offers security control to its members when traveling outside the country.
Having a SENTRI membership will make your traveling more convenient and hassle-free.
SENTRI members can easily get into the U.S using special lanes by specific Southern Land border ports.
Also, if you are a SENTRI member, you can use NEXUS lanes from Canada to the U.S.
SENTRI membership is preferred over other private Trusted Traveler Programs because it will work in countries like Germany, Panama, the U.K., Taiwan, and the Netherlands.
NEXUS
Do you want to beat the long queues and quickly get to your flight seat?
Get a Nexus membership or KTN.
Nexus is another Trusted Traveler Program that makes it easier for travelers to simplify the complicated airport clearance process in the United States of America.
However, unlike SENTRI, Nexus is a dedicated Trusted Traveler Progam for people entering the United States of America or Canada.
Therefore, your NEXUS membership will not work in other countries.
What to Do If You Have Misplaced or Forgotten Your KTN?
Many people often misplace or forget their KTN and wonder how they can get it back. Do you have a similar problem?
Stress no more. If you are a TSA PreCheck member, you can look up your KTN online on their official website.
However, if you are a member of another Trusted Traveler Program, you can log in to their official website to find your KTN.
Members of Global Entry can also find their KTN on the backside of the Global Entry card issued by CBP.
Can you Add a KTN after Booking a Flight Online?
Many people often forget to add their KTN while making flight bookings online. If you have a flight coming up shortly and you still have not added your KTN to your ticket, you are not out of luck entirely.
To add a KTN to your already booked flight, you can call the airline's customer support service and ask them to issue you a new boarding pass with your KTN mentioned.
However, if you cannot get a hold of the airline's customer support service, you can visit the service desk on the day of your flight before passing through security.
After providing your KTN to the service desk agent, you will get a new boarding pass issued with your KTN.
Therefore, you can ditch the long security lines and get to your seat quickly.