Do you want to sell your car and are thinking about whether it is a good idea to go for CarMax or not? Well, CarMax needs no introduction. It is the biggest used vehicle retailer in the country, with more than 200 stores across the states.
However, it is also famous that the company offers you a lot less money for the cars than you deserve. So, is that really the case? Should you not sell your vehicle to CarMax then?
Well, you should definitely sell your car to CarMax. The rumors of you getting a ridiculously low price from the company is not true. CarMax offers reasonable prices, unlike many other dealers. In fact, you can get an offer for your car online after providing some information. If you like it, you can just take your car to a local CarMax store and get back home with full payment.
Want some detailed information? Then continue reading.
Why Should You Sell Your Car To CarMax? Explaining The Reasons!
You should prefer to sell your cars to CarMax for many reasons. You already read above about the retailer offering competitive prices. But there's more to it.
Let me now tell you some other reasons as well.
It Is a Reputable Company
Buying and selling are smooth and without any hindrances, if the other party involved is credible. And CarMax is definitely trustworthy as it is the biggest used vehicle retailer in the whole USA. No other company or any dealer is in the same league. 
According to the CarMax official website, the company purchased more than 650,000 vehicles last year alone. It means more or less 650,000 people trusted CarMax, liked the offer, and sold their vehicles.
Financing Flexibility
Another reason why you should sell your car to CarMax is that it provides financial flexibility. You can auto finance or get help from CarMax financing partners. You can also involve your lender in this whole buying-selling process.
CarMax will still not judge you if your credit score is not good. In fact, the retailer will also pay off your lien if you have any.
You Can Sell Any Car
No matter which car model you own, you can sell it at CarMax. The chain does not have any policy of not accepting any specific car. As long as your vehicle is in good condition and runs fine, then CarMax will buy it.
However, for damaged cars. Money will be offered a lot less.
It Can Save Your Precious Time
Selling cars on your own can take more time. You will have to put ads, deal with many calls, and answer many questions. The buyers also ask the sellers to let the cars get checked by their mechanics. This wastes too much time you might have spent doing other productive things.
At CarMax, the team will inspect your car within minutes, and you get a written offer straight away.
No Worry About The Renovations
When selling cars privately, owners have to renovate them in the hope of getting a bigger offer. But you don't have to do this if you have decided to sell your car to CarMax.
Minor imperfections mean nothing to CarMax. It is the maintenance that the staff check, not some tiny scratch. Slight distortions won't affect the final offer.
Impressive Customer Service
Another great reason to sell your cars to CarMax is the excellent customer service.
CarMax will still make a great offer even if you are just selling your car and not buying a new one. In some stores now, buying a car from them is necessary if you want to sell yours at a good price.
Also, if you want to know anything, you can contact them any day except Sunday. The helpline is open from 8 am to 10 pm from Monday to Friday. On Saturday, it is open from 9 am to 6 pm. Their helpline number is 1-800-925-3612.
You now know the reason why you should sell your car to CarMax. It's now time to know another important thing-"how?"
How To Sell Your Car To CarMax?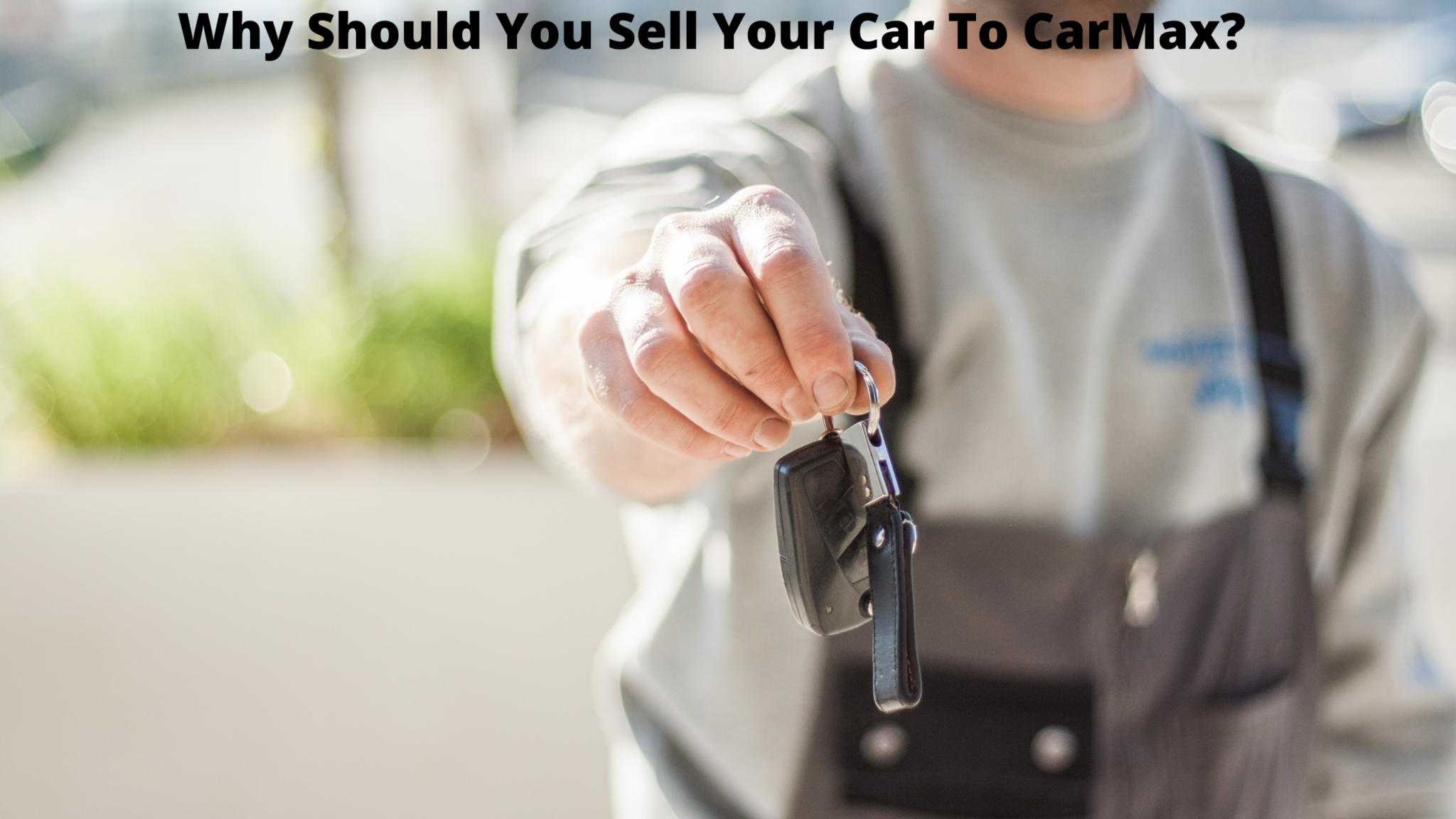 Selling cars to CarMax is quick and uncomplicated. You don't have to spend hours on negotiations and bringing a bagful of documents.
You can sell your car at CarMax in two ways.
In Person
You can contact CarMax, make an appointment, and then bring your car to the scheduled date. The inspection team will inspect the vehicle with care and make notes.
The factors that will be inspected (which also play a significant role in CarMax's final offer) are:
Mileage
Condition
Whether it has ever been crashed
Maintenance
After that, you will be given an offer letter that is valid for one week. You can then just take your car home and try to sell it to different buyers. That's what most people do. If they get a better offer than CarMax, they just sell it. If they don't, well, then they can always say yes to CarMax.
But remember that you will have to say yes within seven days of getting the offer.
Also, the amount offered is a final offer. It is non-negotiable, and you can't bargain about it with the staff. Whether you want to accept or reject it is up to you.
Don't worry; you always get an excellent offer at CarMax if your car is in good condition. Sometimes, owners think the car they have is perfect, but if the inspection team detects faults, then this will reduce the final offer.
If you think the offer is good enough and decide to sell your car to CarMax, then take your vehicle to the local store and bring along some documents. Payoff information, registration, and your govt or state-issued photo ID are a must. In addition, you should also bring all the keys and fibs of the cars you have.
After processing everything, CarMax will offer a bank draft, which you can cash in at the bank.
Online
CarMax has facilitated all the sellers by allowing them to start the selling process online.
You can visit the CarMax Official website, provide details, and receive an offer within a few minutes. It's that simple.
What details, you might ask? Just the basic ones like car condition, license plate number, and where's your car registered. Also, you will need to provide the zip code of the city.
After that, CarMax will review the details and make you an offer.
People often think the online offer you get is an estimation. That's not the case. It's a real offer, and you will have to respond to it within a week.
If you like it, you will then have to bring your car to a nearby CarMax store. The staff will re-check the details you have provided, then you will both sign some papers, and then CarMax will hand the payment to you.
Will CarMax Still Buy My Car If I Owe Money On It?
Have a lien on your car? Don't worry; CarMax will still buy it. The management will contact the lien holder to deal with this payoff situation.
You will have to submit the following information to CarMax in this case:
Lien Holder Name and Contact info
Lien Account number
Social security number
After processing everything, CarMax will help you with the payoff.
In some cases, the payoffs are more than the offer you get from CarMax. This is called "Negative Equity" in the world of finance.
In this situation, you will have to pay the remaining amount to CarMax. Again, you are not forced to do all of this. Whether to accept CarMax's offer or reject it is up to you.
Note that CarMax only accepts Bankers or certified checks. If you have to pay less than 250$, then personal checks are acceptable too. If you have cash, you can pay with it as well.
Final Words
So, should you sell your car to CarMax?
Yes, you should go for CarMax if you want to sell your car at a good price. Dealing with the buyers privately is indeed hectic. But at CarMax, everything is smooth and easy.
Vehicle sellers now prefer CarMax because it is reputable, flexible in the financing, saves time, doesn't care about minor imperfections, and offers great customer service.
You can just visit the website, fill in some details, and get the offer straightaway. If you like it, bring your car to any local store.
Furthermore, bring your own and vehicle's documents as well. When the inspection team is done with your car and everything will be found according to the information you put online, then CarMax will hand you Banker's draft. That's it!