Home Depot is America's largest home improvement retailer with a wide customer base. Due to its national presence and size, a large number of employees are employed at Home Depot.
You can shop for all kinds of home improvement products like tools, decor items, fixtures and fittings, remodeling materials, spare parts of any appliances, patio furniture, barbeque grills, and the list just goes on.
If you get a job at Home Depot, you will need to register yourself to the My Apron account of the Home Depot Inc. However, you cannot access it from your phone or home as it is an inter-store portal for employees.
What is Home Depot's My Apron account?
When an employee is hired at Home Depot, they are signed up for the Home Depot's My Apron account. This is an intranet portal that can be accessed by the administration personnel and staff members of Home Depot Inc. only.
This software is used for checking the morning attendance, payroll, safety checklists, training staff, employee schedules, timings, shifts, and vacations.
It is only accessible to the Home Depot associates, administration, staff members, and important personnel. It is not public and has strict rules against sharing the private information of this portal with the public; therefore, it is not accessible from your phone or your home laptop / PC.
What are the benefits of using My Apron?
Home Depot is a huge company and covers a fairly large market in the United States. Managing the employees and their performances, attendance, leaves, and more is not a piece of cake.
However, the inter-store portal is linked via My Apron, an employee dashboard app that manages all the individual affairs of the employees like personal information, payroll deposits, tax documents, schedules, benefits, vacations, leave, payroll, etc.
My Apron also allows employees to apply for promotions or new positions. To access it, the employees must be registered at hiring and have a user ID and password to access the My Apron Network.
Why can't I access my My Apron account from my phone?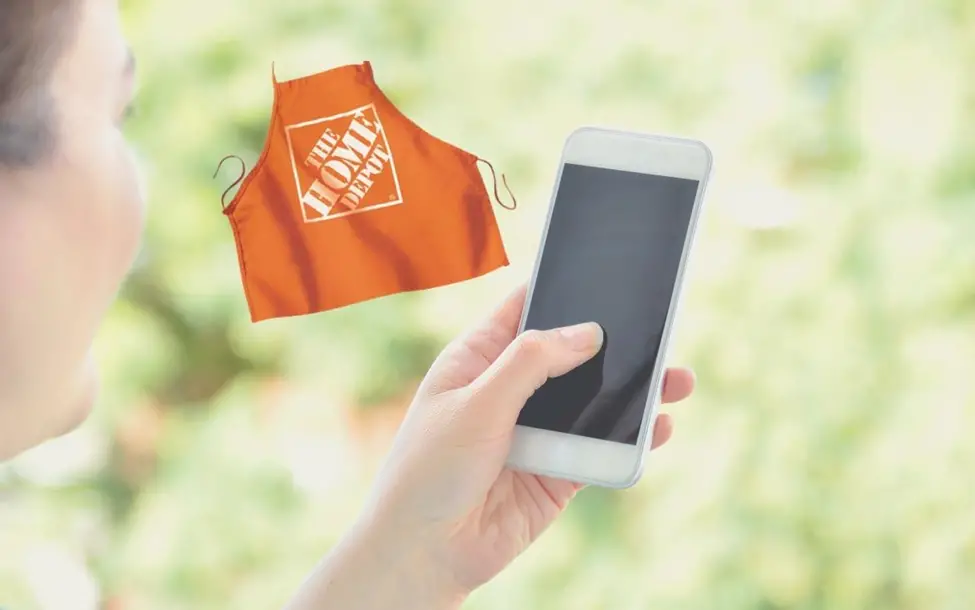 As mentioned earlier, one of the reasons is that it is an inter-store portal, and one cannot access it from their phone or their home computer. The fact of the matter here is that this software system contains very confidential, crucial, and proprietary information which must be kept hidden and safe from the global forums.
The access needs to be limited for the company's security and its employees. If it is accessible over the internet, the competitors and other instigators can use that information for their personal benefits.
It is for the company to keep its secrets within its boundaries, and as it has invested a large sum in the development of the different aspects of its business, leaking this information to the general public will be extremely risky.
What should I do if I don't remember my password?
It is a common problem that most users face when they have different accounts to maintain. If you don't remember your My Apron password, you can reset it to continue using your account. You can simply follow the steps outlined below to reset your My Apron password.
Go to My Apron login page and tap 'forgot password.'
You will be directed to another page where they ask your security question. This is the same question you selected when setting up your account so you can answer accordingly. If you don't remember the question and answer, you can choose a one-time password to be sent to your registered mobile number to ensure you are an account holder.
Once verified, you can enter the new password.
You may have to retype it to confirm your password.
After you have reset your password, open the login page again and enter your new credentials.
If you still face issues changing your password, you can reach out to My Apron's Human Resource Team for additional support in resetting your password.
What other way can I access Home Depot's online employee portal?
Since you cannot access the My Apron account from your phone, there is another way to check Home Depot's employee portal that carries some information that does not harm the company if shared publicly.
This program is called MyTHDHR, and this can give you access after you log in with your user ID and password. This will provide you with access to everything you want to know about the Home Depot employee website.
You can get access to Home Depot Human Resources contact details like phone numbers and view the company's benefit programs for the time being.
The MyTHDHR allows you, as an employee, to see and manage your schedules, view your paystubs, check out any new benefits, and keep updated about the latest news on Home Depot.
How can I access my schedule from the MyTHDHR website?
The most viewed and accessed function of the Home Depot's MyTHDHR website is the "View your Schedule" function.
It is quite clear from the name that this tool is used to know your scheduled days and timings for your dedicated work assigned to you by your company's mutual understanding.
You can view your upcoming schedule and check your past attendance along with pay stubs and information and documents about your tax details.
How to sign in to the MyTHDHR account?
You can sign-in with your user ID and password. Remember to mention the correct store number that you are working at. After signing in, you will be forwarded to a scheduling tool.
If you have trouble signing in, recheck your caps lock on your keyboard as the ID would be case-sensitive. Also, check if you have mentioned the correct store number of the Home Depot branch you are employed at.
Lastly, if you are still finding it difficult to log into the MyTHDHR account, then call their helpline at 1-866-myTHDHR and ask for assistance from their associates on the other side.
How can I change my personal information as an employee in the Home Depot Records?
Being an employee in Home Depot allows you to access your information as well as change it too. The Home Depot ESS- Employee Self Service Validation System allows Home Depot workers to put in their information or change the current information, like phone number, address, or email, in the company's records.
Employees can change their tax withholdings and direct deposit information with ESS. They can view and print their previous pay statements and tax documents.
The employees can activate their payroll car and edit their personal information like a change of address and contact details themselves.
This eases the burden on the company's HR department and makes the employees more responsible for their jobs at Home Depot Inc.
The company employs more than 385 thousand associates, and the firm is the fifth largest employer of the companies listed in the S&P 500.
Is there any other way to get the Home Depot's employee benefits portal?
Yes, indeed, there is another website that you can use to access the employee benefits portal.
Live the Orange Life is a website where you can access the basic details of the employees' benefits offered by Home Depot. You can access the webpage at www.livethehealthyorangelife.com.
This is a separate website and has its own home page, with benefits for the Home Depot's employees too.
You can use this page to register yourself here as a new user, using a new or different user ID and a password, particularly for this website, by clicking on the "Are you a new user?" link to create a new account.
Conclusion
Even though you cannot access the My Apron account, that is the official employee details and benefits account, on your phone, there are a number of ways you can access and change your employee details on other platforms.
The My Apron is accessible only on the Home Depot's intranet portal, and that is the reason it is not accessible to you on your phone.
It has sensitive information which should be secured within the boundaries of the Home Depot's system, or else competitors might just take advantage.
The other ways to access your employee schedule, benefits, vacation, tax, and pay is to go by via MyTHDHR, the Home Depot's ESS, and Live the Orange Life.