Appointing all the high-quality professionals from one platform sounds good; meeting all the geniuses at one place is also very convenient.
So, thanks to Highrise Networks, a Private Limited Company, which is involved in the connection of top-quality professionals and masterminds from all over the US.
High Rise Networks is growing very fast because of its top-notch professionals; one of the main focuses of this community is to build a strong relationship of trust and reliability and provide the opportunity to exchange knowledge, information, referrals, and resources to expand the business revenue.
Every member of this community is highly specialized in their respective fields. Despite these features and favors, various people have insecurities and concerns about Highrise, and they hesitate to join this network.
However, to overcome all the ambiguities about the Highrise Networks Legitimation, let's explore more about it.
Is Highrise Networks Legitimate?
Highrise selects its members based on knowledge and experience in specific work areas and their contribution to the group.
Each group limit is 15-20 members, one member per industry in each group is allowed. Highrise believes small groups are more productive and easy to build strong relationships.
Currently, it is managing 80+ groups all across the US, including San Francisco, Orange County, Houston, Austin, New York, Boston, and others.
After the complete process of the interview, the highrise membership committee will call for the formal interview of those who are qualified.
Highrise Membership Opportunities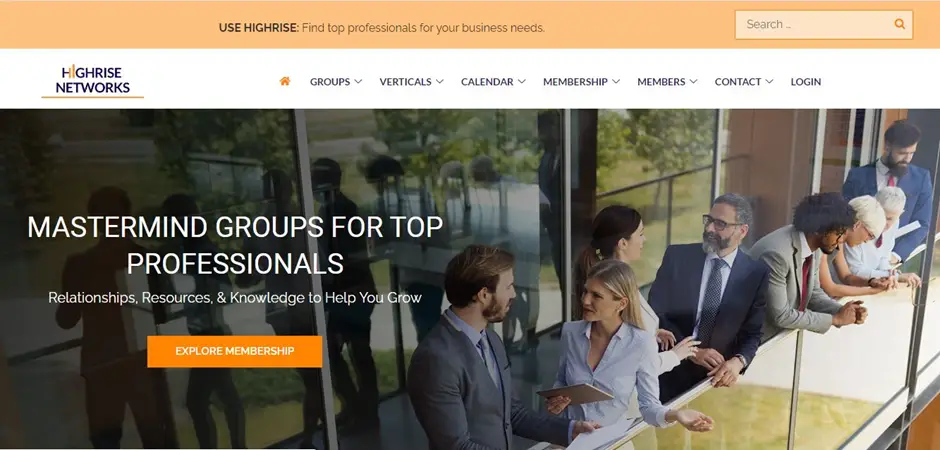 Highrise Networks is a business networking with highly skilled and qualified members who can build an excellent relationship to share business knowledge and resources.
Membership in this highly recommended organization included various opportunities, such as;
1.    Expand Business Networking And Event Participation
As a member of Highrise Networks, you will be able to expand your business network; you can enhance your business turnover yearly with the help of this organization.
So after hearing about these profitable opportunities, every businessman would like to get a membership and meet the top-level professionals locally and nationally.
A meet and greet event is a virtual meeting of all community members held every week; as a part of the membership, every member is invited to participate in an event. Members can also host the events; if they want to highlight their organization and tell the other members about their firm strategies. In addition, some in-person events can be scheduled but are not limited to in-person; other participants can also participate.
2.    Participation In High Rise Mastermind Groups
After the meeting with other professionals, for a stronger bonding with members, Highrise's members will build strong and amiable relationships and share different business views based on knowledge and experience.
Members can meet for 90-minutes a month to share their ideas in detail, set the different business strategies to remove the hurdles in the growth of the business and be the best advisor for each other.
You can also attend the other mastermind groups on request and approval.
There are some of the offers for organized groups:
One specialized person is allowed in each mastermind group to create a non-competitive environment for discussion.
In mastermind groups, every person has to share sensitive information, so every member is expected to maintain confidentiality.
For a detailed discussion of every member, Highrise limited the group members; to 15 to 20 members.
All mastermind group members are interviewed by research staff to ensure they have high skills and meet the standard of the particular group.
Selected members of mastermind groups are highly recommended and proficient in their skills.
3.     Searchable Online Profiles
After gaining the Highrise Networks membership, it will create your online profile for their Member Directory that can be searchable in online searches.
You can add different information to your profile, like company emails, company websites, and other company links.
You can also protect all these pieces of information from others.
Highrise Networks will give you the login authority to access your profile and make changes according to your choice.
4.    Different Ways To Share Information
You can access other community members' insights using different communication tools and ways.
These communication channels may include social media, newsletters, conversational platforms, and content submission on various websites.
This way, you will be capable of exchanging your business ideas nationwide.
In addition, Highrise often conducts panel discussions where every participant can share ideas and information.
5.    Highly Access To Resources
Highrise Networks is looking for ways to share the information with members individually.
Some members don't find it convenient to share valuable and confidential information in groups and in in-depth conversations.
Many resources can be explored to share knowledge and ideas with members, which are not limited to the newsletters only.
Our Take: Is Highrise Networks Legitimate?
After the above-detailed discussion, everyone can answer whether Highrise Networks is legit. After the positive and negative reviews, we can say that it is safe and legit because its rating is growing; members find it more reliable and secure.
Pros And Cons Of Highrise Networks
Pros:
The Highrise Networks are highly affordable and easy to use.
You can access it from your computer and mobile, place all your data in one place, and manage it easily.
Very responsive customer support, can import and export contacts.
It keeps updating its features and continuously adding more new features.
Highrise is straightforward and user-friendly; no need to understand the software.
Every group member can easily understand and see the work of other members by updating the insight on profiles.
Every member can contact the customer using the mailing contact information.
Cons:
Lack of Updating and financial information.
It doesn't work with automatic follow-ups and the completion of a task.
Development is required, especially in a mobile application.
It is not pretty good for a large organization, as the news feed is not helpful for business organizations.
It needs to update all the features and databases regularly, as it finds it difficult to find the targeted companies.
Frequently Ask Questions
Let's dive into the FAQs section for further details.
How Much Does It Cost?
The membership cost depends upon the membership type and the group you want to join. For more details, contact Member Service Directors or email member services at  [email protected]
Where Are The Group Meetings Held?
Usually, meetings are held within walking distance of your office or might be in the same business area.
Virtual meetings can be controlled via Zoom for national participants.
What Happens In The Meetings?
Group meetings follow the rules of a mastermind group in which three members have to present for 20 minutes each.
Each presenter will talk about the issues facing their business and intensely discuss the strategies for the business's success.
Who Are The Current Members Of Highrise Networks?
Highrise Networks is entirely transparent, and a list of members of each group is available on the website.
How Do The Verticals Work?
Verticals are industry specialty groups; their main focus is to discuss industry trends, deals, and opportunities.
Vertical meetings are held quarterly, and every participant can attend this meeting. A national participant can join the vertical via Zoom.
How Many Members Does Each Group Have?
Highrise finds it more productive to have smaller groups; each group has 15-20 members; this structure allows the members to build strong and beneficial relationships and get new and better opportunities.
Our Summary
Highrise Networks is a group of masterminds organization having top-level professionals locally and nationally.
It is a private limited company and currently deals in civic and social organizational areas.
It provides opportunities for the different real estate companies, Mergers, Acquisitions, Technology Entertainment, and Management Consulting to meet in one place and discuss all the business-related issues in detail.
In addition, there are various beneficial opportunities for members to avail themselves after membership.
So, use the highrise platform to find quality professionals for your business.