Overview
Since Rakuten's inception in 1997, it has contributed to the evolution of online shopping by providing customers with promotions, incentives, and Cash Back on the greatest range of services and items available.
From 2014 onwards, Ebates has rebranded itself into Rakuten. For that reason, we will be referring to it as "Rakuten" in this article.
A total of $1 billion cashback has been earned by 12 million Rakuten members in the United States by far.
The company works with over 2,500 shops to provide cashback benefits on all consumer products and services. Walmart, Sephora, Nordstroms, Target, and Amazon are among its largest retail partners.
Company Profile
| | |
| --- | --- |
| Company Name | Rakuten Group, Inc. |
| Website | https://www.rakuten.com/ |
| Founded | February, 1997 |
| Founders | Hiroshi Mikitani |
| Key People | Panchapakesan, B – Chief Data Officer, Benjamin Vogan – Chief Architect,Kacy Bang – Chief Executive Innovation Officer, Kenichiro Nakajima – Chief Marketing & Mobile Officer,  Kyoungwha Chung – Chief Producer |
| Headquarter | Setagaya City, Tokyo, Japan |
| Company Revenue | $13.682B in 2020 |
| Key Competitors | Capital One Shopping, Lolli, Fetch Rewards, Swagbucks, and ibotta,   |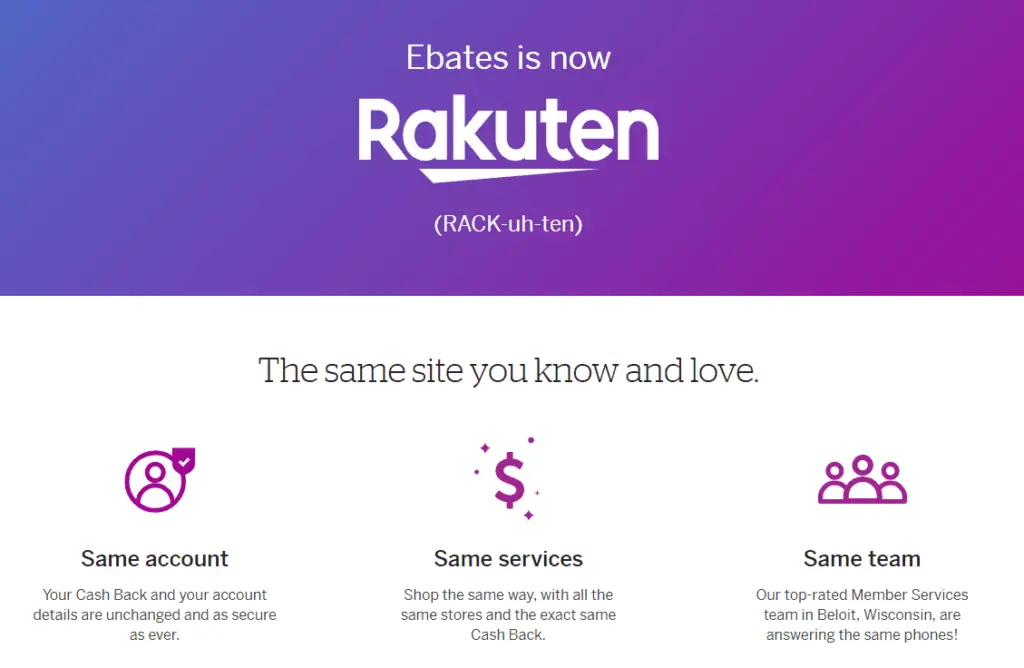 What is Ebates (Rakuten)? A Brief History
Rakuten is a website that refers customers to services and online stores that provide them with cash rebates. Thus, the income source is drawn via the customer's activity through the referrals.
The company is based in the US; however, they also provide sites that are country-specific including Japan, China, Canada, Singapore, and Korea.
Even if Ebates has become a part of Rakuten since 2014, customer experience remains unaffected.
Rakuten is home to the same folks that provide Ebates to you. If you go to ebates.com, you'll be sent to the new rakuten.com site.
The company has worked with over 2,500 retailers for more than 20 years to help save your money and it has a vast global membership base.
Rakuten has over 12 million subscribers in the United States alone, with over $1 billion in incentives paid to date.
How Does Ebates (Rakuten) Work and What Does it Offer?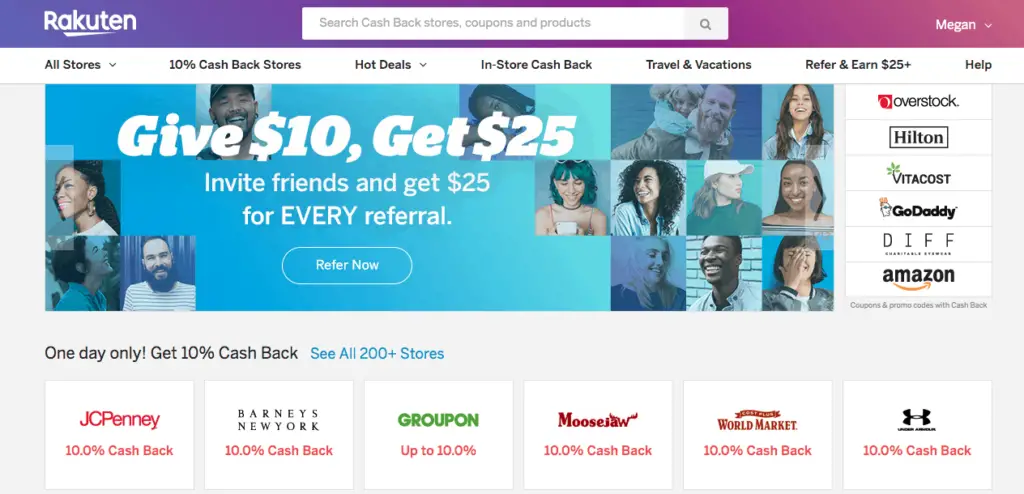 So how exactly does Ebates (Rakuten) work?
The company has established a simple system where people can easily set up a new account and a password to check their shopping footprints.
Customers can also receive in-store rebates just by linking their bank information, credit card and PayPal to the account.
After checking in, customers may look for deals and discounts at particular retailers.
The platform provides shopping via their website, featuring categories such as double cashback retailers, popular bargains, and others.
Users pick the retailer they wish to purchase at, click the link, and the site leads them to the retail partner's website to complete the transaction.
Eligible customers can get rewards by popup messages when they checkout at the affiliated merchant with the prize amount shown.
What does Ebates (Rakuten) offer to its consumers?
In the United States, Rakuten operates with the customer cash back incentives scheme.
The company offers the service to users both in-store and online with regards to their purchases' cashback incentive.
Consumers are given cashback credits for purchases they make via the platform, which gives them the lion's portion of the commission.
If a customer accumulates over $5 in cashback, they could get a check or PayPal payment.
Moreover, the software is accessible for both iOS and Android, making it easy for users to get started. And, coupons and promotional codes are sent to the users on a regular basis.
Ebates (Rakuten) Business Model
Rakuten is a Japanese e-commerce and internet service provider and produces three public segments.
Business Segments
Internet Services: Including websites such as digital and portal content,  travel booking, Internet retailer Rakuten Ichiba and online cashback sites
Internet Finance: Includes financial offerings/services websites such as electronic money, life insurance, credit cards, and securities/banking
Others: Includes websites such as messaging and communication services.
Customer Segments
The company has a dynamic business module and to operate it depends on two segments which are:
Consumers: Users that look for services and products to order online.
Merchants: Sellers that look for customers to buy their services and products online.
Channels
In order for the company to acquire the majority of its suppliers, it relies heavily on its sales/business development staff. Its primary method of attracting new customers is via its website logs.
As part of its marketing strategy, the company hosts its Rakuten-branded expos and conferences two times per year in Japan and one time annually in 13 other countries.
Ebates (Rakuten) Unique Selling Propositions
Rakuten has three major value propositions: cost savings, customization, and status/brand.
Customization
The firm facilitates personalization by enabling merchants to customize their pages in order to highlight the uniqueness of their shops' products and services.
This function diverges Rakuten from other multi-sided websites, where they try impersonating the retail store's appearances, behavior, and branding. Moreover, sellers can talk directly with their customers on various channels like email, phone contacts, and social media.
Cost Reduction
Customers can also save money by enrolling in the Rakuten Super Points reward program.
On top of that, one point is awarded for every 100 yen spent on the website's system services, including shopping (1 point for JPY100 spent), using Edy electronic money or credit card in-store.
The point is redeemable for any future trip bookings or purchases of products and services.
Brand and Status
All these successes have helped the organization in building a solid brand and trust from its customers.
More than 44,000 suppliers provide more than 95 million items, making it the largest online store in Japan. There are more than 700 million people in 170 countries that use Rakuten, and 108 million of them are part of Rakuten's loyalty program.
How Does Ebates (Rakuten) Make Money?
Referral Fees
Every time a user makes purchases on anything from one of Rakuten's partner stores, they get a cut of the sale. Rakuten commission is negotiated based on the seller sales and traffic of the stores referred by Rakuten.
In-Store Shopping
All Rakuten partner's in-store purchases are eligible for cash back rebates. Customers can easily find the offer through an iOS or Android app.
For customers to activate the benefit on the company site, the account must be connected to their credit card or bank information.
The incentive is available for one in-store purchase only. However, by just waiting for the app to rest for a bit, they can wait and make another purchase again after. Comparatively to the internet approach, the company makes money by referring customers to its partner stores.
Data Sales
Concurrently, Rakuten also marketed its clients' purchasing footprints to the marketing companies that are aggregated data-based and anonymized.
The corporation records all of its partner transactions and sells such information to marketing organizations for use in advertising campaigns.
However, this entity does not disclose any identity, users' behavior, and personal database.
There is no public information on how much Rakuten gets paid for selling this data to marketing companies.
Ebates (Rakuten) SWOT Analysis
Applying SWOT analysis to Rakuten enables them to foresee its strengths, reduce threats, overcome weaknesses, and capitalize on opportunities. The company is able to identify its core competencies, evaluate market conditions, and plan for the future.
Strengths
To create one of the most diverse and robust ecosystems in the world, Rakuten has integrated a variety of services under a single incentive scheme and membership.
The technological capacity to effectively examine and willingness to provide society with their resources.
Personalization is another level of empowerment where it is accomplished via the use of AI and data.
An iconic FC Barcelona football team is the main beneficiary of this company's sponsorship.
Service and product quality enhance market share thanks to loyal consumers.
The strength of the company's financial statement and solid balance sheet allow for new investment opportunities, enhancing the company's key performance metrics and return on sales (RoS).
Weaknesses
Inadequate strategic decision-making processes may prevent the organization from identifying possible product/service mix enhancement opportunities.
Inefficient management procedures in inventory might lead to a decrease in corporate productivity.
As a consequence, poor morale pervades the workplace due to turf wars between departments, excessive levels of work pressure, and other factors.
Despite the company's backend processes the company's frontend operations still operate technological power.
Opportunities
There is a tremendous chance for company development due to the rapid expansion of the population, especially in current or new customer categories.
Technology improvements may aid in predicting and improving the company's recommendation engines.
The corporation can benefit from this trend by limiting the number of items on the market and focusing marketing efforts on the most lucrative ones.
A new business model can be applied where clients pay incrementally for services created by making use of the increasing disposable income.
Threats
Globalization encourages organizations to transcend national boundaries and cope with cultural diversity, which may be troublesome if Rakuten is in dire need of cultural intelligence.
Company gains are negatively threatened due to the rising costs of productions
Businesses will suffer when the customer's purchasing behavior and power are predominantly influenced by the plummeting economic conditions
The current sustainability trend poses a crucial threat to the services/products that are not environmentally friendly.