When you're trying to buy a house, car, or big-ticket item, you have to pull your credit report from annualcreditreport.com to see what you are working with financially.
Annualcreditreport has been created after the (FACTA) Fair and Accurate Credit Transactions Act came into existence in 2003.
Now coming to our original topic is annualcreditreport Safe? According to our research on different platforms, annualcreditreport is a safe and legitimate source for accessing credit reports. However, the term AnnualCreditReport is imitated by several scam sites. Therefore, be careful while browsing.
How Is Annualcreditreport Safe?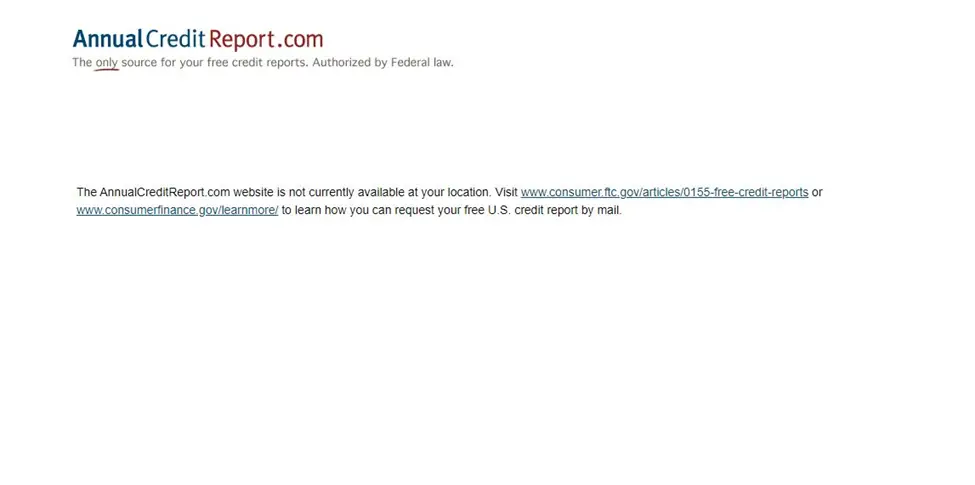 A consumer can obtain a free credit report from AnnualCreditReport.com most often. Three major credit bureaus came together to create AnnualCreditReport in order to fulfill this need.
You can obtain a copy of your Annual Credit Report from Experian, Equifax, and TransUnion, providing you with your credit history.  
It is considered a secure website because it has SSL encryption. Many consumers request their credit reports from each agency yearly, while others request them every four months to receive free quarterly reports.
Before sending your credit report request to the appropriate credit bureau, AnnualCreditReport.com encrypts your information.
The site AnnualCreditReport.com says the data you provide to the three bureaus is encrypted during the form-filling process.
For an additional layer of security, the site provides "physical, electronic, and procedural safeguards," including firewalls on the internal and external sides. 
Using SSL, you can protect your data from snooping on by encrypting it between you and the website's servers.
The site's link is https://www.annualcreditreport.com. Your browser's address bar will show a "s" in the "https" address when the site is secured with SSL.snooping on by encrypting it.
At sitejabber, 73 customer reviews indicate that AnnualCreditReport generally receives good consumer reviews. The most frequent mention of reporting agencies was made by consumers who were satisfied with AnnualCreditReport. Credit Reports sites rank AnnualCreditReport 6th in the list.
These factors indicate that annualcreditreport is an entirely safe website.
What About Other Shady Websites?
Even though this service is offered for free, there are lots of shady sites out there that are trying to charge for it. 
They're not legally allowed to do so and if they try to charge you, contact the Federal Trade Commission at ftc.gov/complaint as soon as possible so they can investigate them and stop them from doing it in the future.
Once you get your free reports, make sure they all contain the same information by comparing them side-by-side. 
It's also important to check if any accounts or debts have been paid off because the balances on these reports will always be higher than what's owed now. Lastly, ensure that all your personal information matches precisely with what's on file with the credit bureaus. 
If something doesn't match up, contact the bureau immediately and let them know so they can look into it. Don't wait too long before getting them because your identity could be stolen while you wait!
What Information Will I Get From An Annual Credit Report?
Among the information included in an Annual Credit Report is where you live, charges against you or arrests, and how you pay your bills.
It also provides information about your credit history, such as whether you have been late on any payments or have any outstanding debt. 
Finally, it will also give you your credit score. Your credit score is a number that ranges from 300-850 and is designed to gauge the likelihood that you'll default on your debts. 
Loans and other forms of credit are more likely to be approved when the number is higher. Most lenders use credit scores between 620 and 680, but they can vary depending on the lender. 
If you want to find out what your score is, there are two ways: 
You can order an Annual Credit Report and then look at it yourself. 
You should consult a Certified Financial Counselor if you need help with credit repair. 
Either way, it's worth getting one every year because mistakes happen! And if they do, having this kind of information will make dealing with them more accessible.
Now that you know more about Annual Credit Reports, you can choose what works best. 
The content of each report varies, but there are two things they all have in common: 
One is identifying info like name, address, and social security number
The other is credit history, including late payments and bankruptcy filings
The type of credit history included in the report differs from bureau to bureau. For example, Experian includes public records and court judgments, while TransUnion also has rental payment data. 
Another difference between the three major bureaus is how long your file stays open with them – 10 years with Equifax and only seven years with both Experian and TransUnion. Knowing which credit bureau you want to check should be your first step. 
From there, you are deciding which form of annualcreditreport works best for you depending on where you plan to apply for new lines of credit (such as a mortgage). 
Some may opt for Equifax because their report contains public records and court judgments (whereas TransUnion does not).
In contrast, others might prefer using Experian because their report contains more detailed information about their rental payment history (whereas TransUnion does not).
How Much Does This Report Cost Me?
Once every 12 months, Equifax, TransUnion and Experian are required to provide you with a free copy of your credit report under the Fair Credit Reporting Act (FCRA). Alternatively, you can order one report at a time or all three at once. 
AnnualCreditReport.com is the official website for obtaining your free credit report each year. Consumer credit reports are available to you free of charge once every 12 months through this website. Following Federal law, this right is guaranteed.
If you need additional copies of your report during the year, such as if you want one sent to an employer, lender, or other third parties who are requesting it on your behalf; if someone fraudulently uses your identity; or if there is information on your report that may not be accurate – then you are entitled to a free copy from each of the three major credit bureaus every 12 months. 
Asking for your credit report only takes minutes and provides valuable insight into your financial history.
By viewing these three reports, you'll better understand how different aspects of your financial past impact what kind of loan rates you'll qualify for.
Why See Annual Credit Reports?
Your credit report includes your payment history, credit utilization, credit age, account balances, and more.
Lenders use this information to determine your creditworthiness. You can catch errors and fraud early by checking your credit report regularly. 
Plus, if you have concerns about your current or past address being associated with a missed payment or charge that doesn't belong to you, it's essential to see the date of that item and when it was updated.
Annual Credit Reports are essential for building good credit and making intelligent financial decisions. As such, it's not surprising that the Federal Trade Commission recommends everyone review their credit reports yearly. 
What Can You Do If Your Credit Report Is Error-ridden?
Making sure your credit report is error-free is an effective way to improve your credit score. The credit bureau can be contacted if you find an error, and they can take care of it for you.
You may have to spend some time on it, but it's worth it if it improves your credit score. 
AnnualCreditReport provides access to all three major credit bureaus, making this process easier.
It also provides more information about fixing credit report errors than other websites. They even offer free copies of your credit reports from each bureau to compare them and ensure they're accurate. 
How To Spot Other Inconsistencies in Your Financial Life?
Like most people, you probably have a few financial inconsistencies in your life. But if you're considering applying for a loan or a credit card, it's essential to understand what's in your file and how it can affect your ability to get credit. 
Maybe you've been meaning to start saving for retirement but haven't gotten around to it yet. Or perhaps you've been using your credit card too much lately and need to control your spending. 
These things happen and can be easy to forget when we're busy focusing on other things. 
If you've had trouble remembering anything related to money this year, here are some tips that can help: 
Make sure your investments are diversified (don't put all your eggs in one basket). 
 Keep an eye on your finances by regularly checking bank account balances and bills due. 
Create an emergency fund so you'll always have something set aside for emergencies.
It's also a good idea to check your annual report with an agency such as AnnualCreditReport to uncover inconsistencies.
Doing this will allow you to proactively address any errors before they become problems down the line.
What steps do you take to stay up-to-date with your finances? Tell us in the comments!
Final Thoughts – Is annualcreditreport Safe?
In our complete review of is annualcreditreport Safe? We found that annualcreditreport is a safe and secure website to check your credit reports.
Once you've picked the right site, you're safe to use. Check your credit report for free. Make sure you don't get sucked into the upsell. 
Does annualcreditreport seem safe to you? Feel free to comment below with your thoughts!