USAA offers various banking services, from credit cards to auto and home loans. However, one of the lesser-known services is their online cash deposit option.
USAA members can use this service to quickly and easily deposit cash into any of their accounts. 
With the information in this guide, you'll learn everything you need to know about depositing cash with USAA and how you can use it yourself to make it through payday when your wallet is running empty.
Know more about USAA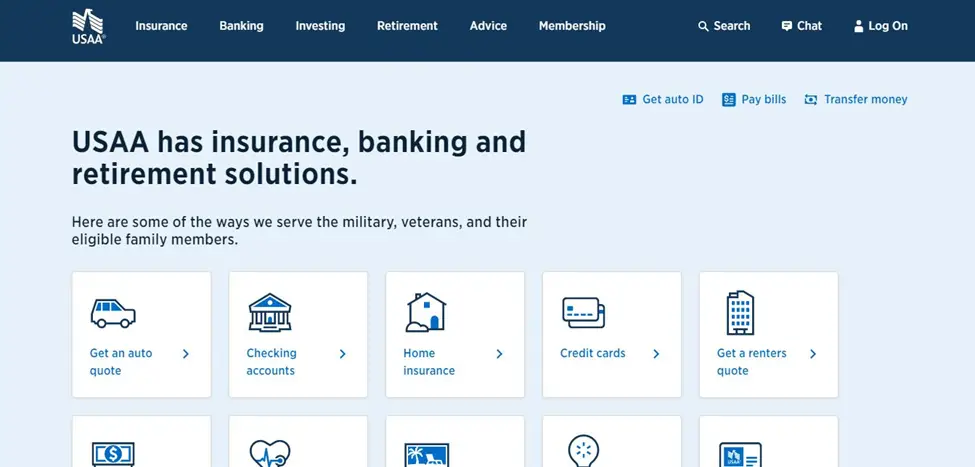 USAA is a leading financial services provider, offering bank, investing, and insurance products to those who serve in the military and their families.
Founded in 1922 by military officers seeking financial stability, USAA was founded by a group of military officers. 
A leading American insurance company, USAA is renowned for providing excellent customer service and helping those who serve our country.
In addition to receiving numerous awards for outstanding service, employee well-being, and financial strength, USAA is known for demonstrating an unwavering commitment to its members.
Today, USAA serves over 8.2 million members worldwide. USAA provides its banking to only those enrolled in the military, their families, and their dependents.
Those serving in the U.S. armed forces and their families – can become members of USAA. To learn more about USAA, visit usaa.com. 
4 Ways to Deposit Cash with USAA?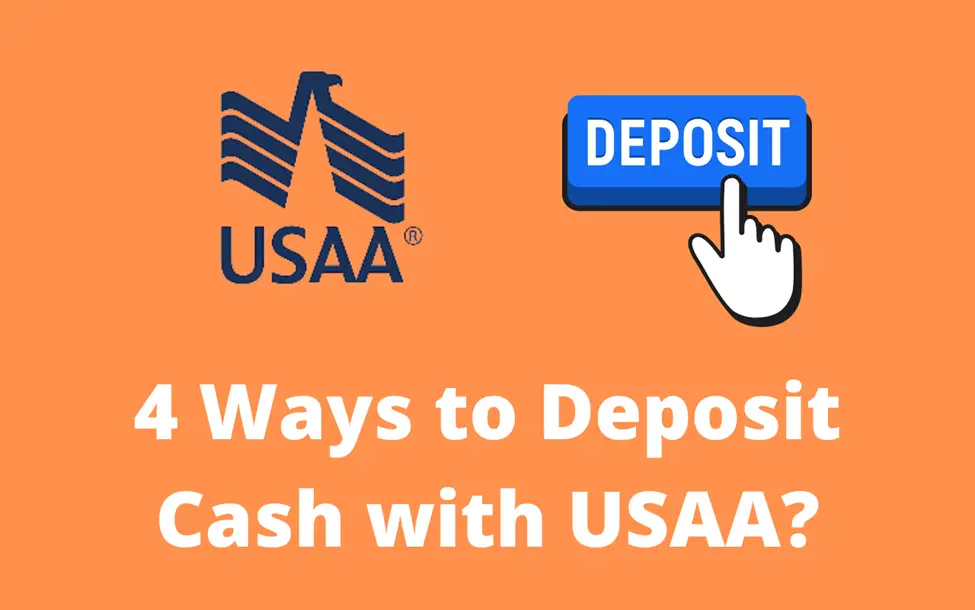 USSA offers several deposit options, whether you're looking to deposit cash into your savings or checking account. Here are the most popular methods.
1)     Deposit Cash With USAA At ATM
If you're a member of USAA, your cash can be deposited at any ATM that accepts Visa deposits. Put your card in the slot, enter your PIN, and select Deposit.
To deposit cash, choose the account you want to deposit to, enter the amount of cash you're depositing, and confirm the transaction.
It will take a few minutes for the funds to be credited to your account. 
You can also use this option if you're not a USAA member but have one of their credit cards. Activating it requires a phone call or visiting the website. Once activated, you can deposit up to $5,000 daily via an ATM. 
To do this, we recommend printing out the form on their website beforehand so that all the necessary information is readily available when you arrive.
At ATMs located in strategic areas nationwide, you can access your account. 
Select "ATMs & Locations" under the "Help" tab. You'll see detailed information about a location and what services it offers on the map.
By default, one can scale in and out of the map to see all USAA stores across the country.
Remember, if you don't use an ATM that accepts Visa deposits for your transactions, then the only way to withdraw/deposit cash is by visiting a USAA branch in person or contacting customer service over the phone.
It's always a good idea to bring along some form of ID when visiting your local branch, so they know who you are and why you're there. 
2)     Deposit Cash with USAA for a Money Order
Money orders are usually issued for a small fee, such as a couple of dollars. Many places are limited to $1,000 worth of money orders, so if you need more, you will need to purchase several of them.
One can buy money orders at Western Union, the post office, and select grocery stores like Walmart. 
The United States Postal Service charges a reduced fee of 45 cents for military-issue money orders.
Money orders are treated in the same way as checks. To put the money order into your account, you'll have to list yourself as the recipient. Fill out your personal information, and sign as the person purchasing the order.
3)     Deposit Cash with USAA With Prepaid Debit Card
Link your USAA account to your prepaid debit card, and you can quickly transfer money from your card to your account by online transfer.
You can reload your prepaid debit card with cash around the clock. Make sure to compare different prepaid debit cards to find the one with the lowest fees and the most effortless reloading process.
4)     Direct Deposit
One of the most convenient ways to deposit cash with USAA is through direct deposit. It can be done by linking your checking or savings account to your USAA account.
Following the linkage of your accounts, you can schedule regular deposits or make a one-time deposit. 
Direct deposit can be set up online; log into your online banking account and navigate the Transfers tab.
From there, you can add your USAA account as a recipient of funds. Next, you'll need to specify how often you want the funds deposited (weekly, monthly) and what time frame (morning or evening). 
You can also choose a few different account types, including Checking, Savings, CD/IRA/Brokerage Accounts if you are depositing for someone else, like your spouse or child's savings account, select Transfer to Third Party Account. 
For children under 18 years old, if you would like them to have access to the money in their account after they turn 18 years old, make sure that they are on the Subaccounts list.
If they do not, they will not be able to withdraw funds once they turn 18. There is no charge for making this transfer; it usually takes five business days for the money to show up in your account.
8 Frequently Asked Questions about How to Deposit Cash with USAA?
Here are some general faqs on how to deposit cash with USAA.
How Do I Deposit Cash With USAA? 
You can use a few different methods to deposit cash with USAA. You can deposit cash at any ATM that accepts USAA deposits, you can deposit money through the USAA mobile app, or you can deposit cash at a USAA banking center.
For questions regarding how to deposit cash with USAA, feel free to contact customer service for assistance.
How Much Cash Can I Deposit With USAA? 
You can deposit cash anytime if you have a USAA checking or savings account. You can quickly deposit some money by logging into your account and selecting the 'Deposit' tab to deposit some cash.
In that case, you will have the option to enter the amount of cash you wish to deposit. It is not limited to how much money you can deposit, but there is a limit to how much cash you can withdraw from your account daily.
What Are The Fees Associated With Depositing Cash With USAA? 
When you deposit cash with USAA, you will not be charged any fees. It is a quick and easy way to add money to your account, and you can do it anytime.
Plus, there are no limits on how much cash you can deposit. So whether you're depositing a small or a large amount, you can do so without incurring any fees.
When Will My Cash Deposit Be Available For Withdrawal? 
Assuming you are depositing at an ATM, your funds will typically be available for withdrawal within one business day.
If you are depositing at a branch, the teller will usually give you a receipt that indicates when the funds will be available.
Regardless, it is essential to remember that weekends and holidays impact availability.
Can I Deposit Cash At Any USAA Branch?
You can deposit cash at any USAA branch. The following things should be considered, however. 
First, you'll need to have your account number handy. 
Second, your identity must be verified by the teller. 
Third, you'll need to fill out a deposit slip. 
Fourth, you'll need to endorse any checks that you're depositing. 
Fifth, you'll need to count the money you're depositing and ensure it's all there.
Where Should I Go To Make A Cash Deposit?
Making a cash deposit with USAA is quick and easy. All you need to do is log into your account, select the 'Deposit' tab, and then choose 'Deposit Checks and Cash.'
Afterward, you can enter the amount of cash you'd like to deposit. Once you're finished, just hit 'Submit,' and you're all set! 
You should also know two things before making a cash deposit.
First, when you make a cash deposit, it will take one business day for the funds to become available in your account. 
Second, keep in mind that if your withdrawal exceeds $5,000 or 2% of your total deposits at any given time during a calendar month, it will require special approval from our Legal Department before we can process it.
What Are The Hours Of Operation For USAA Branches In My Area? 
If you're looking to deposit cash with USAA, you'll need to visit a local branch during business hours. However, keep in mind that USAA's hours of operation vary by location. 
Check individual branches' hours before making the trip. For example, some branches may be open from 9:00 a.m. to 5:00 p.m., while others may have extended hours until 6:00 p.m. or 7:00 p.m. You check it through the USAA branch locator.
Do ATMs That Are Not Affiliated With My Bank Accept Deposits?
ATMs make it easy to deposit cash, but what if the ATM isn't from your bank? In most cases, you won't be able to deposit money into an ATM affiliated with a different bank, though you can withdraw with an added fee (unless you have an account with that bank).