Looking to sell your old car but are getting no leads? Well, this happens a lot. That's why people don't sell cars privately anymore and search for a platform or company that offers the quote to buy cars instantly.
Cash For Cars is a company that is getting popular among car owners because of its claims about purchasing any car model in any condition.
That's a big claim, and those who have never used their services often think about whether it is even legit or not.
Cash For Cars is definitely legitimate. The company has car buyers that can purchase any car you want to sell. The listed buyers have already bought cars from thousands of people and they don't say No to anyone. You will be paid on the spot when you make a deal with them, even before the car leaves your garage.
But there's much more to it.
Stay till the end to know why you should sell your vehicles through Cash For Cars. Let's start!
How Does Cash For Cars Work?
The Process of selling Cars becomes very simple if you choose to go for Cash For Cars. Here's how everything works there.
1.   Contact Cash For Cars
Begin the process by getting in touch with Cash For Cars. You can go to the official website, fill out the details, answer some questions, and get a quote within two minutes.
Or you can call, have a chat about your car's condition, answer some questions, and get a final offer there.
The questions you have to answer will be:
What's a car model?
When did you purchase it?
What's the condition of the car?
Here's a tip: Even if you like their first offer, you still negotiate. They will increase the quote, and then you can make the deal.
When you accept the offer, the other things the company will ask are:
What's VIN#?
What's Your Address? And some other basic questions.
They might even ask you to send a picture of the title to confirm that you are the owner of the car you are trying to sell.
2.   Choose The Date
When everything is done, the Car buyer will ask you about which time and day suits you the best for the team to come to your home and pick up the vehicle. A third-party tower will be used to carry your vehicle and title.
3.   Payment
Lastly, you will be given a check for the payment finalized earlier. You can inquire about its expiry date and deposit it within this time.
Why Is Cash For Cars A Great Service?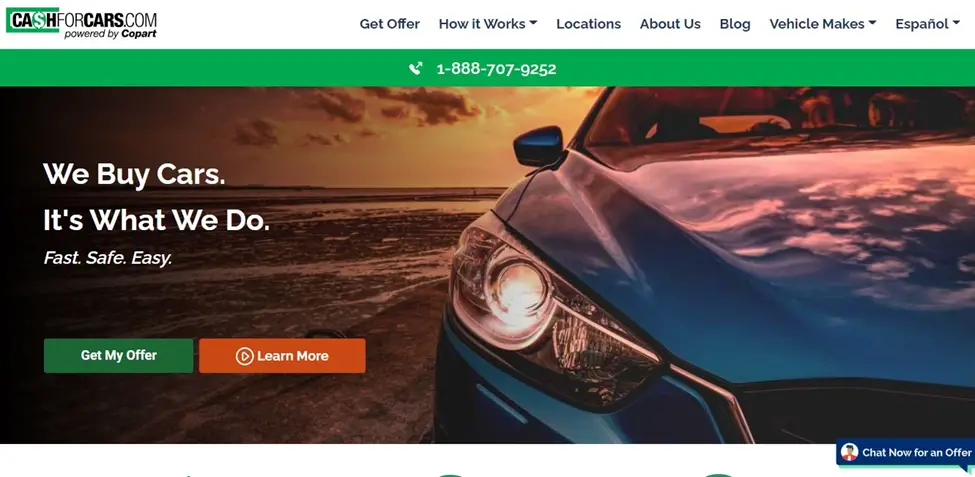 Selling old cars is indeed a hectic process that takes days and sometimes even months if you try to sell them privately.
You have to deal with dozens of people, tell each of them about the car's condition, negotiate their offers, and still, no deal is done most of the time.
To avoid all of this, many people prefer to sell their cars on commercial platforms. The good news is that Cash For Cars is one of them, and it can provide relief by purchasing a vehicle you don't want to use anymore.
Let's now read why it is a great service:
Will Purchase The Cars Even With Mechanical Problems
You can't sell cars privately that have mechanical issues most of the time. Similarly, almost every company involved with car buying & selling do not prefer to buy those vehicles with problems.
But Cash For Cars is different. It will still buy your car even if it looks really old and has mechanical issues.
But that's not it.
Even if the car stops running, you can still sell it to buyers at Cash For Cars. The company sees value in every vehicle, and that's why it does not reject any car that is up for sale.
In addition to cars, Cash For Cars also purchases SUVs, trucks, boats, and many other vehicles.
Easy to Get a Quote
A good thing about Cash For Cars is that you can get a quote for your car within two minutes.
It's that quick. You can visit the official website, provide details about your cars, and you will be offered a quote within seconds.
You can also call the company to get the quote. The company's number is 1-888-707-3717. A representative will instantly ask you questions about the car and offer you a quote.
Competitive Prices
Unlike many other buy & sell businesses, Cash For Cars will offer you a competitive price after analyzing your car's condition.
A car with good condition and everything will understandably get a higher quote than the one without issues or running at all.
But no matter what, the offer will be market competitive.
Paid On Spot
If you like the offer, a team will visit you with a tower to take the car and pay you on the spot. Note that Cash For Cars only gives checks; they don't pay in cash.
Friendly Customer Service
Cash For Cars has more than two decades of experience in buying and selling vehicles. The company knows what the sellers want, how to conduct the whole buying & selling procedure, and the competitive price according to the car's condition.
You can easily get in touch with the company by calling 1-888-707-3717 to find your car value.
If you like the quote, you can request Cash For Cars pick your car up from your home. You don't have to take your car anywhere.
The team will arrive within one to two business days. There will be no waiting or any boring paperwork.
So, these are the reasons that make Cash For Cars one of the best Car selling platforms. Almost everyone who gets in touch with the company praises the service they get and the facilities they enjoy.
Let's now read some of the customer reviews.
Problems With Cash For Cars
Everything seems to be good with Cash For Cars. But it still has two problems which you should know right now.
Price Offered Is Not The Same As If You Sell Privately
The price you get from Cash For Cars will be a little lower than you could have gotten if you tried to sell it privately. But people still avoid selling cars privately because they want to avoid delays and hassles in selling vehicles.
Price Is Valid For 7 Days
The quote offered by Cash for Car will stay good for seven days only, and you will have to accept it within this time range.
After seven days, you will then have to ask for a quote again, which might not be the same as the previous one.
The reason?
It is because quotes fluctuate depending on the market situation. So, you may be offered less or more than the previous offer.
Now, let's see how Cash For Cars Works.
Cash For Cars Customer Reviews
Cash For Cars buyers has purchased cars from thousands of people across the country. After selling, people can rate their experiences and share their thoughts.
According to the official website, the user rating of Cash For Cars is 4.6/5. It is excellent, considering it has received a lot of reviews and the website is getting more reviews every day. Almost everyone is happy with the offers and services they get.
Here are some of the review people have given to Cash For Cars:
"Cash For Cars was professional from the start. They fulfilled everything they promised, and they paid me to double what was offered by other companies," Kelly W.
"Cash For Cars' service was fast and accurate," Lorenzo E.
"I was hesitant to contact Cash For Cars first, but then I went for it. I am happy that everything turned out great. They offered me a great price and everything happened professionally," Cassandra H.
"Cash For Cars was easy to work with. Everything was smooth and free from hassles," Christy R.
"Cash For Cars offered a great price which I accepted without a hitch. Team sent by the company was also friendly and professional. Thank you for everything you are doing," Alyce T.
Now, let's see some problems you can face when you try to sell your car through Cash For Cars.
Final Words
All-Inclusive, Cash For Cars is 100% legit. The company has been dealing with buying and selling cars for over two decades, and it now has 200+ active pickup locations across the country.
You can visit the official website or give a call, then answer some questions, and you will get a quote within seconds. You can also negotiate the offer, and if it suits you, then you can make a deal.
The payment will be in check, which will be handed to you when the team arrives at your location to pick up the vehicle. It's that simple to sell cars to their buyers.
So, if you want to avoid selling your car privately, go for Cash For Cars and get an offer right away!