We all know that when it comes to online shopping, Amazon is one of the most popular and reputable e-commerce sites. Shopping on this platform is surely fun and safe; plus, there are no hindrances.
But there is a problem which people face at times. After canceling the order on Amazon, still, money is charged. They often wonder why this happens, and I am here with the answer.
Amazon still charges you because you are late in canceling the order, and the seller has already shipped it. If you cancel before the seller ships your order, then the amount is deducted.
Wondering if there is any way to get a refund after Amazon charged the card? Yes, there is. To know about it, stay till the end.
Order Canceling And Refund On Amazon- Brief Details!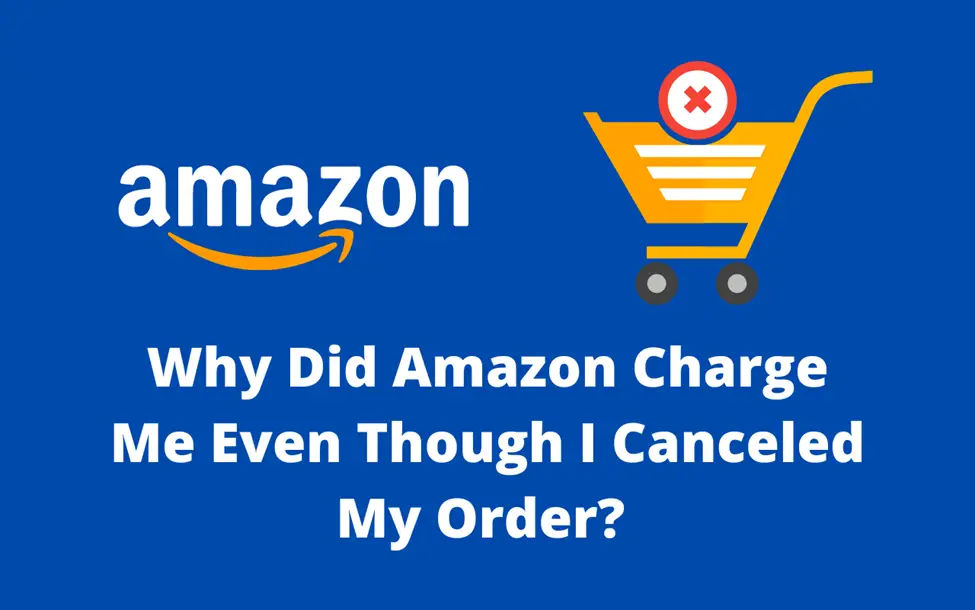 There are lots of reasons why people cancel orders. But the distinction between Amazon and other online shopping platforms is that everything is easy and uncomplicated on Amazon.
Amazon won't charge your card until the order has shipped. Your bank account may show a transaction, but don't worry. It doesn't happen until the order has left the seller and is being delivered to you.
Also, don't be concerned if you still notice a pending charge on your statement after canceling an order. It means that an authorization hold has been placed. The canceled order will still not be charged to your account.
But you will be charged if you cancel the order after it has entered the shipping process. You can easily receive a refund as long as you cancel the order before it delivers.
But if you cancel the order after it has been dispatched from the seller, the issue gets more complicated and time-consuming. Still, you can get your money back if you ask for a refund.
How To Get a Refund On Amazon?
You can still try to get a refund from Amazon after it has charged your account by following different ways. These are:
Wait 10 Days
You should wait a few days after canceling the order as one of your first steps. The time it may take for a refund to appear in your bank account can range from one to ten days.
Based on the payment method used to purchase the item, Amazon even provides an estimated wait time for refunds.
It could take two to three hours for the refund to appear on your gift card if you used it to purchase something from Amazon.
It may take up to 10 business days before a debit card's balance is restored in your bank account.
Any purchases made using EBT or SNAP cards can take up to 8-10 business days for a refund.
You won't get a refund if you utilize a promotional certificate you obtained to make a purchase.
Follow the second method if you didn't get the refund after ten days.
Contact Your Seller
After 10 days, contact the seller. It's possible that a technical fault occurred while you were canceling the order. Due to this, the seller's side still states that you purchased the order and did not request a refund.
How to Contact a Seller on Amazon?
The advantage of using Amazon to make purchases is that getting in touch with the seller is simple.
Go to the item's Purchase Page.
On the Purchase Page, you will see "Contact Seller Link." Click it.
Give them as much information as possible regarding the date you canceled the order and the charge made.
This allows sellers to make sure there was no mistake from your side. From there, your refund will begin to be processed.
If there wasn't a mistake on the Seller's side, something else might be happening. They can advise you on the best course of action to take to get the refund.
If this step doesn't work, then go for the third method.
Contact Amazon Support
Next, you should get in touch with Amazon Support following your conversation with the seller.
The impressive thing about Amazon Support is that they make every effort to get you to solve your problems without talking to anyone.
You will see a section for orders when you visit their Support page. To discover the item you canceled, click that. You can determine the item's status once you go there.
It's possible that even if you believed you canceled the order, you didn't (maybe due to an internet problem or anything else).
Still, you can immediately cancel your order. On order, there should be a Cancel button that lets people reverse the order. Just click it, and that's it.
Moreover, you should also check if it mentions anything about a refund status if it says that you did cancel it.
Additionally, you can contact their Support team members directly from that website. It's recommended to contact their support service if everything appears to be in order. Inform them of your problem and the date you canceled the order.
They will examine whether a mistake happened with your account and then. They inform you if your refund is being processed or not.
They will also notify you if you aren't eligible for a refund because you canceled the item after it had been delivered.
If this step does not work, go for method 4.
Cancel Through Credit Card Or Bank
Checking with your bank and credit card provider is another way you can save your hard-earned money to go into the Seller's pocket.
You can inform the bank employee that you canceled an Amazon order and do not want your account to be charged.
The employee might be able to cancel the charge depending on the circumstances. Note that whether you have received the goods or not truly makes a difference.
The bank employee might not be able to reverse the charge if you already got the item. Banks are only ready to refund the charge and restore the cash to pre-purchase levels if the item never arrives.
Then, you'll have to send the item back and get your money back (Method 5).
Return The Order
You won't be eligible for a refund in most cases if you cancel the order after it has been delivered. Still, there is a chance for you to get your money back via "Return."
How?
You will need to Hold off until the item gets to your house.
When it arrives, open Amazon and initiate the Return. Product returns to Amazon are often simple. To return a purchase, you must first notify Amazon. To find the item, go to your Orders page and click. Then select the Return option.
You can print the label from Amazon and attach it to the package. You shouldn't open the box if you want to return it.
Simply place the new label over the old one and deliver it to the USPS or another package carrier of your choosing. There are a few exceptions, but for the most part, you won't have to pay for mail.
There's also a potential that the item will return to the Amazon warehouse if it didn't get very far after you canceled it. If the item does, however, arrive at your door, you should return it.
Does Amazon Charge Any Fee When You Cancel the Order?
No, Amazon doesn't charge your card any fee if you cancel the order. A lot of other online shopping platforms do this, but not Amazon.
That is why it is the first choice of most Americans whenever they want to shop just sitting on the sofa or lying on the bed.
Final Thoughts
So, why did amazon charge me even though I canceled my order?
Amazon doesn't charge you a penny if you cancel the order before the seller ships it.
But if you are late in canceling and the seller sends your package, then Amazon will deduct the amount.
There are five ways to get your money back in this situation. These are: Waiting for ten days, contacting the seller and describing everything, contacting Amazon support and briefly describing why you are canceling the order and discussing the refund status, canceling the payment through credit or debit card, and the last way is returning the order.
One of these ways or methods will surely work for you.