Looking for a loan to buy a home (or property) and want to know everything about USAA Mortgage? Then this article is for you.
Here, we are reviewing USAA Mortgage in complete detail, including who can apply for it, the interest rates, and the pros & cons.
So, continue reading.
Key Takeaways
USAA is a lender that provides loans to current or retired military members and their families.
The lender gives mortgages that let members get their own homes at a very low-interest rate with no origination fee or PMI.
Better Business Bureau has rated USAA Mortgage A+.
Those applying for a mortgage must have a credit score of above 640.
The application process is simple. Get pre-approved online and then apply with the help of a loan officer to get mortgage approval.
USAA Mortgage Review- Key Details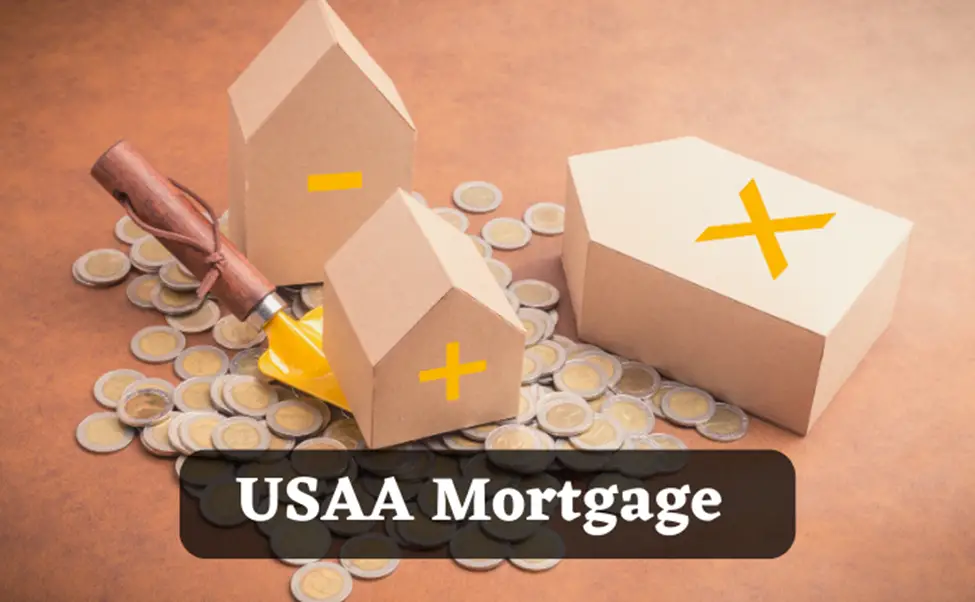 USAA is one of the most popular Mortgage lenders in the USA that specializes in giving loans to current and former military veterans and their families. Its headquarters is in Antonio, Texas, but its services are available nationwide.
USAA Mortgage is available in all states. No matter where you are living, there are no restrictions. You can apply and hope to get approval.
Its numbers are even more astonishing.
Founded in 1922, this lender has given financial products to millions of military members and their families at a low interest. Right now, there are more than 13 million USAA members.
According to an estimate, USAA mortgage has assisted over a million members in buying homes for themselves.
However, not every person can get loans. If you or your family member is linked with the military and want to apply for a mortgage, you must have a minimum credit score of 640, or else USAA will reject your application.
If you get approved, you can avail loans from $50,000 to $3 million.
But should you trust USAA?
Can You Trust USAA Mortgage?
USAA is trustable, and if you fulfill the criteria, you should go for it. Better Business Bureau rated it A+, while others gave positive feedback about USAA Mortgage.
But we specifically quote Better Business Bureau (BBB) rating because it analyzes different criteria before giving a company an A+ rating.
If the company gets an A+ rating from BBB, it means that it is legit, trustable, responds to customers efficiently, and does not do false advertisements.
Who Can Apply For USAA membership?
As mentioned before, USAA is for military veterans and their family members. This includes:
US Air Force
U.S. Army
US Coast Guard
U.S. Marines
U.S. Navy
US National Guard and Reserves
US Space Force
Now, let's have a look at mortgage loan details.
USAA Mortgage Loans- How Many Are There?
USAA offers three kinds of loans to its members.
1.    VA loans
USAA mainly focuses on VA loans. In the past, the lender gave conventional loans to others, but over time, it narrowed down to VA only. However, you can still get conventional refinances from USAA.
VA loans were first introduced in 1944 for World War 2 soldiers who returned home but did not have money to buy homes. This loan is still valid; millions of soldiers have taken it to get their homes.
The distinguishing point about VA loans is that you don't need to have any Private Mortgage Insurance to apply for it. It is because there is no down payment involved in most cases.
Also, those who apply for it may also have to pay VA funding fees too. It is not a fixed amount. The fee is decided by analyzing how much money you are borrowing and your borrowing history.
2.    Jumbo Loan
It is a government-backed loan and requires lots of paperwork. Also, it is for those who want to finance above $647,200.
3.    IRRRL
USAA also offers Interest Rate Reduction Refinance Loans (IRRRLs). It is also a good choice as it does not have any origination fee like conventional ones. Also, USAA covers other expenses like an appraisal, VA funding, etc.
Important Note: USAA Does not offer FHA or USDA loans.
Now, it's time for Mortgage rates.
USAA Fixed Mortgage Rate Loans
According to the USAA official website, here is the table of the fixed rate loans:
| | | | |
| --- | --- | --- | --- |
| Product | Interest | APR | Points |
| VA Purchase Loan | 5.5% | 5.855% | 1.081 |
| VA Jumbo Purchase Loan | 6.250% | 6.598% | 0.945 |
| Conventional Purchase Loan | 6% | 6.192% | 0.974 |
| Low Down Payment Purchase Loan | 6.125% | 6.963% | 1.154 |
If you have conventional refinancing, then you will have to pay an origination fee. For the amount of $129,500, you will have to pay $1295$. If the amount is less than that, then the origination fee will be 1%.
USAA Mortgage Calculator
On the USAA official website, there is a Mortgage calculator tool for those who are applying for a home.s choose the payment and the time period there, and it will estimate your monthly mortgage.
If you want to get a specific estimate, you can also call USAA at 800-531-0341.
How to Apply For a USAA Mortgage?
First, make sure your credit score is above 640. If it is, then you will have to follow three steps.
Step 1: Apply Online
To apply online:
Go to the Apply Page of the USAA official website.
Click on "Join USAA."
Fill in the information and follow the prompts.
Step 2: Contact Seller
The application will then be pre-approved within a few minutes only. You will also receive a preapproval letter; after this, you can negotiate with the sellers about your loan details. However, you can only do this after 90 days of the preapproval letter, as it expires.
Step 3: Gather Your Documents
If you are looking for a VA loan, then you will also need a VA certificate of eligibility. It is necessary because the certificate is proof that you are eligible for a VA loan.
To get a VA certificate of eligibility, you will have to apply online at the official VA website. After applying, the certificate will be issued to you shortly.
When you get both preapproval and a VA eligibility certificate, start looking for a home.
If you like a house, contact the USAA loan officer, who will further assist you with the loan application.
For the loan application, you will need to provide the following:
Bank statement
Income statements (for example, pay stubs)
All the other documents that the loan officer will ask for.
What Happens When You Apply To USAA?
After completing the application with the help of a loan officer, you can then apply for the USAA. The lender will then Double-check the following:
If there is any false information on the documents or a typing mistake.
Whether you have submitted real documents or not.
If there is any need for other documents.
If everything is sufficient and correct, your loan will be approved, and you can buy the house you want.
You will then have to bring in your govt issued ID and a cashier's check/wire transfer to close the deal.
It's now time for USAA Mortgage Pros and Cons.
USAA Mortgage Pros and Cons
It's now established that USAA Mortgage has lots of benefits. But it also has some demerits that you should know beforehand before applying.
Let's have a look at both Pros and Cons.
Pros
The application can get approved within seconds.
Low-interest rates.
Customer service is good.
Great choice if you are looking for a VA loan.
No down payment.
No origination fee for VA loans.
Cons
It is only for military members and their families.
You must have a credit score of more than 640.
USAA does not offer FHA or USDA loans.
So, these are the top good and bad things about USAA Mortgage. If you want to contact the lender to get more information, then it is really easy too.
How to Contact USAA For Mortgage Details?
For any queries or information, you can get in touch with USAA customer representatives easily. Call 800-531-0341 between 7 am and 6:30 pm, and a representative will guide you about the whole thing. Also, make sure you call on business days (Monday to Friday).
If you have already applied for a loan and the process is ongoing, then call 800-531-8781. You can also sign in to USAA mobile app and then chat with the automated system there.
Final Words
All in all, USAA is one of the best lenders we have today. Current/former military veterans and their family members can apply there easily to get a mortgage, but the credit score must be above 640.
The Lender offers three kinds of loans, but the specialization is in VA.
You can apply online and get pre-approved within a few minutes. After this, you will have to complete an application with the help of a Loan Officer. Then, submit the application, and the mortgage will be approved.
That's all about USAA Mortgage!