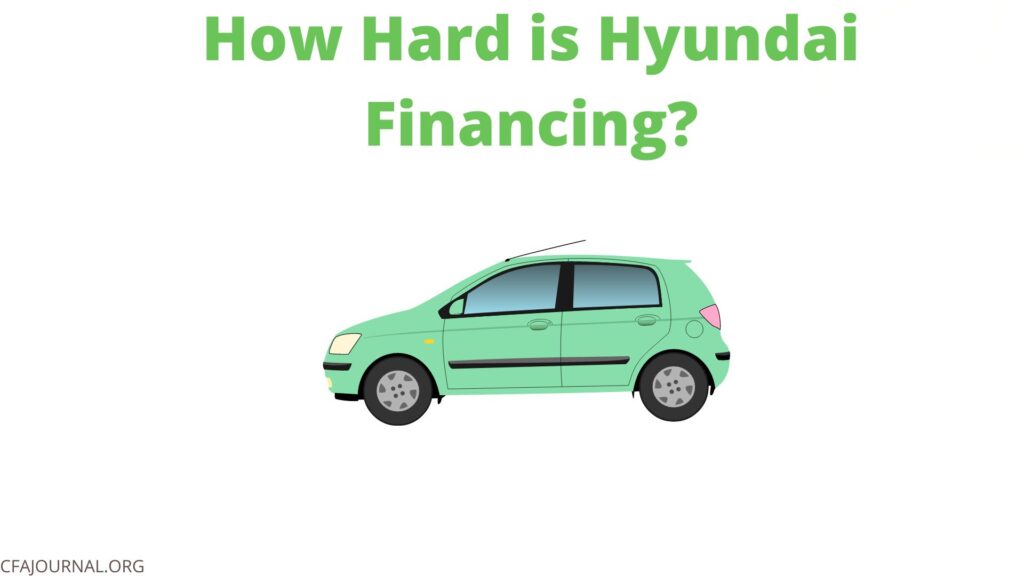 Hyundai motor financing would require good credit scores and clean credit history. You'll also need to qualify for a car loan with certain terms like stable income.
Let us walk you through Hyundai financing and see how hard it is.
What are Hyundai Financing Options?
Hyundai offers auto loans, hire lease, or purchase financing options through its Hyundai Finance segment around the world.
Customers can choose from different financing options through authorized dealers, banks, or directly through Hyundai finance.
Most of the auto loans offerings are usually for new vehicles. There are a few schemes that offer cash rebates and some others offer low APR from 0% to 2%.
However, most of the 0% APR offers are valid for brand new vehicles only. Currently, the down payment requirements are also at a minimum of around only $2,000 – $5,000.
Let us briefly discuss all three financing options on offer from Hyundai and see which one should you choose.
Personal Car Loan
It is a simple and convenient lease option for many buyers. You'll need to deposit a fraction of the total car value as a down payment.
Then, you'll pay fixed monthly installments over the loan term. The installments would depend on the APR applicable and the down payment you make.
You can also use the personal car loan/lease option to trade in your old vehicle to replace it with a brand new one.
Personal Contract Purchase
It is also an auto lease program on offer by Hyundai motors. It works like a conventional lease with an added feature.
Buyers can choose to set aside a fixed amount of the lease at the end of the lease term. It is also called the residual value of the leased property (car).
At the end of the lease term, borrowers can pay the remaining balance to own the vehicle, renew the lease without paying, or return the vehicle.
Contract Hire
Contract hire is simply your car rental for Hyundai cars. You do not need to make a down payment or advance deposits.
You'll continue to make fixed monthly lease payments for the lease term. However, you cannot own the vehicle even after paying throughout the lease term.
Lease or contract hire installments are usually lower but borrowers do not own the vehicle.
Hyundai APR Deals
Interest rates are their lowest currently in the lending market. Hyundai and other automobiles offer low APRs on new cars to boost sales anyway.
Hyundai motors also offer 0% APR loans to borrowers. However, this loan scheme may not be available for all car models and borrowers with average or bad credit scores.
For example, the Hyundai UK segment is currently offering 0% APR on Tucson, Bayon, and i20 models.
The catch is in the detail though.
0% APR is valid for long-term leases of over 24-months only. It is also available for the newest car models in the mentioned series above.
Other requirements such as an excellent credit score, income stability, and for a limited period also apply.
Hyundai Special Offers/Incentives
Hyundai motor financing offers cash rebates, 0% APR, and other incentives for its car buyers regularly. Some of these incentives are available for the long-term and others are seasonal promotions.
Here are a few ongoing Hyundai motor offers and incentives.
HMF bonus cash offers you a cash rebate on the purchase of a new vehicle usually. Buyers can get a cash incentive of $500 or $1,000 depending on the car model.
A similar offer is HMF retail cash. It offers a few thousand dollars on selective car deals. However, if you choose this deal, you wouldn't get a 0% APR.
Active retired or veteran military personnel can get a special discount with $500 or $1,000 cash rebate.
Similarly, first responders from the civil defense forces will get a cash rebate.
College graduates are eligible for a cash rebate of around $400 on selective models too.
HMF offers a special drive named the "mobility program". It encourages buyers to utilize special equipment like pedal extensions and swivel seats. The incentive can be up to $ 1,000.
How Hard is Hyundai Financing?
Hyundai financing depends on different factors like any other conventional loan approval. However, if you do not need any special qualification criteria to be eligible for one of the above-mentioned rebates and incentives.
Here are a few key points to remember when you think about how hard is Hyundai financing.
You'll need a good credit score. A credit score of 700+ is considered good for most deals and lease options.
0% APR is available on selective car models only. Often it is offered for new car models.
0% APR is on offer for buyers with good credit scores (700+) and excellent credit scores (760+).
Cash rebates and incentives are applicable for limited promotional periods usually. These offers cannot be combined with other offers like a 0% APR offer.
Loan terms for car purchases are longer, thus, they offer low fixed installments.
Lease terms are shorter and offer higher fixed installments.
Additionally, credit score and other requirements such as proof of income can vary depending on your location as well.
Car dealers and banks offering Hyundai financing would add their terms and conditions as well.
In short, if you carry a clean credit history without a default and you have a good credit score of 700+, you can expect an easy Hyundai financing approval.
How to Improve Your Hyundai Financing Approval Chances?
Like conventional personal loans and mortgages, there are no quick fixes to improve your Hyundai financing approval chances.
Foremost, you'll need to build your credit score. That in turn, depends on several factors such as credit utilization, debt-to-income ratio, defaults, delays on payments, types of loans utilized, and so on.
Lenders would also review your credit history. It means if there is a loan default or bankruptcy against your name, you'll need to get it removed. That means waiting for a few years and keeping things clean before you can apply again.
Similarly, you can add a co-signer or use a joint applicant account to improve your Hyundai financing approval chances.
Alternatives to Hyundai Motor Financing (HMF)
Getting an auto loan through Hyundai Motor Financing (HMF) program is your go-to option. However, if you fail to qualify, it isn't the end of the road for you.
You can use a few alternatives to find a more convenient and suitable car loan option.
Through Third-Party Lenders
Car dealers and banks are the biggest third-party lenders when considering auto loan options.
Authorized car dealers usually follow the same lending policies as outlined by an automobile company. However, certain dealers would offer cash rebates, incentives, and promotions to improve sales that could help you find a good deal.
Banks also set their credit requirements and offer incentives.
On the flip side, third-party lenders are often expensive as they require higher interest payments as compared to traditional auto loans obtained directly.
Personal Loans
A convenient alternative to auto loans is to apply for a personal loan. Your approval criteria would largely remain the same.
However, you can use your income sources and collateral such as house equity to your advantage.
Once approved, you can then utilize the approved personal loan to purchase or lease a car of your choice through Hyundai motor financing.