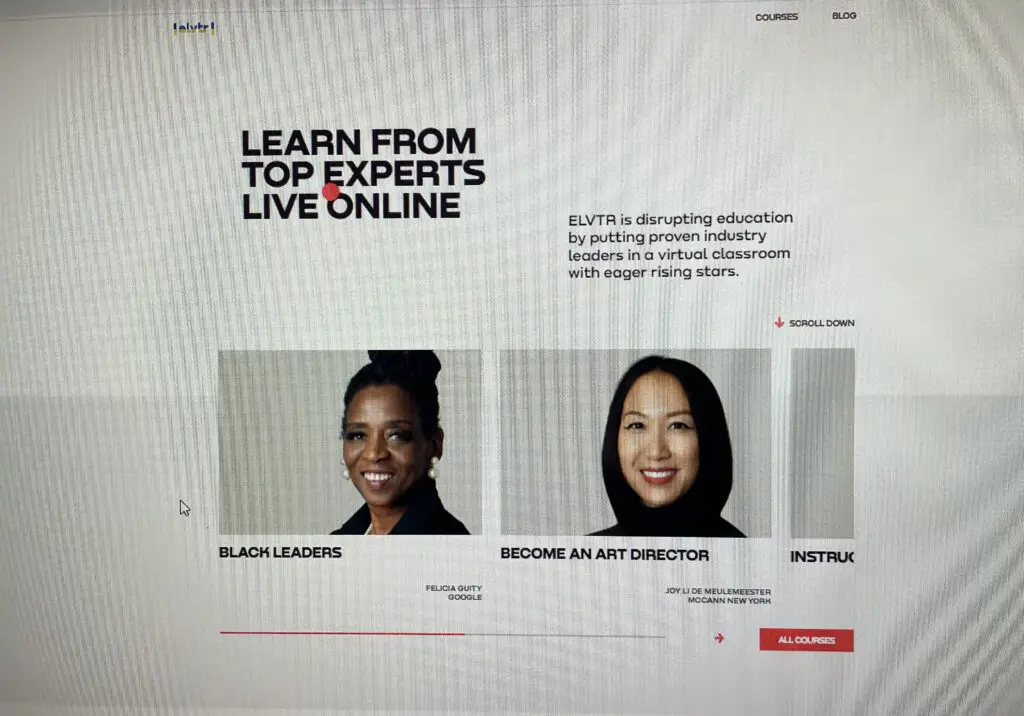 Digitalization in every field has also revolutionized the field of education. Unlike in the past, the constraints of boundaries and physical space are no longer relevant for the education industry.
We can't argue on the efficacy and efficiency of physical classes and on-campus education, but remote learning is also the new reality.
Several platforms, like Coursera, Udemy, etc., are providing platforms for experts to teach people about different subjects and fields.
This disruption has also led many other educational entrepreneurs to come forward and take the initiative of independent educational platforms.
Today's article discusses the disruptive idea of a virtual classroom with industry leaders and experts in in-demand topics and fields.
We will talk about Elvtr, an online platform offering several courses. This complete review of Elvtr will walk you through the business model, vision, courses, costs, and overall verdict about the platform.
So let's get into it.
Key Takeaways
Elvtr is an American-based startup providing business, marketing, and digital skills courses.
The main courses are in the following domains: business & finance, sales & marketing, design, product management, big data & analytics, Human Resources, etc.
The pricing of the Elvtr courses is not publicly available, and you can call customer support to get the information.
Filling out the information form is necessary to request the terms & conditions and pricing of different courses.
What Is Elvtr?
Elvtr is a California-based startup offering e-learning services worldwide. The main idea behind Elvtr was to create a space where industry leaders can teach people about business topics in virtual classrooms.
However, with the overwhelming response of people and demand to bring in-demand topics to the platform, Elvtr has such courses in their library.
The company has its headquarters in Los Angeles and customers worldwide. There is a team of around ten behind Elvtr working hard to deliver a unique learning environment with practical value.
Elvtr describes the business approach as:
Concise. Current. Curated
The contact details of Elvtr are as follows:
300 Spectrum Center DR, Irvine, CA 92618
+1 888 895 6950
Mission of Elvtr
The mission of Elvtr is 'Equality, Diversity and Inclusion' in every regard. Therefore, the policy statement of the online educational platform is as follows:
Equality, fairness, and respect for all team members, whether internal employees or contractual instructors
No tolerance for any unlawful discriminative attitude toward customers or employees based on sex, race, color, ethnicity, national origin, religion, disability, or marital status
No tolerance policy for any unlawful discrimination like pay & benefits, leave grants, conflict management, flexible working requests, selection, promotion, training, or access to opportunities.
Implementing this policy is only possible with practical measures made at every level of the organization.
Therefore, the company claims to encourage equality, diversity, and inclusion at all levels and to develop an environment where there is no place for discrimination.
You can check more about the Diversity and Inclusion Policy of Elvtr here.
How Does It Work?
Before we recommend the platform or request to avoid it, understanding the startup's business model is also essential.
Understandably, the management team is working to bring on industry experts and leaders to teach concepts and ideas in live online classes.
But how the hierarchy of the business is developed and maintained?
So here is the answer:
If we go back to the company's business approach, it claims to be concise, current, and curated.
It implies that the content of courses offered is up-to-date, data-driven, precise, practical, and curated according to the expected learning outcomes from the consumer side.
A permanent management team of Elvtr manages and runs every public aspect of the business.
From dealing with customer inquiries to grievances, bringing instructors on board, and looking after legal and HR-related matters, the company's permanent workforce manages public image and daily operations.
The industry leaders and experts teaching the courses are associated with the company on a contractual basis.
We can't say anything about the nature of contracts or anything else. Live online lectures of the instructors are accompanied by individual instructor feedback and hands-on experience with assignments & projects.
Besides, the student community is also a very productive tool that you can utilize to have your peers and class fellows always available for help.
Courses Offered By Elvtr
Here are different domains in which Elvtr is offering different courses for the users:
Business And Finance
The business and finance domain includes courses related to accounting, financial reporting, governance, business planning, management, financial modeling, etc.
The upcoming courses in the domain of Business and Finance include:
Management, Psychology, And Leadership by Caroline Didem Erdem. She has worked as marketing director for Johnson & Johnson, Ex Lego, and Sabmiller.
Design And Creative
The courses in the domain of Design and Creative are developed and curated to provide the students with hands-on experience and portfolios to show off their skills and acquire clients immediately.
Some of the notable courses include:
Become an Art Director
Instructional Design by Liana Griffin, Learning Evangelist at Microsoft
Data Science And Analytics
Data science and analytics is an in-demand topics, and it is hard to find experts in the relevant field with practical value in their hands.
Therefore, Elvtr has courses in building linkages between data science & big data and business implementations.
The main course to be offered in 2023 is Introduction To Analytics by Udit Mehrotra, data science specialist at Mckinsey & Company.
Marketing And Sales
Several courses and topics are covered in marketing and sales to equip professionals with up-to-date knowledge and skills to boost their potential.
The courses include:
Projects And Products
Product and project management are high-in-demand areas in which the UI and UX in product development are usually the points of concern.
The relevant courses being offered are as follows:
Become a UX Designer by Tony Amidei, senior director of platform UX at PayPal
UI/ UX For Gaming by Ivy Sang
Human Resources
Lastly, Human Resources-related courses are also on the list of courses being offered by Elvtr.
These HR-related courses are aimed at providing practical solutions for improving the workplace environment, workplace efficiency, the process of recruiting, and HR policy development.
Cost Of Elvtr Courses
Finding the cost of Elvtr courses is one of the primary concerns for prospective students.
Wondering why?
There is no publicly available data about the costs of individual courses the company offers. No uniform or public cost schedule applies to all courses and students.
You will have to contact the team of Elvtr and ask them about the pricing of individual courses.
For instance, when we tried to call the customer support team and ask about the cost of a specific course, we were told that the cost of the course was $1,400.
We were offered a price of $900, and there is no transparency about why a $500 discount is being offered.
It creates ambiguity in the mind of the prospect that the company might be charging me more or why they are offering such a huge discount without argument.
The explanation from Elvtr on the matter of pricing is as follows:
The cost of the course for every student is calculated by considering different factors:
When the student applies, the number of enrolled students and any applicable discounts.
Therefore, providing uniform pricing on the platform is not practical.
Therefore, the customer support team is always there to provide the required information.
Pros –Reasons We Like Elvtr Courses
Here are some of the reasons why we think Elevtr courses are value for money:
Opportunity to learn from industry leaders who can impart knowledge as well as practical value to help you in future
Live classes keep the interest alive, unlike the self-paced courses where procrastination is the biggest intruder.
Interactive courses with projects, assignments, interaction, and personal feedback
User-friendly interface and platform that is easy to understand
Courses based on industry trends and in-demand skills
Cons –Reasons We Don't Like Elvtr Courses
Here are a few things we don't like about Elvtr:
There is not much information about the company itself and its business success so far
The absence of course pricing makes it hard for prospects to estimate whether the course is within their budget. Transparency of the platform's pricing is also under question by not publicly disclosing the pricing information.
Some courses are outdated and only cover basic concepts. It is not worth buying a high-ticket course for basic concepts.
Live classes; the courses offered in the past can't be accessed by the students.
You can only choose from the available courses during a specific period
Who are the Elvtr Course Design for?
The Elvtr Course Design is ideal for those with an entrepreneurial spirit who want to create and launch their own digital products.
It is designed for individuals looking to take control of their careers, build a side hustle, or break into tech without any prior experience.
The course provides the step-by-step roadmap, tools, and community support needed to turn any idea into a profitable product.
List the Best of The Elvtr Course
The ELVTR course is one of the best educational and career-building courses available to individuals looking to build a career in digital marketing.
The course was created by renowned online marketing guru Eric Voorhees and focuses on creating and managing a successful online presence.
Here are some of the highlights of the ELVTR course:
Essential Digital Marketing Strategies – Learn how creative strategies can be used to maximize ROI in your digital marketing campaigns.
Content Creation Skills – Get an in-depth look at how content creation can help boost your online presence and establish a strong following.
Social Media Mastery – Develop powerful strategies to engage followers, drive traffic, and convert leads into customers.
Search Engine Optimization (SEO) – Understand how SEO works and learn the tools necessary to succeed.
Strategic Business Development – Explore different ideas for business development, such as partnerships and collaborations with industry leaders. Additionally, gain insight into customer success stories to help prove the effectiveness of any tactics being employed.
Analytical Thinking & Decision Making – Get tips on maintaining an analytical mindset so you can make well-informed decisions quickly.
Final Verdict
Many call it a sketchy business with no clear information about the costs of the courses. Besides, many others alleged the platform provides lower value than the cost.
What is our verdict?
It is 100% a legit business model connecting instructors with students to impart practical knowledge from the industry.
However, the company should work to improve its customer support team entertaining customers. Disclosing or not disclosing the pricing information is an internal policy of the company.
However, necessary actions should be taken to satisfy the customers about the company's pricing policy.