Making on-the-spot payments for a big purchase can be difficult for the buyers. To resolve this issue, the Big Lots payment method allows customers to pay the payment in chunks just as you rent anything. You get to pay the same amount but in portions.
Big lots financing may include paying cash at once or a leasing deal if you purchase big items like electronics and furniture.
If the costs of such items exceed $150, you can pay the payment at different intervals.
How Does the Big Lots Financing Work?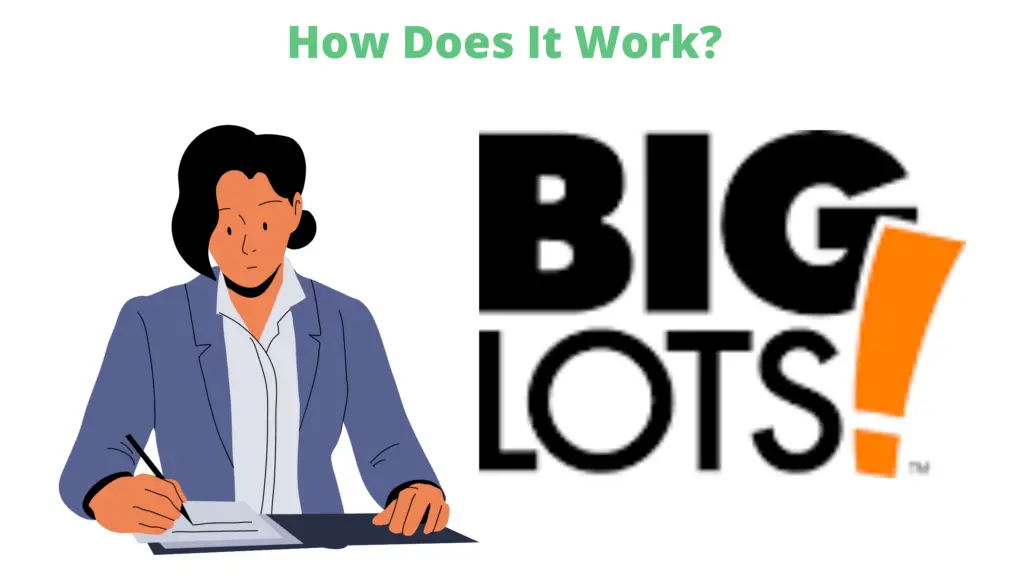 The working science of big lots financing is quite easy. Different methods have been designed for the convenience of customers. These methods are below in detail:
1) Big lots's credit card
If you are interested in big lots of furniture and other big items to get through the leasing program, one method with which you can do this is branded credit card.
The big lots give you a credit card to cover the costs of items in intervals. The credit card further contains different offers.
You can pay within six months with 0% interest for purchases over $250. Second, you can pay within 12 months again with 0% interest for purchases over $750.  
The most interesting part is there is no annual fee. However, if you fail to pay the due amount within the stipulated deadlines, you must pay the interest.
To avail of this credit card, you must fulfill the eligibility requirements. These requirements are generally basic information such as your photo ID, mailing address, etc.
You can get a credit card via the online platform and a physical visit to the store.
2) Progressive leasing
Another appealing method of Big Lots financing is called the Big Lots Lease-To-Own Program. You can own Big Lots furniture and other items via this method.
The store will automatically cut payments from your account each month until all item costs are paid. Once the actual cost is withdrawn from your account, the item completely becomes yours.
The big lots leasing program is available at big lots furniture stores. This is because the items under this program are sofas, mattresses, dining sets, patio furniture, etc.
Normally, you need to make 12 months of payments. But you can purchase the entire at any time by paying the full amount.
Some lease-to-own costs can make this method less attractive in the long run than paying the full amount at once.
3) Paying Cash
Paying cash is a simple and cost-effective method of financing furniture. In this method, you get to pay all the amount of furniture in one go.
It saves you from paying interest you might have to pay in the credit card purchase. Also, it saves you from extra costs that you pay for the lease-to-own program.
So, this method can burden you at once but will save your accumulated cost. 
For this purpose, you can set different money-saving goals for yourself to buy your dream furniture.
First, save money in bulk and get your desired furniture.
4) Personal loan
Taking a personal loan can be another attractive option if you cannot purchase the item due to its high cost.
This loan is given at fixed interest rates, and you are liable to pay it within the required period. The minimum time is 12 months, but it can be higher depending on the need and eligibility.
The loan amount can also vary from a minimum of $1,000 to a higher amount.
These loans can be gained either in secured or unsecured form. Both loans give you the money, but they vary in their specifications.
A secured loan is given on any collateral item, whereas an unsecured loan is hard to get.
The unsecured loan comes with the advantage that if you somehow fail to pay on the due date, there won't be any collateral.
So the lender would not be able to seize your item. In a secured loan, the collateral is taken to give you the loan.
To get personal loans, your ability to repay the loan is examined. This includes your income, other loan obligations, whether you are the owner of your house or not, etc.
5) A personal line of credit
A personal line of credit can also be a great option for finance furniture. You get to borrow money and pay it back with interest.
The plus point of this method is that you only pay interest on the money you use and not on the whole money. It's a revolving credit line that offers variable interest.
This type of credit is unsecured, which means you should have hefty credit. Obtaining this credit can be difficult for Big Lots financing.
Lenders will check your credit and your capacity to pay off debts. So, your employment and income information must be strong.
It looks fascinating at the time of purchase to get the thing now and pay its amount later on. But it might come with the disadvantage of burdening you with long-term debt.
Conclusion:
The financing of Big Lots is done in several ways. Each method has its own pros and cons. studying these methods becomes really important when you have to finance big items.
You cannot haphazardly choose any way of financing Big Lots; it can lead to problems. For choosing any method of Big Lots financing, studying these is important.
Further, there are different methods of purchasing through Big Lots. These methods include Big Lots credit card, progressive leasing, paying cash, personal loans, personal line of credit, etc.
The big Lots credit card offers 0% APR. However, it's for a limited time; a certain interest is paid to the company.
Progressive leasing is another successful mode of financing. It requires the buyer to pay a certain amount monthly. The total for the installments includes an element of interest and principal repayment.
In addition to this, paying cash, personal loan, and personal line of credit can be another good option.
Frequently asked questions
What's the credit score needed for the big lots financing?
A credit score of 630 is reasonably expected to raise finance via Big Lots. However, their APR is relatively higher, leading to an expensive purchase.
What is a soft inquiry, and how does it impacts the credit report?
A soft inquiry is also called a soft credit pull/soft credit check. It's when someone checks your credit score.
However, this inquiry does not significantly impact the credit report. It's because it does not have an attached credit application. Further, if you check your own credit, it's also referred to as soft inquiry.
Do big lots perform soft inquiries for a credit report?
Yes, big lots perform a soft inquiry. It's because they check your credit score to assess if your credit application should be granted or not. It helps Big Lots understand its ability to repay the loan.
What is a hard inquiry, and how does it impact the credit report?
An inquiry is hard when a lender reviews your credit report as part of their credit application process. It leads to a negative impact on the credit report and results in decreased credit scores.
Is it good to finance the purchase from Big Lots?
Generally, we recommend the purchase of furniture and other non-revenue generating assets with cash.
It's because it can lead to decreased purchasing power and the ability to maintain living standards in the future.
However, it can be a good idea to finance a purchase if you have a stable source of earnings and the need for the purchase is unavoidable.