Woodforest is a famous online bank, offering its users plenty of products and services, including routing numbers that can be used to deposit checks remotely. 
That being said, it can be hard to understand all the different routing numbers and their usage, especially when you're trying to figure out how to find your bank's routing number by state and city. 
We've taken the time to compile Woodforest's routing numbers by state, so you can find exactly what you need with little hassle.
Keep reading to learn everything you could want about Woodforest routing numbers!
What Is A Woodforest Routing Number?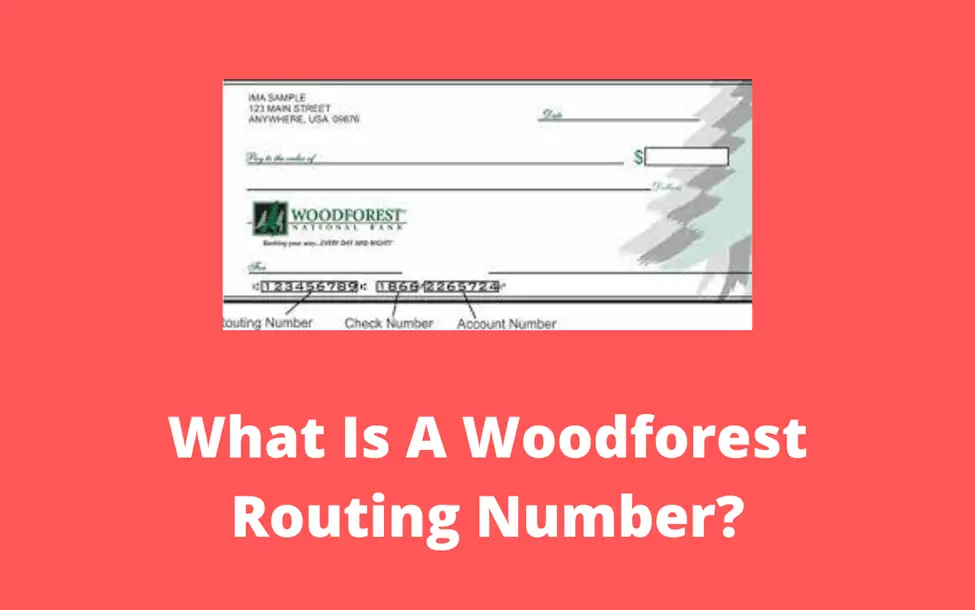 A Woodforest routing number is a 9-digit code used to identify a financial institution in the United States.
Using the code, you can transfer money between banks and can also be used to set up direct deposit or automatic bill payments. 
The routing number for Woodforest National Bank varies by state, so check the list below before initiating any transactions. 
What Are Woodforest Routing Numbers by States 2022?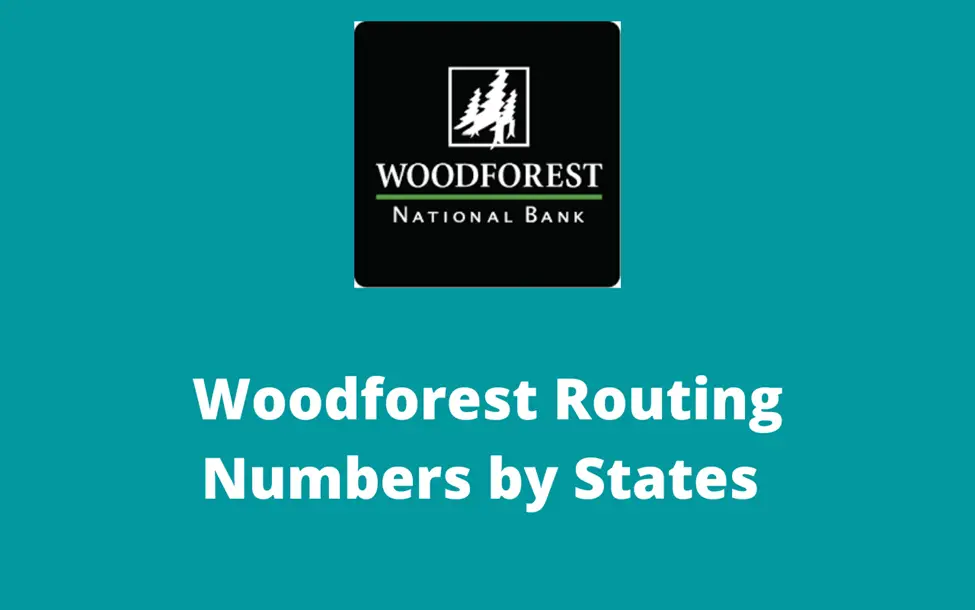 Here are the Woodforest routing numbers by state list 2022 updated.
| | | |
| --- | --- | --- |
| ABA | State | Counties |
| 314972853 | Alabama | All |
| 314972853 | Florida | All |
| 314972853 | Georgia | All |
| 081226829 | Illinois | Adams, Alexander, Bond, Brown, Calhoun, Clay, Clinton, Crawford, Edwards, Effingham, Fayette, Franklin, Gallatin, Greene, Hamilton, Hardin, Jackson, Jasper, Jefferson, Jersey, Johnson, Lawrence, Macoupin, Madison, Marion, Massac, Monroe, Montgomery, Morgan, Perry, Pike, Pope, Pulaski, Randolph, Richland, Saline, Scott, St. Clair, Union, Wabash, Washington, Wayne, White, Williamson |
| 071926809 | Illinois | All remaining counties |
| 081226829 | Indiana | Clark, Crawford, Daviess, Dubois, Floyd, Gibson, Greene, Harrison, Jackson, Jefferson, Knox, Lawrence, Martin, Orange, Perry, Pike, Posey, Scott, Spencer, Sullivan, Switzerland, Vanderburgh, Warrick, Washington |
| 071926809 | Indiana | All remaining counties |
| 314972853 | Kentucky | All |
| 314972853 | Louisiana | All |
| 053112592 | Maryland | All |
| 314972853 | Mississippi | All |
| 314972853 | New York | All |
| 053112592 | North Carolina | All |
| 044115809 | Ohio | All |
| 044115809 | Pennsylvania | Allegheny, Armstrong, Beaver, Butler, Clarion, Crawford, Erie, Fayette, Forest, Greene, Indiana, Jefferson, Lawrence, Mercer, Somerset, Venango, Warren, Washington, Westmoreland |
| 031319058 | Pennsylvania | All remaining counties |
| 314972853 | South Carolina | All |
| 113008465 | Texas | All |
| 314972853 | TX – Refugio | All |
| 053112592 | Virginia | All |
| 044115809 | West Virginia | Brooke, Hancock, Marshall, Ohio, Tyler, Wetzel |
| 053112592 | West Virginia | All remaining counties |
Know About Woodforest National Bank!
Woodforest National Bank (WF BANK) is an American bank headquartered in Houston, Texas, with 191 banking centers across 15 states.
It was founded as Western Federal Savings and Loan Association of Texas in 1937 but has since grown into one of the largest thrifts in the country. 
With over 25 billion dollars worth of assets, WF BANK's mission statement is to provide quality banking services that meet all your financial needs.
They offer products such as certificates of deposits, checking accounts, savings accounts, personal loans, mortgages, and more. 
As you can see from their website, they have locations nationwide, with several in Texas alone. Check out their FAQ page if you have any additional questions!
Here are the other details of the Woodforest National Bank Swift Code.
| | |
| --- | --- |
| Swift Code | WONAUS44XXX |
| Swift Code (8 characters) | WONAUS44 |
| Bank Name | Woodforest National Bank |
| Branch | Primary Office |
| Branch Code | XXX |
| Country | United States |
| City | The Woodland, TX |
| Address | 1330 Lake Robbins Drive |
| ZIP/Postal Code | 77380 |
| Status | Check |
How To Find The Woodforest Routing Number On A Check?
The routing number is the first set of numbers listed on the bottom left side of your check. The routing number will differ depending on the state where your account was opened. 
You can find a list of Woodforest routing numbers by state here. If you don't have a review, you can also find your routing number by logging into online banking or calling customer service for assistance. 
When Do I Use A Woodforest Routing Number? 
The Woodforest routing number is needed when sending a wire transfer, writing a paper check, and depositing funds from an out-of-state checking account.
The most common reason people use the Woodforest routing number is to send checks as gifts during holidays and special occasions. 
To do this, the person who wants to send the gift needs only to include their name and address on the memo line (write gift in large letters) followed by the recipient's name and address with their routing number underneath it. 
They must sign it off with their signature at the end of the memo line before mailing it out. There are other things that people use the Woodforest routing number for, such as making electronic payments and transferring money between accounts. 
To make sure that these transactions go through smoothly, customers should never input the nine digits of their personal information into any form field that asks for routing numbers. 
Doing so may put them at risk for identity theft. They should always enter the 9-digit Woodforest routing number instead of their social security number, date of birth, or anything else that could lead someone to steal their identity.
FAQs – Woodforest Routing Numbers by State 2022
This portion of the article covers the answers to the questions related to Woodforest routing numbers.
What Is a Woodforest Routing Number?
A routing number is used for processing transactions between banks. It includes any deposits you may make, checks you may write, ATM transactions, wire transfers, and payments made with debit cards.
How Can I Find My Account Number on My Debit Card?
It will be listed on the front of your card above your name, along with other standard information such as its expiration date and CVV code.
What Are Routing Numbers Used For?
Routing numbers are used to identify banks and financial institutions when sending or receiving money. The numbers are also used to process payments and transfers between accounts. 
In the United States, nine-digit routing numbers are assigned to each state. Please contact your bank directly to learn more about how these numbers work in your area.
Why My Routing Number Recently Changed?
Woodforest recently changed its routing numbers to serve its customers better. The new routing numbers are now specific to each state, which will help ensure that customers receive the best possible service. 
This change will also help Woodforest better keep track of customer accounts and transactions. Please contact customer service if you have any questions about your account or the new routing numbers.
What Should I Do If My Routing Number Is Lost Or Stolen?
Immediately contact your financial institution if you believe your routing number has been lost or stolen. Your bank will be able to deactivate the old number and issue you a new one. 
In the meantime, you can use an alternate payment method such as cash or a check. Be sure to update any automatic payments you have set up with your new routing number.
Can I Have Multiple Checking Accounts Under The Same Routing Number?
Yes, you can have multiple checking accounts under the same routing number. It is because the routing number is assigned to your bank, not to your individual account. 
Having multiple accounts with the same routing number means that all your accounts are held at the same bank. 
When you initiate a withdrawal or a deposit from one of your accounts, it will be deducted from the account designated as active on your Woodforest Account Profile page.
Each customer and changes control the active designation according to how they want their money moved between accounts.
Why Was My New Woodforest Account Automatically Linked To My Old One?
Your new Woodforest account was automatically linked to your old one because you used the same routing number. The routing number is a unique nine-digit code that identifies your bank. 
When you open a new account, your bank will assign you a unique routing number. However, if you close an account and open a new one at the same bank, you will likely keep the same routing number.
How Can I Get A Permanent Routing Number Listed On My Bank Deposit Slip?
You must contact your financial institution and request a change address form. Once you have completed and signed the form, you must submit it to your local branch. 
The branch will then forward the form to the main office, where the routing number will be changed.
It can take up to two weeks for the change to take effect. In the meantime, you can use the old routing number on your deposit slips.
How Do I Apply For A Woodforest Account If I'm Under 21?
If you're under 21 and looking to open a Woodforest account, you'll need a parent or guardian to co-sign your application.
Once you have a cosigner, you can apply for an account online, in-person at a branch, or by calling customer service. 
Remember that you'll need to provide personal information like your Social Security number and date of birth.
You'll also need to give the name and address of the person who will be your co-signer and their driver's license number or state ID card. The co-signer will need to agree to allow you access to the account. 
Can I Withdraw Cash From Other Banks' ATMs Using My Woodforest Bank Card?
Yes, you can use your Woodforest bank card to withdraw cash from other banks' ATMs, but there may be fees associated with this service.
We recommend using an ATM part of the Woodforest National Bank network to avoid fees. To find a participating ATM near you, please visit their website or give them a call at 1 (877) 968-7962