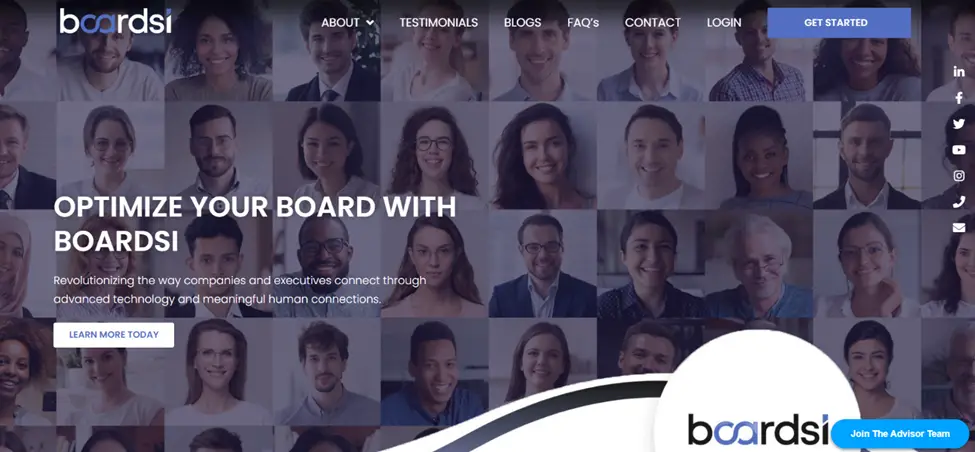 Boardsi is an online recruitment platform for directors, executives, and advisors. It connects companies looking to recruit executives with the talent pool looking for executive positions.
The company offers recruitment services online and attracts users from around the world and from all types of industries.
What is Boardsi?
The CEO of Boardsi is Martin Rowinski. It was founded in 2017, and its headquarters is currently located in Las Vegas US.
Martin Rowinski and cofounders Cameron Henry and Daniel Henry, started the platform that offered a newer version of online recruitment.
Boardsi is a recruitment platform specialized for executives. Like recruiters fulfill employers' demand by offering them a range of candidates, Boardsi offers jobs for executives.
In other words, it is a platform to recruit the C-Suite for the C-Suite for companies from all industries. Since it is an online platform, candidates worldwide can join and find open positions in their regions.
Employers use Boardsi services to find the right match for their executive role needs. Both the employers and the employees use paid services from Boardsi mainly.
How Does Boardsi Work?
Boardsi labels itself as a Software as a Service (SAAS) company. It is an online recruitment platform that matches the needs of employers and employees.
Unlike other online job platforms, Boardsi recruits executives mainly. The positions are mainly for directors including independent directors and insider directors.
Moreover, the job openings for executive roles are not published online. Applicants can only see these vacant positions when they join Boardsi and get a paid membership.
Paid members receive job offers directly from Boardsi when the company uses its direct matching tools.
However, members generally have to apply for open slots to find an ideal executive role matching their resumes.
Boardsi also uses LinkedIn to post job openings. Most jobs posted on LinkedIn by Boardsi are offered as a free service to their members.
Is Boardsi a Legitimate Company?
Boardsi is a registered company and its headquarters is located in the USA. So, it is a legitimate company on paper at least.
There have been a few published reviews about Boardsi in credible journals like Forbes and Inc. as well.
Although there have been a few negative reviews about the company on different social media platforms, it is still a legal company.
Boardsi is a different type of online recruitment company. Unlike its competitors, it does not allow public profiles and job openings.
Note: We couldn't find any credible sources declaring Boardsi an illegal or scam business online.
How Does Boardsi Make Money?
Boardsi makes money mainly by charging the employer and the applicants. Its membership fees charged to applicants are recurring on a monthly basis.
Boardsi charges a one-time registration fee of $200 from all applicants. Then, there is a monthly fee of $195 for all members. So, new applicants pay a total of $395 when joining the platform.
The fee charged to employers is not disclosed officially by Boardsi. However, like other recruiters, Boardsi would also charge them on a case-by-case basis.
Boardsi's indirect income sources are also not disclosed publicly as it is still a privately held company and no officially published financial statements are available.
How to Join Boardsi?
Boardsi offers its services online. You can join as an "advisor" or "looking for an advisor".
Visit the registration link on the Boardsi home page and locate the "Get Started" link. You can choose the registration link for "advisors" or executives to create an online profile here.
You'll need personal information like name, email address, and contact number to register. Once you receive a verification link, you can then confirm your profile and continue using the services.
Then, you'll need to pay the registration and monthly fees for the first month for a total of $395. Members can then search for open positions matching their profile and apply for a suitable one.
Companies and applicants can also schedule calls with Boardsi.
Criticism on Boardsi
Boardsi members criticize the platform for its higher service charges compared to others. Leading recruitment platforms like LinkedIn provide most of their services free of cost.
Then, LinkedIn's premium services are much cheaper as compared to Boardsi. Boardsi also charges a joining fee that other online recruiters usually don't.
Then, the biggest drawback of Boardsi comes from its unique selling proposition too. It only offers recruitment services for executives and advisors on the board of directors.
Unlike other online platforms, users cannot display their profiles publicly. Also, non-members have no access to the available talent pool, nor can they post any vacant positions.
Boardsi Reviews
Boardsi has faced some criticism from users over social media platforms. Most of them accuse the company of posting fake job posts with no evidence of the employers.
Then, there are speculations about the way the jobs are posted for executives and their compensation packages are negotiated.
The company currently enjoys a modest 3.0-star rating on the popular rating site Trustpilot. There are some other negative reviews on social sites like Reddit and Quora about the company as well.
Pros and Cons of Using Boardsi Services
Boardsi is a young and private company offering unique recruitment services to employers and job placements to executives.
Pros Explained
It offers specialized recruitment services for top-tier human resources. The platform is a unique place to find and match the C-suite talent pool.
The pricing mechanism of the platform is transparent. Applicants can manage their profiles online and find matching positions themselves.
Boardsi also offers some free positioning. Then, there are a few selective recruitment cases directly with direct calls and automatic matching through AI tools.
Cons Explained
Boardsi does not disclose its pricing for recruiters; its current pricing for applicants is relatively higher than its competitors.
The platform does not display public profiles of the available talent pool which is a disadvantage in terms of transparency. However, the same factor is a key advantage in privately securing the platform.
Some members have complained about recurring charges on their credit cards despite canceling the membership.
How to Contact Boardsi?
You can always contact Boardsi through the member's dashboard area to inquire about the services.
You can contact customer support at +1 (916) 750-2537 and for general inquiries by email at [email protected].
If you want to visit or write to Boardsi, the headquarters address is:
9121 W. Russell Road, Suite 116
Las Vegas, NV 89148
10 alternatives to Boardsi Company
Here are the top 10 alternatives to Boardsi Company:
1. Trello – A cloud-based project management solution that offers customizable project boards, cards, and lists with task tracking, comments, and more.
2. Asana – A popular web and mobile collaboration platform that enables teams to manage projects and tasks easily.
3. Wrike – An online task and project management solution for small businesses and enterprise organizations.
4. Basecamp – A cloud-based work hub that allows teams to collaborate on projects from anywhere in the world.
5. Monday – A cloud-based collaboration platform that allows teams to organize their work with tasks, boards, conversations, files, and more.
6. Smartsheet – An easy-to-use spreadsheet application specifically designed for managing projects across departments with real-time collaboration features
7. Teamwork Projects – Web-based complex project management software offering task lists, milestones & integrated time tracking for businesses of all sizes
8. ClickUp– A versatile task management tool designed for individuals as well as teams looking for a comprehensive but easy-to-use system
9. ProofHub – A simple yet powerful online project management process that combines both creative ideas along with time constraints of deadlines
10 . Taskworld -A cloud-based productivity tool helps to track real-time performance basis providing better visibility into the team's progress & success rate