Definition:
A strategic alliance is a partnership between two independent entities to undertake a mutually beneficial project, but, it also allows both entities to regain their independence.
A strategic alliance is less binding than a joint venture as there is no legal binding agreement between the two entities. Also, no new legal entity is formed like in a Joint venture, which allows for more flexibility than a joint venture partnership.
There are multiple reasons that companies form a strategic partnership. There are common synergies between the products and services sold by both companies.
It allows easy access to new markets, helps improve the product line, or helps give the company a strategic edge over its customer. The Strategic alliance can be both long or short-term, while it can be formal or informal.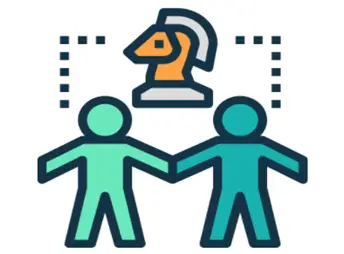 A strategic alliance allows both companies to combine their manufacturing, production, core competencies, and services. For example, Barnes & Noble and Starbucks created a strategic alliance.
The books came from Barnes & Noble, while Coffee came from Starbucks. People love to read books while they are drinking coffee. So, both companies were able to combine their core competencies while also reducing costs and increasing profits.
Types of Strategic Alliances
There are four main types of strategic Alliances. All four types are shown in figure 1 below.
Figure 1: Main types of Strategic Alliances
All four types of strategic alliances are expressed in details below:
Joint Venture
A joint venture or JV is defined as a particular business arrangement where two or more parties agree to use their collective resources to set up a particular venture.
This helps both parties or businesses collectively manage the challenges in their particular industry while also improving the chances of decreased losses. A joint venture also reduces the cost of developing new technologies.
A joint venture is a completely separate entity from both parties' other businesses while the profit, losses, and any associated costs are borne by both parties.
The main advantages of joint ventures are lower costs through the economics of scale, more savings, pooling of resources, and expertise sharing while maximizing profits and minimizing losses.
An example of a Joint venture is the partnership between Mazda and Toyota, both carmakers, in the U.S.A, both will build cars in the same car plants which will help lower production costs.
Equity Strategic Alliance
An Equity strategic alliance is formed when one of the partners in strategic alliance buys equity in the other partner.
It does not outright purchase the whole company but buys partial equity. Sometimes, both of the partners in the strategic alliance buy partial equity in each other.
This practice is common among the Japanese companies.
This allows both companies to fates tied to each other. This is because if one of the companies in the strategic alliance performs poorly, the share price of the other company in the strategic Alliance also takes a hit.
Reverse is also true, that when one company performs well, the other company's share price also does well.
A great example of Equity Strategic Alliance is the strategic alliance between Tesla and Panasonic. Panasonic announced an initial investment in Tesla of $30 Million and now both companies are doing billions of dollars of business on an annual basis.
Non-equity based Strategic Alliance
A non-equity strategic alliance is like a joint venture. Two partnership companies agree on pooling their resources together, but they do not create a separate entity for this purpose like partnership companies do in the Joint Venture.
The non-equity strategic alliance allows for more flexibility for both the partner companies. By removing the equity point from the strategic alliance both partnership companies are better able to focus on research and development, sales channel, and distribution platforms.
Global Strategic Alliance
A global strategy is mainly formed by an established player in a mature industry with a new entrant to expand in new geographies where Government regulations play a very important role in the purchase and sales of goods and services that the company is producing.
It allows company to expand fast while also lowering costs. It allows both partnership companies to acquire new customers.
It helps the companies shorten production time while also increasing the product offering to the consumers. A global alliance is a flexible strategic partnership that allows both of the partners to maneuver a great deal.
It helps in avoiding import tariffs. This is important for the companies which facing import tariffs when selling in a particular geography or country.
By forming a global strategic alliance, the companies are able to avoid import tariffs by having a factory in the mentioned geography or a particular country. It also can help a great deal in expanding the networks of both partners.
Why companies should form strategic alliances?
There are multiple reasons why two companies should form a strategic alliance. Some of the biggest reasons are given below:
It allows companies to lower their costs.
It allows for organic growth which both partners could not have achieved if they were working together.
Strategic alliances allow for synergies. It means the products and services of the partnership companies complement each other.
Main Advantages of a Strategic Alliance
The advantages of strategic alliances are numerous. Some of the biggest advantages are describes as follows:
A strategic alliance is highly flexible which helps the partner companies maneuver.
A strategic alliance is less burdensome than a Joint Venture.
The companies are not required to inject capital into any new entity.
It helps partnerships introduce new and innovative products while also improving the quality of those products.
The customer base of the partner companies in a strategic alliance is expanded at neck-breaking speed.
Main disadvantages
The main disadvantages of a strategic alliance is as follows:
Conflicts can arise.
Sharing proprietary information can cause issues.
Disruption may cause collapse.
Conclusion
A strategic alliance can be a great way to enter new markets and expand the customer base. But, the companies should be careful as many problems may also arise during the alliance.