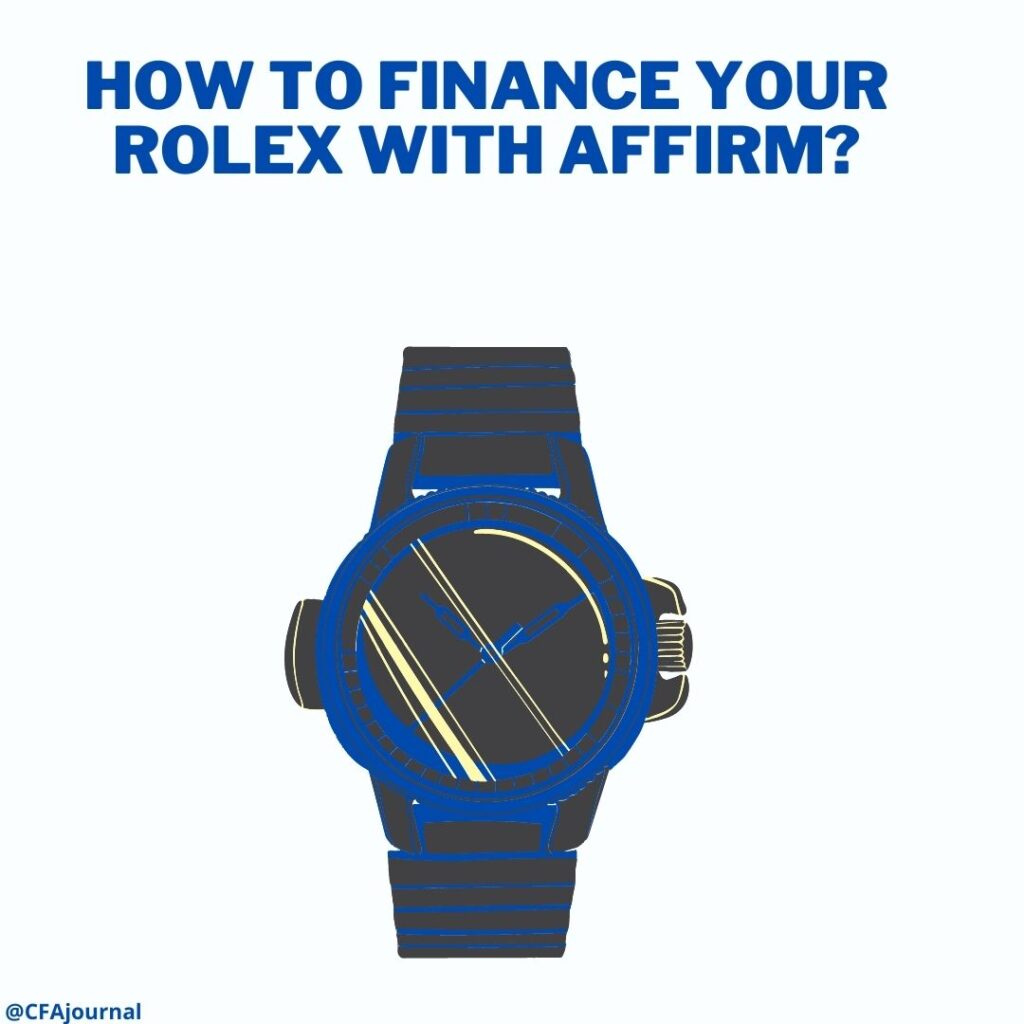 Rolex is a renowned brand of luxury watches and jewelry. Buying a Rolex can be easy if you have a credit facility. Affirm offers short-term financing that you can use to buy Rolex watches.
Let us discuss how to finance Rolex with Affirm.
Rolex – Introduction
Rolex is one of the leading luxury watches and jewelry makers in the world. It is a renowned brand of superior quality and stylish watches around the globe.
Rolex has a large number of retail partners around the world. It has a global presence through its official retail partners in almost every country.
Customers can buy certified and authentic watches through these partner retail outlets. Some retailers offer online purchasing of Rolex watches as well.
Some of the famous watch series at Rolex are:
Air-King
Cosmograph Daytona
Datejust
GMT-Master
Sea-dweller
Yacht-Master
Rolex offers watches for men and women. Its luxurious collection of watches gets updated regularly.
Rolex does not offer credit financing directly. Its retail partners may offer credit financing through different lending platforms including Affirm.
What is Affirm?
Affirm is a lending platform that offers credit financing through its partners. It offers short-term loans that customers can use to make purchases at selected retail outlets.
Affirm comes with a simple credit application process. Applicants can apply through Affirm's website, mobile app, or at checkout of the retailer.
Affirm does not disclose its maximum credit limit. However, customers can apply for a loan depending on their purchase requirements.
Affirm will offer its loan terms and APR to the borrower before finalizing the loan process. It offers 0% financing on selective loan types as well.
Generally, the interest rates charged by Affirm will be higher than a commercial bank or a regular lender. Affirm may charge APR ranging from 10-30% depending on the loan amount, credit score, and the applicant's gross income.
How to Finance Rolex with Affirm?
Rolex does not offer financing through Affirm directly. You'll need to find a retailer that offers Affirm as its financing partner.
Most official partners of Rolex do not offer credit financing as well. However, some renowned retailers selling pre-owned or certified Rolex watches do offer financing through Affirm.
Here are some key points to know about Affirm loans:
Interest rates vary from 10-30%
You may qualify for a 0% loan depending on your retailer and loan type
Loan terms are typically 3, 6, or 12-months. Some loans may offer extended terms up to 36-months as well.
There is no loan originating fee, service charges, or any other type of fee charged by Affirm.
You can get a virtual shopping card loaded with your loan amount that can be used to make purchases at Affirm partner outlets.
There will be soft inquiry until your process is in the prequalification stage. Once you approve the loan terms, it may get you a hard inquiry from Affirm.
Affirm does not specify the maximum credit limit. Affirm evaluates each loan application separately. You may qualify for more than one loan with Affirm if your credit score and gross income are strong.
Affirm Financing Eligibility Criteria
Affirm does not offer much information about the eligibility criteria for loan approvals. There is no specific guideline about it. However, applicants can evaluate their credit profile and apply for loan prequalification.
To apply for Affirm loans you must:
Be 18 years old and a US citizen
Provide a valid US address
Provide full contact information including full name, mobile number, email address, date of birth, and your social security number.
There is no official information about credit score requirements. Applicants with bad or average credit scores can also apply and get approved.
Other information like debt-to-income, gross annual income, and credit history requirements are also unknown officially.
Affirm may ask for these details after an initial soft inquiry. If your loan application is rejected, you may ask through correspondence and improve the objection point.
How to Apply for Affirm Financing?
Once you have the required information ready, you can apply for Affirm financing. There are three different options to apply for Affirm financing.
At Store
The most convenient way to apply for an Affirm loan is to apply at the checkouts of the partner stores. Once you complete your shopping, you can proceed to pay at the counter.
You can choose to pay with Affirm and apply for credit finance immediately. It will take a few minutes to evaluate whether your loan application is approved or not.
The disadvantage of this option is you'll have limited Rolex stores offering this facility. However, some licensed Rolex partners selling preowned or licensed watches may offer financing through Affirm.
Through Affirm Web
Alternatively, you can apply for an Affirm loan before shopping. You can create Affirm account online in a few steps using the information listed above.
Once you create an online account, you can apply for a loan. If your loan application is approved, you can get a virtual card to use at Affirm partner outlets.
You can go through the prequalification to know the APR, loan amount, and loan term. Once you confirm loan details, Affirm will further proceed with your loan application.
Through Affirm App
You can follow the same steps as outlined above to apply for a loan through Affirm mobile application as well.
The information required and steps will be similar but with more convenience of applying through the mobile app.
Affirm may decline your credit financing application after evaluating your application. In some cases, you may be asked to enter your bank account details as well.
Also, if you are applying at a retail outlet, you may be asked to make a down payment. It may be to adjust the loan amount if you do not qualify for the full shopping bill amount.
Pros and Cons of Financing Rolex with Affirm
Affirm is an alternative lending platform. It offers several pros and cons to its users.
Pros Explained
Applying for credit financing through Affirm is easy and quick. You can apply at a retail checkout or through the web (and app) portal.
The loan application processing is also quick and you can get approved within a few minutes.
Affirm does not charge loan originating fees, service charges, or any other type of hidden fee. You can be approved for a 0% financing loan as well.
Another advantage of using Affirm financing is the unlimited number of loan applications. You can apply for a loan as many times as you need. Also, you can apply for more than one loan at the same time.
Cons Explained
Affirm is not an official partner of Rolex. Many of the Rolex official partners do not offer Affirm financing as well. So, you'll need to get approved for a loan before you make a Rolex purchase.
Rolex watches are often expensive. So, you may need to make a down payment as your approved loan may not be sufficient to buy a new Rolex watch.
In many cases, Affirm offers short loan terms from 3- or 6-months to 12-months. In exceptional cases, you may get a loan term of 36-months though.
Affirm loan is limited to use at its retail partner outlets. Therefore, it will be difficult to find a retailer that partners with Affirm and Rolex at the same time.