Want to know everything about USAA Roadside assistance? Then don't go anywhere. Here, we are discussing every important detail about this service that you should know before you include it in your auto policy plan.
In this guide, you will find out what services are included in USAA road assistance, how you can apply for it, what the problems are (that the company doesn't tell you), and much more.
So, continue reading.
Key Takeaways
USAA roadside assistance is a service that will help you in getting your vehicle back on the road after it shuts down.
It is one of the cheapest road assistance services that people can include in their auto policy plans.
When the car stops abruptly, you will have to either submit an application online or call 800-531-8722.
If you want to contact USAA for further information, you can either call them or send a letter.
| | |
| --- | --- |
| Contact Number | Mailing Address |
| 1-800-531-8555210-531-USAA (8722)800-531-USAA (8722) | USAA 9800 Fredericksburg Rd. San Antonio, TX 78288 |
USAA Roadside Assistance- An Overview
USAA Roadside Assistance is a great service for those who are current or former military veterans or related to any. It is optional and can become a part of the USAA insurance policy.
Some people don't add it to their auto policy but realize it's worth it when the vehicle stops in the middle of the road. Those who don't know much about the car system also often find it hard to even know what the problem is.
In that case, those who have added USAA roadside assistance to the policy can get in touch with a USAA representative and get help.
What USAA Roadside Assistance Covers?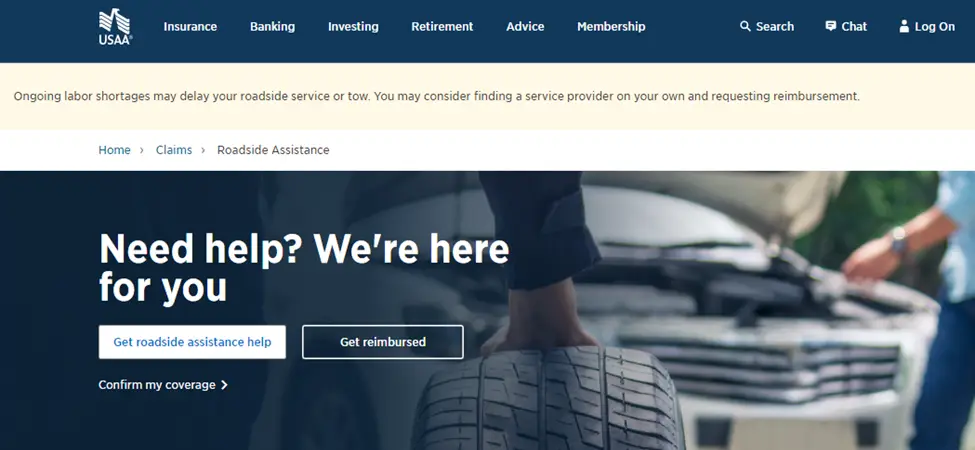 USAA offers a wide range of roadside services, which help you stay somewhat relaxed even if the car completely shuts down.
●      Towing
If the vehicle breaks down and there is mechanical trouble, then USAA roadside assistance can tow it to the nearby repair shop. If you want to take the vehicle to a different mechanic, then the company will let you know the extra charges, depending on how far the shop is.
●    Replace The Flat Tire
If the vehicle's tire gets punctured and you have a spare one, then you can contact roadside assistance, and the representative can change it for you without any extra charge. If you don't have a spare tire, then you can always request the service provider to tow the vehicle to the nearby repair shop.
USAA does not offer this service to those who own motorcycles.
●    Supply Fuel
Sometimes, we forget to refuel the vehicle. But the problem starts when it shuts down in the middle of the road.
Fortunately, in this situation, USAA roadside assistance can help you with it. Just get in touch with USAA and convey to the representative that you have run out of fuel. The company will then send a service provider, who will bring gas for you. However, you will have to pay for that fuel.
●    Jump Start Battery
USAA roadside assistance also provides a jump-start battery service if your vehicle does not start.
●    Unlocking
Suppose you are locked out of your vehicle, and the keys are inside; what should you do? If you have active USAA roadside assistance, you can contact the company to unlock the vehicle.
The service provider sent by the company will first try to unlock it with a long tool or wedge. If he couldn't, then USAA would send a locksmith to make a new key.
●    Unstuck the Vehicle
If your vehicle gets stuck in snow or mud, then don't worry. USAA roadside assistance will come to our aid and lift up your ride.
Now, it's time for you to know how USAA Roadside Assistance works.
How does USAA Roadside Assistance Work?
Everything is simple about USAA Roadside Assistance work. When you face any problem with your vehicle, contact the company, and the service provider will be sent to your location easily.
The service provider's arrival time is usually between 60 to 90 minutes.
After arrival, the service provider will take a good look at your vehicle. Whatever the issue you are facing, it will typically take about one hour.
After this, you will receive a follow-up call to confirm that your issue has been resolved.
How to Contact USAA Road Assistance?
If your vehicle stops abruptly, the tire gets punctured, or you lock yourself out, then you can do three things:
Submit an online application
Or call 800-531-8722.
You can submit the online application on the official website or from the app. It is recommended you use App because it is easier to spot your location with it.
If you make a call, you will have to explain your whereabouts to the agent.
●      Is USAA Roadside Assistance Available 24/7?
USAA roadside assistance is available 24/7 for you. No matter where you reside, you will have access to the services. USAA is functional nationwide and has millions of happy customers.
That's not it.
If you are in Canada, you can still avail of roadside assistance services.
But what makes USAA so customer friendly when it comes to roadside assistance?
USAA has partnered up with Agero to provide you with the best and most affordable roadside assistance.
Agero has been in this business for over 47 years, and they have a team of experts that handles towing, unlocking the car's lock, mechanical repairing, and much more.
Problems with USAA Roadside Assistance
USAA Roadside assistance has some cons too, which you should know before you make a decision about adding it to your policy.
Assistance is for your vehicle only- USAA roadside assistance is not for you if you are riding a vehicle that is not listed in the auto policy. But if the vehicle is rented, there is an exception.
Not too many calls- If you keep contacting USAA, the company may consider not renewing the policy.
Towing is not available in some situations- USAA only offers towing if you are on or near a busy or public road. If you are far away, then the USAA service provider can't travel dozens of miles to help you.
New Key Price- As mentioned above, USAA will send a man to make a new key if you lock yourself. You will have to pay for the new key as its price is not covered in the agreement.
How Much USAA Roadside Assistance Charge?
USAA offers road assistance services to all car insurance holders. Even if they don't agree to it at the time of getting insurance, they can still include it any other time easily.
Since it is generally considered a bonus service, USAA charges very low- from $1 to $1.25 every month. When you look at the total price annually, it is even less than 20$.
The best part is that there is no extra fee or charge.
So, now you compare the price of towing the car by hiring a professional or paying the locksmith to open the locked car. It will cost you more than 10 times what USAA is charging you.
USAA Roadside Reimbursement Policy
If you want the reimbursement, you can give a call at 210-531-8722 or contact the company online. USAA only offers it if you have already paid for services outside your policy.
How to Contact USAA Roadside Assistance?
You can get in touch with USAA Road assistance by calling 1-800-531-8555. In case of other queries, the company is also here for you. Here's the list of phone numbers that you can call.
210-531-USAA (8722)
800-531-USAA (8722)
Shortcut Mobile Number:
#USAA (8722)
If you want to write to USAA, then the mailing address is:
USAA
9800 Fredericksburg Rd.
San Antonio, TX 78288
You can also go to the official website and have a live chat with the agent. USAA is famous for quick responses; hopefully, you won't be disappointed.
In addition, the USAA app is also a good option if you want to get the answers to your query. The automated chat system will help you in finding the solution you are looking for.
USAA Roadside Assistance vs. Other Competitors
USAA is indeed one of the best roadside assistance providers you can have. But how well does it look when you compare it with other services?
Here's the comparison table of USAA with the other big competitors.
| | | | | | |
| --- | --- | --- | --- | --- | --- |
| Factors | USAA | AAA | GEICO | State Farm | Liberty Mutual |
| Yearly Cost | $12-$15 | $70 | $14 | $48 | $12+ |
| Towing | Have to be near | 7 miles | 15 miles | Have to be near | 100 miles |
| Winching | If possible, yes. | If reachable, yes. | 1 hour | If reachable, yes. | If reachable, yes. |
| Mechanical Adjustment | 1 hour | 1 hour | 1 hour | 1 hour | 1 hour |
| Locksmith | Included | $50 | $100 | 1 hour | $50 |
| Battery Replacement | Not included | Included | Not included | Not included | Not included |
After comparison, it is now clear that USAA roadside assistance is one of the best in an extremely low price range.
So, if you want to add roadside assistance to your auto policy, we suggest you go for it.