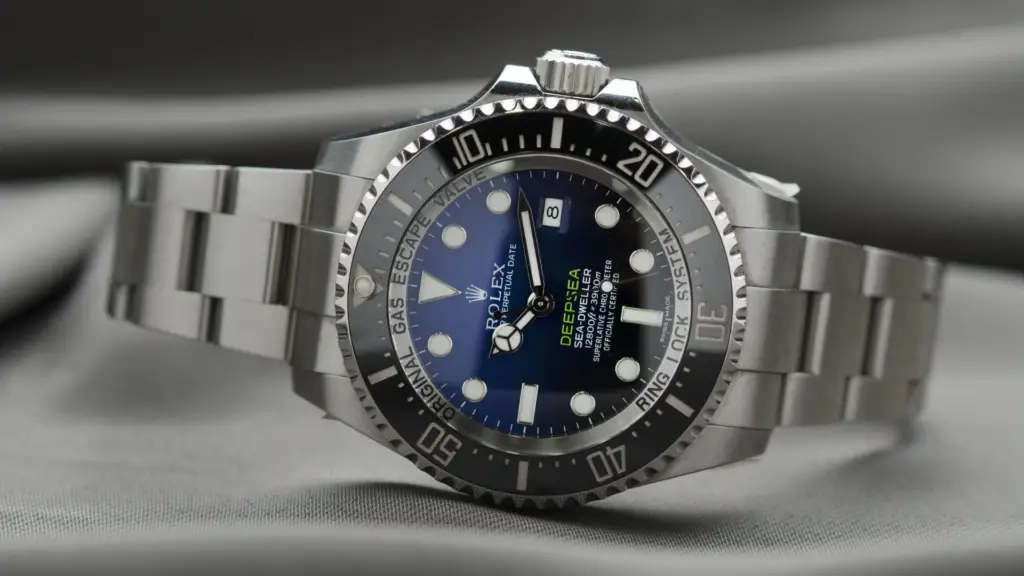 Are you planning to purchase a Rolex or just wanted to increase the inventory with your ultimate dream watch. And for this reason, there is an opportunity for those who have summed up a small amount or half to get their dream watch.
And that is the option for financing a Rolex watch. In this option, you have to pay the amount of your watch on a monthly basis.
Honestly, it's always better to buy a watch when you have full payment in hand. However, Financing can also be a good option if you are confident in paying the balance in the near future.
Paying in manageable installments for your watch can help to remain on budget and acquire watch ownership as desired. Let's have a detailed understanding of the financing methods available to buy Rolex.
Financing Methods
Typically, you would not pay the entire amount at the time of purchase if you financed a Rolex. Instead, you would make regular installment payments over a period of time. There are multiple options for you to choose from. And these methods are stated below.
In addition, there are a few things that you need to keep in mind that the cost of your watch to be financed includes interest, leasing fees, or some other financing fee whether you can pay it off within a short period, such as 90 days.
Progressive Leasing
Personal loan
Credit card
Affirm loan
Layaway program
1) Progressive Leasing
Progressive Leasing is a lease-to-own option. It can even be a viable option when your credit score is not good. In fact, it's the best option to consider when you want to take the watch home the moment you order it and not have the entire amount in your pocket.
However, it's important to note that you won't actually own a watch until a set number of payments have been made.
It's equally important to note that you will not be charged any interest cost on balance. However, leasing charges are payable. Further, a good thing with progressive Leasing is that you can avoid hefty lease-to-own program charges by paying for your watch in full in three months as opposed to twelve months.
2) Personal Loan
Taking out a personal loan means having a clear repayment plan with predictable monthly payments, and the interest rate and term are fixed. Loans of this type are frequently unsecured, meaning they don't require collateral to qualify.
However, you are expected to have a good credit score to qualify for this type of loan. although you might qualify for the loan with a bad credit score, it comes with a higher interest cost.
On the contrary, there are secured personal loans available as well. With this type of loan, you can borrow money in amounts as low as $1,000 up to $50,000 or more, and you can use it for anything from major purchases to emergency expenses and debt consolidation.
3) Credit Card
The interest cost on the credit card is higher as it is a revolving line of credit. The card can be charged for additional purchases as you pay down the balance. With an average APR across all accounts, credit cards have higher rates than other types of Financing.
Some card issuers offer fixed-rate credit cards, but most charge variable rates that are subject to change. In addition to interest, financing charges on credit cards can add up fairly quickly if you do not pay them off in full each month.
However, credit card companies offer introductory periods to customers with a good credit score. In this period, customers are not required to pay for a specific period. So, an introductory period can be used to raise finance and purchase your Rolex.
4) Affirm Loan
Affirm is one of the well-known financing companies in San Francisco that provides point-of-sale Financing to selected vendors, including some watch retailers.
Generally speaking, payments last between three and twelve months and up to 48 months for large purchases. It might be a more accessible alternative to credit cards since it doesn't compound interest.
In addition to this, a virtual VISA card can be loaded with the approved loan amount prior to checkout instead of financing your purchase at checkout. So, it can be a convenient and affordable option to consider when buying Rolex.
However, qualifying for Affirm loan is a little more complex and can be difficult to get approval if your credit score is not higher. Likewise, it's an unsecured loan which further adds difficulty in the approval process.
5) Layaway Program
Layaway programs allow you to pay for major purchases in installments, making them more affordable. When you buy an item, you put down a deposit, then make frequent payments until you're finished paying for it. Rolex layaway programs may last for only a year or longer, but layaway programs for other items may last only a few months.
Though layaway programs do not charge interest, you should expect some finance charge. Restocking fees and cancellation fees are also standard. The Company does not report your late payments to the credit bureaus since layaway programs aren't extensions of credit.
Recommended financing arrangement to buy Rolex
We recommend Rolex financing via Klarna. It's a Swedish bank that provides a payment financing facility. It has branches in countries of the world, including the USA, UK, Australia, and Europe.
Here are some of the benefits offered by Financing through arranging Rolex Financing.
Pros for Purchasing From Klarna
Here are some of the pros offered by Klarna.
Klarna does not have hidden charges, and it's one of the most desirable financing features.
It offers greater flexibility. You can opt between three different payment options. These options include pay later, slice it, and pay in 3.
Pay later = You need to pay between 14 and 30 days of making a purchase.
Slice it = Divide repayment into three equal slices. It may be over three months to three years.
Pay in 3 = Pay in 3 equal installements.
This Financing comes with the low-interest rates.
The overall financing term is 6-36 months for any standing loans
If you are not able to manage repayment, executives from Klarna understand your financial status and help improve money management.
You will get a timely reminder to ensure money is managed on a timely basis.
In case of cancellation, you will receive a 100% refund. The best part is that Kerlana ensures refunds on a timely basis.
Cons for Purchasing From Klarna
Following are some of the cons for Financing via Klarna.
The Company is not fully regulated in the United Kingdom.
Purchases made in the past are not eligible.
Customers have reported concerns about the support services offered by the Company.
For choosing the option of financing your Rolex watch, you need the help of Klarna. They offer you to purchase. All you have to do is follow the three simple steps that will allow you to enjoy the ultimate dream watch on your wrist.
The Process
Here is the simple process that will allow you to avail your Rolex watch for opting for Klarna
Choosing the watch you want is as simple as visiting website.
Fill out the Klarna billing information after selecting the Klarna option during checkout.
After clicking on Verify Checkout, you will be prompted to accept the payment plan specified by Klarna.
A Used Rolex
Another way to purchase your dream Rolex watch is by purchasing a used Rolex from any vendor in the market near you. In this way, you can save a lot of money compared to purchasing a brand new Rolex watch. And for that, you need to search the internet so that you might find your favorite watch in perfect condition.
Conclusion
Buying Rolex with cash is always the best option. However, if you have some deficit and want to get Rolex on your wrist, it can be good to look for different financing options. These options include progressive Leasing, personal loan, credit card, affirm loan, Layaway program, etc.
Depending on your circumstance and needs, different options may be suitable for you. For instance, if you have a good credit score, you should opt for the option that offers a lower cost of interest. However, vetting criteria may be difficult.
We have recommended Klarna financing as one of Rolex's best options to finance. It's because of greater flexibility, low cost, and ease of the process.
Frequently asked questions
Is there any impact of credit score while opting for Rolex Financing?
It depends on the method of Financing you have opted for. For instance, if you have opted for a personal loan, it checks your credit history and personal financial status. On the other hand, the Layaway program does not consider credit scores.
What is Klarna, and why is it considered a good option to raise finance?
Klarna is a Swedish Fintech company that helps to finance a purchase. It's well known for providing easy finance via three options: pay later, slice it, and pay in 3.
Why is Rolex so expensive?
The brand does not compromise on quality aspects of the watches. The material used by the brand is precious, durable, quality-driven, maintained, and comes with a luxury level. So, Rolex watches come at a high price.