General Motors Company (GM) offers zero percent (0%) financing on its selected vehicles. It also offers cash rebates through several special discount programs.
GM Company offers competitive and low APR on its four brands and car models.
Let us discuss GM Company's financing options, special discount programs, and its 0% financing offer.
General Motors Company – Introduction
General Motors Company or GM is an American automobile company, and it is one of the leading vehicle manufacturing companies in the world. Its headquarters is located in Michigan, United States.
GM operates throughout the world with its prominent presence in North America, South America, and Asia.
GM company owns four-vehicle brands:
GMC
Chevrolet
Cadillac
Buick
It also owns minor stakes in a few other companies.
GM motors offer different types of vehicles through its four brands. For instance, its GMC subsidiary offers a wide range of vehicles, including SUVs, trucks, cars, Hummer, commercial vehicles, and fleet vehicles.
All of its four brands offer different financing options and lease or buy programs in different locations.
Does General Motors (GM) Offer Zero Percent (0%) Financing?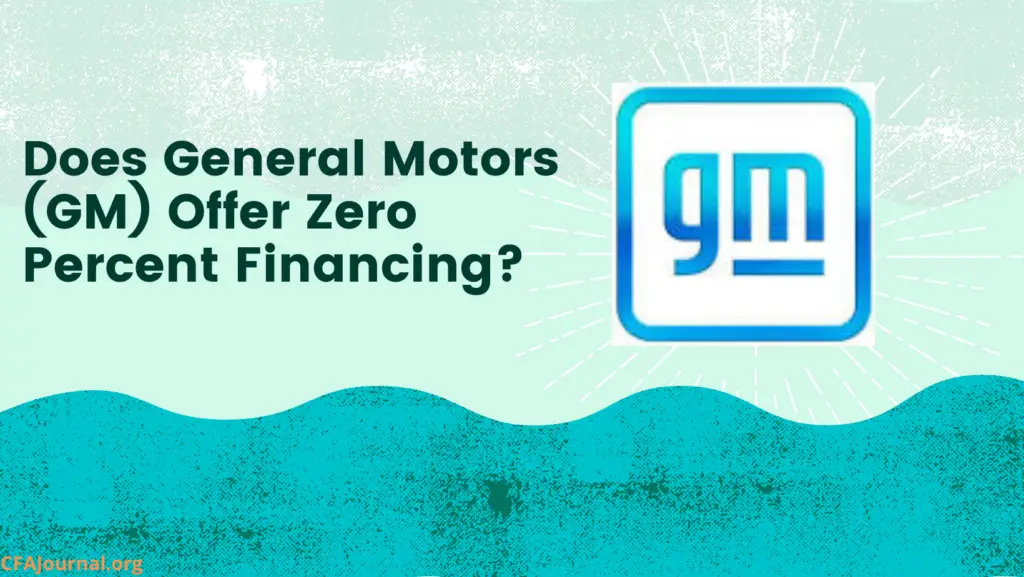 GM offers zero percent (0%) financing on selected vehicles as a special promotion. Its four brands also offer discounts and low-interest rates on different models.
Additionally, customers can avail of zero-percent financing from third-party dealers and lenders for GM vehicles.
GM financing is offered and handled by its subsidiary GM Financials. There are several discounts and special offers for customers, including 0% financing promotions on selected models.
For example, GM financials is offering 0% APR for the Chevrolet Equinox model for a 48-month credit term. Several other 0% APR and low APR financing options for all of its brands are available.
Please note that 0% APR offers change depending on your location and dealership offers as well.
GM Lease Vs Buy Programs
At GM financials, customers can apply for a lease or buy the program. Both options offer flexible options and some advantages to customers.
When to Buy?
You should choose the buy option when you need to own the vehicle at the end of the credit term. It requires a high credit score and financial stability.
The monthly installment and down payments will be higher for this option as well. Your monthly payments will cover the full cost of the vehicle by the end of the credit term.
You can get 0% APR and other incentives on a buy option as well.
When to Lease?
If you do not want to own a vehicle, you should lease it. It is a flexible and convenient offer if you only want to use a specific vehicle for the short term.
Your lease payments will only cover the cost of the lease. You can renew the lease or terminate it by the end of the lease contract.
GM Financing – Special Offers
On top of its 0% APR offers, GM financial has several special discount programs as well.
First Responder Appreciation
The first responders' appreciation program is for eligible firefighters, EMTs, paramedics, Police, and 911 staff.
This program offers different types of discounts on all four brands of GM company. There are a few cash reward programs as well.
For instance, the first responder appreciation program offers a cash rebate of $500 on selected GMC, Chevrolet, and Buick models. It offers a cash rebate of $1,000 on selected Cadillac models as well.
This program includes incentives for new and unused vehicles.
Military Discount
As the name suggests this discount program is for military and defense personnel.
This incentive is for:
US Army, Navy, and Air Force employees
US veterans retired or discharged within three years
Reservists and national guards
Coast guards
The military discount program offers a $1,000 cash rebate on selected Cadillac models and $500 on Chevrolet, GMC, and Buick cars.
This program also includes special discounts for spouses of this personnel. There are several low APR options available under this program as well.
GM Family First
This offer is for the employees and family members of GM company. Employees and their family members get special price discounts on different vehicles.
Special discounts are available for GMC, Chevrolet, Buick, and Cadillac-selected new vehicles.
GM company's Employees and their family members can combine this special discount with other seasonal or dealer promotions to save even more. For example, the combined price discount on GMC Escalade is worth $10,000 currently.
Supplier Discount
This is a similar discount scheme to the Family First Program. It is offered to employees and their family members of GM Company's supplier companies.
Special discount is also available for all four brands of GM company. Supplier company employees and their families can also combine this special price discount with other promotions.
Certified Pre-Owned Program
Certified pre-owned (CPO) vehicles offer several advantages over used cars. For instance, certified pre-owned cars offer bumper-to-bumper and power train warranties.
On top of that, the CPO program comes with special discounts and low APR offers. Customers can choose from a wide range of available car models for all four brands.
Certain models offer as low APR as 1.9% currently.
College Discount
This program offers price discounts to college students, graduates, and recent graduates on different vehicles. This discount is available for all four brands of GM company.
There is a cash rebate offer of $500 for selected Chevrolet vehicles currently as well.
College graduates can combine these offers with other dealer or creditor discounts on offer to increase their savings. However, these students need to fulfill other qualification points for credit approval.
Educator Discount
Similar to the college discount program, this educator discount program is for teachers.
Eligible teachers of public primary, secondary, or higher secondary schools can avail this discount. The special prices are available for selected new models of all four brands.
This program also includes a $500 cash rebate on selected Chevrolet models. These offers can be combined with other incentives and APR discounts offered by creditors privately.
Dealer Discount
The dealer discount is a special price discount for employees and their spouses of authorized dealers.
It means employees and their spouses can combine dealer offers with this special incentive to increase savings on selected GM company vehicles. The offer is applicable for the purchase of new vehicles only.
GM Financing Through Dealers
GM financing is simple and convenient for customers through its online application system. Several discounts, 0% APR, and several incentives are mentioned above.
Yet if you can't find the best rates offered by GM financials, you can look for some useful alternatives.
Authorized dealers and third-party automobile creditors also offer interest rates and price discounts.
For example, you can if you can qualify for an auto loan at Capital One, you'll get a 2.9% APR with an extended credit term of 84 months. Additionally, you'll get a cash rebate of $ 2,500 on the total price of the vehicle.
Third-party lenders often offer better incentives and fewer restrictions for the borrowers. The credit score requirements are also flexible through third-party dealers as compared to the direct financing offered by GM company.