Working as a food delivery person is an excellent way to earn extra money if you have some free time. There are several food delivery companies you can choose to work with, and it won't even take you long to get started. Postmates is one of the most renowned food delivery apps and amongst the best-paying companies in the United States. Are you wondering how much you can make a week with Postmates?
You will be amazed to know that, on average, most Postmates drivers can make around $18 to $25 per hour. So if you work for 8 hours a day for 5 days a week as a Postmates driver, you can earn up to $720 to $1000 per week.
So, the more hours you work and the more deliveries you make in a week, the more you can earn. Moreover, if you add in customers' tips from all the deliveries you make, you can make even more money. 
How Much Money Can You Earn In A Week With Postmates?
Most couriers seem to make around $18 to $25 per hour on average. Therefore, if you work 40 hours per week for Postmates at an hourly rate of $18 to $25, it is roughly about $720 to $1000 per week.
The good news for Postmates drivers is that they have a significant influence over the amount of money they can make. Once you become more comfortable in this line of work, you can make more deliveries in an hour.
You can use many of Postmates's incentives to your advantage. For example, they will ensure that as a Postmates driver, you will earn at least $500 if you make 30 deliveries. If your payment does not round up to $500, Postmates will make up the difference.
In addition, there are several Postmates perks and bonuses you can also take advantage of, such as an additional $2 per delivery for making deliveries during specific hours of the day. 
Can I Earn $1000 in a Week With Postmates?
As mentioned earlier, a few Postmates couriers can earn up to $200 per day and make a whopping amount like $1,000 per week. If you wish to make $1,000 in a week with Postmates, you will have to increase the number of deliveries or make $25 per hour. There are many more helpful tips on how to maximize your income on all your deliveries that can take your income closer to $25 per hour, which we will see in the later section.
How Much Money Can Actually Be Made With Postmates?
Postmates drivers are in high demand at this moment. The average yearly pay for a Postmates delivery person amounts to $38,089 in the United States of America. After breaking this down, it amounts to approximately $18.31 per hour, equivalent to $732 per week or $3,174 per month. Still, this rate varies from one city to another.
For instance, the yearly average salary of Postmates drivers in Norwalk is $42,784. In contrast, in San Francisco, Postmates drivers can earn up to $47,516 per year. The difference in rates primarily depends on the areas in which the drivers work, the number of hours, the time of the day, and of course, tips from customers.
If you plan to work during the busiest time of the day for an entire week, there's a higher chance for you to earn more than a driver who only works once a day for 3 days per week.
How to Make More Money on Postmates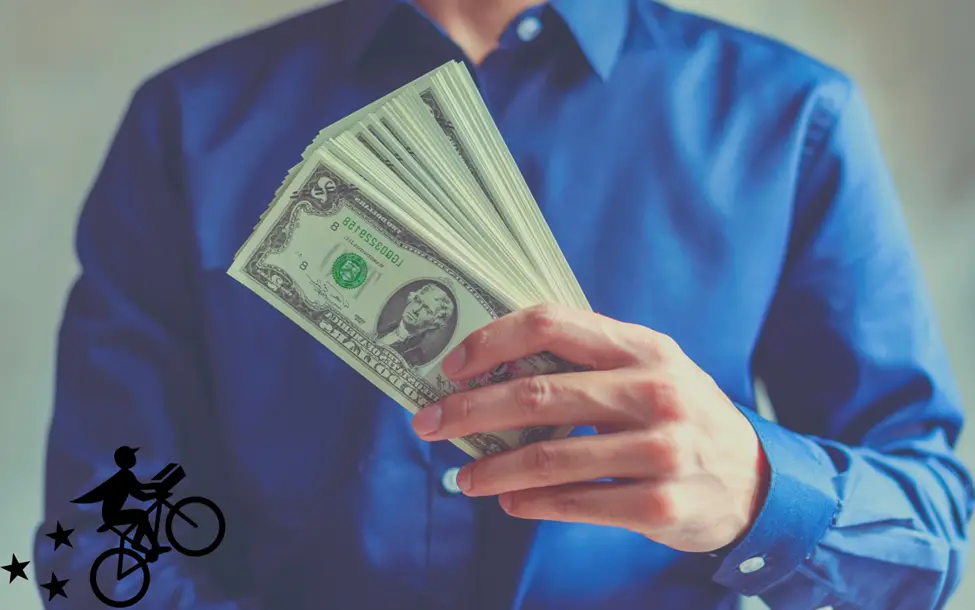 Doing regular shifts is simply not enough to earn a decent income, even with Postmates. With a bit of extra effort, this can be a worthwhile job. There are various useful tips that you can abide by to make more money as a Postmates driver.
1.     Deliver in Hot Spots
You can observe the areas within the Postmates app with the highest demand for deliveries. This way, you'll receive more orders. However, this can only work if you stay close to those areas during the peak hour. Bike deliveries can be extremely convenient in this scenario as the bikers can swiftly navigate the hot spots and deliver there. 
2.  Drive during Peak Hours
The ideal time to make more money with Postmates is to work during peak hours, mainly during dinnertime and lunchtime. According to the Postmates site, the peak hours are Lunch (daily) from 11:00 am – 2:00 pm and Dinner (daily) from 5:30 pm – 9:30 pm.
During these periods, the Blitz pricing method is summoned, in which certain deliveries are pricier due to high demand. It's much like surge pricing, except it only works for specific deliveries.
3.  Take Advantage of Incentives
Postmates only provides incentives and bonuses to its drivers for deliveries that are completed within a particular area and time. They also have a definite amount, which the drivers can earn after accomplishing a specific number of deliveries at a particular time. You mustn't take advantage of the incentives offered by Postmates to cover your personal expenses.
4.  Drive Less
You should spend more time waiting to get deliveries and less time driving around. It makes sense to move around if you are about to get any deliveries and until something comes up.
However, the most ideal thing to do in such scenarios is to wait up at any delivery hotspots where you think you might get more deliveries.
Keep a lookout on the Postmates app for places that need more delivery persons and go there. This will help you make more money and minimize your gas expenses.
5.  Take Multiple Requests
One of the best ways to make more money with Postmates is to take multiple deliveries. You can efficiently work to get in more than one order from a restaurant at once via batched or chained deliveries. This way, you will be able to fulfill more deliveries in a lesser amount of time and make more money. 
6.  Give the Customer a Receipt
Handing over the restaurant receipt to customers has encouraged them to give more tips. This is an excellent way to earn extra cash. Customers genuinely appreciate accountability, and when they sense they are not being taken advantage of, they will gladly do the drivers a favor by leaving them a tip. 
7.  Use a Fuel-Efficient Car
Try to travel in a car that does not require a significant amount of gas. This way, your gas expenses can be saved, and your earnings can be maximized.
8.  Provide Excellent Customer Service
Lastly, it is essential to provide brilliant customer service to your customers during all your deliveries. Anyone with top customer service skills can make a significant difference. You can use maps to help you reach your drop-off locations faster, communicate with your customers to make speedy deliveries, and offer serviette or spoons.
What are the Pros of Working on Postmates?
There are various benefits to working as a driver for Postmates, from having an attractive pay scale to having your own flexible work schedule to using bikes instead of cars. Here are some benefits available for Postmates drivers. 
1.  Doesn't Require a Car
The best thing about working with Postmates is that drivers do not need a car. Anyone with a scooter or a bike can easily sign up as a Postmates driver.
You just won't be able to make deliveries in distant places. However, as long as you position yourself to make deliveries in busy places during peak times, it should not be a problem. 
2.  Flexible Work Schedule
As a Postmates driver, you are free to set your own schedule, have flexible working hours, and work at any time that is best suited for you. You aren't required to put your schedule ahead of time like the other delivery services and do not have to work daily at the same time.
This makes it incredibly convenient for people with full-time jobs to have a side hustle. This allows them to earn money without any pressure. 
3.  Blitz Pricing
This pricing strategy refers to more significant prices during peak hours. The Blitz pricing makes it possible for drivers to earn significantly more money during the busiest times of the day. It also signifies making swifter deliveries and more working drivers. The prices during this time frame can escalate by up to 50%.
4.  Attractive Pay
Postmates offer more enticing rates than their rivals do. The delivery incomes for some drivers can be as much as $18 per hour. If done right, you can earn more while working fewer hours.
5.  Instant Payments
Postmates drivers can get their payments whenever they want. This makes it super convenient for them to cover other costs and settle bills in time. The other delivery service providers offer payments in 7 or 14 days in the form of direct deposits.  
6.  Distance Affects the Delivery Fees
The delivery fees primarily depend on the distance of the pick-up or restaurant location to the delivery place.
Wrapping Up: Is Working on Postmates Worth It?
Working with Postmates is deemed an excellent job for part-time workers. Hence, it is certainly worth it. It does not require any investment, and it takes mere days to get started. It's an excellent job opportunity for students who wish to make extra money as there is no need for you to have a car to get started.
Moreover, you can work on your own schedule and do not need to be confined to the same schedule every day. Overall, Postmates is one of the best income sources for part-time and full-time gigs. After all, the amount of money you can make mostly depends on how motivated you are to take up multiple delivery orders and work during rush hours.