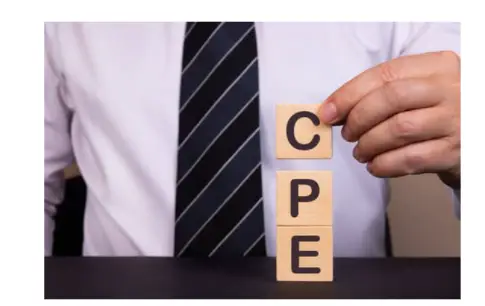 Introduction
CPE I abbreviated as continued professional education. For accounting professionals, even after they earn their degrees such as CPA (Certified public accountant or CMA (Certified Management accountant), to continue their education and keep on earning new and official certifications.
All professionals such as lawyers or doctors, and even accountants require that they continue their professional training if they want to retain their license. For accounting professionals, it is a basic requirement so that they remain up to date on all the new trends of accounting. The AISPA, NASBA, and IMA which are huge international accounting institutes, and regulate the accounting profession have all certain requirements regarding the CPE.
The accountants must earn a certain number of credits each year if they want their license to not get expired. Every accounting institute also provides a certain list of degrees or certifications which are recognized by these institutions, which an accountant can take each year to keep their license.
You get a single credit for every 50 minutes of coursework. The credits can be gained from doing a CPE coursework or it can also be gained through attending conferences or events.
The Best Places to get CPE credits for CPA
The five best places where you can get CPE credits for CPA are given in figure 1 below:
Figure 1: Top 5 places to earn CPE credit
The five best places where you can get CPE credits for CPA are the Corporate finance institute, price water copper house, Deloitte, Ernst & Young, and the American Institute of Certified Public Accountants. All five of these places provide some free courses which can help you gain CPE credits for your CPA. Some details about these institutions and some of the courses offered by them are given below:
Corporate finance Institution
Corporate finance institution or CFI provides various financial modeling and valuation courses. It is one of the biggest institutes which provide these services. Some of the world's top banks are clients of the CFI. It also provides its services to investment banks. Certifications from the CFI are recognized globally. So, it is one of the best places to get CPE credit for CPA. CFI is also a recognized body from the NASBA.
The Corporate financial institute provides a total of five courses which amount to a total of ten and a half hours. The free credit courses provided by the CFI are Excel crash course which is for three hours, Introduction to Corporate Finance which is for two and a half hours, fundamentals for credit which is for one and a half hours, a form of business structure which is for an hour, and finally Introduction to derivatives which is a two and a half hour course.
The total amount equals one hundred fifteen and a half hours for both paid and free courses provided by the CFI.
Price Water Cooper House
Price water Cooper house or PwC is one of the big four accounting firms. It has a base in almost every country. Some of the biggest PwC clients belong to the Fortune 500. Due to such a huge reach, PwC knows what is required of a professional accountant and provides free courses based on that. PwC has a huge amount of databases.
PwC provides both on-demand courses, and also seminars, both of which can earn you credit for your CPA.
PwC divided its courses into three types:
Webcast: These are online seminars and courses.
Public Seminars: These are publically held seminars.
CFOdirect: Both online courses and seminars related to the CFO.
Deloitte
Deloitte is also one of the big four accounting firms like PwC, but it is even older than Deloitte. It also has some of the world's biggest corporations as its clients, and it also regularly audits various governmental institutions to check for any financial mismatches. Deloitte just like PwC has built a library of large databases which is extremely useful and helpful to help you get CPE credits for your CPA.
Some of the courses offered by Deloitte include Special Editions
China finance course, courses for Financial executive, courses for Human resource executives, courses for tax executives, some other Industries related courses and
Private Companies accounts courses.
Ernst & Young
Ernst & Young or EY is also one of the big four with Deloitte and PwC. But, one of the main differences is that it is a provider of various professional services instead of accounting services like Deloitte and PwC. By providing a diverse set of professional services, EY has grown into one of the biggest providers of free and paid courses for the CPE credits, especially for accountants.
Ernst & Young provides a range of free courses online. These courses are eligible for CPE credits for CPA. Furthermore, these are free. Some of the free online courses offered by Ernst & Young are accounting, transactions, and tax services; industry-specific courses for oil, auto, banking, mining, and insurance; some governmental topics such as Medicare.
AICPA
American Institute of Certified Public Accountants or AICPA has developed more than three hundred courses that will help you with your credits. AICPA accreditation is also accepted widely. All the courses are designed by experts who are considered elites in their field. As AICPA sets many accounting standards, which are then even followed by the big four accounting firms, it is a good idea to get your credits by taking one of the courses provided by the AICPA.
Some of the courses are free, while other courses are to be paid for. By going to the website of AICPA you can access the free courses.
Conclusion
It is a mandatory requirement for professional accountants to get their CPE credits. If every year certain numbers of credits are not gained by the accountant, the accountant's license can be canceled. Luckily, there are many great resources, both free and paid, which can help you earn the CPE credit easily.