The Ollo credit cards are pretty famous, but they're not the best in the market. Still, the cards are used by many people. It's natural to be confused when trying to figure out the basics of a credit card.
The Ollo cards are handled by the Bank of Missouri and have two standard options, though not everyone can get them.
Key Takeaways:
To log in, all you have to do is visit their website and enter your details. If you have trouble with anything, you can contact their customer service.
While Ollo cards aren't the best on the market, they have a relatively simple process and aren't a bad choice for those with a good credit score.
Ollo Credit Card Payment by mail can be sent to this address: Ollo Card Services  | P.O. Box 660371 Dallas | TX 75266-0371
Here are a few details about how the Ollo credit card works.
The Two Types of Ollo Credit Cards
There are two Ollo credit cards; the Ollo Platinum Card and Ollo Rewards Card.
Although Ollo isn't a bank, the cards are issued by the Bank of Missouri, and their primary feature is that they're invitation-only. This means you must be preapproved before applying for the card.
The Ollo Platinum card is a basic credit card with no intro offer or system. It has basic Ollo features like an automatic credit limit review and has the exact APR as the Rewards card.
The Ollo Rewards card isn't the most competitive option since it only has a rewards rate with a 2% cash back at drugstores, gas stations, and grocery stores. It has a 1% cashback for all other purchases.
However, there's no expiry date for the rewards, no limit to redeeming the points you accumulate, and zero fraud liability even if there's no intro offer. The company focuses on transparency and ease, so these features help validate that claim.
How the Ollo Credit Cards Work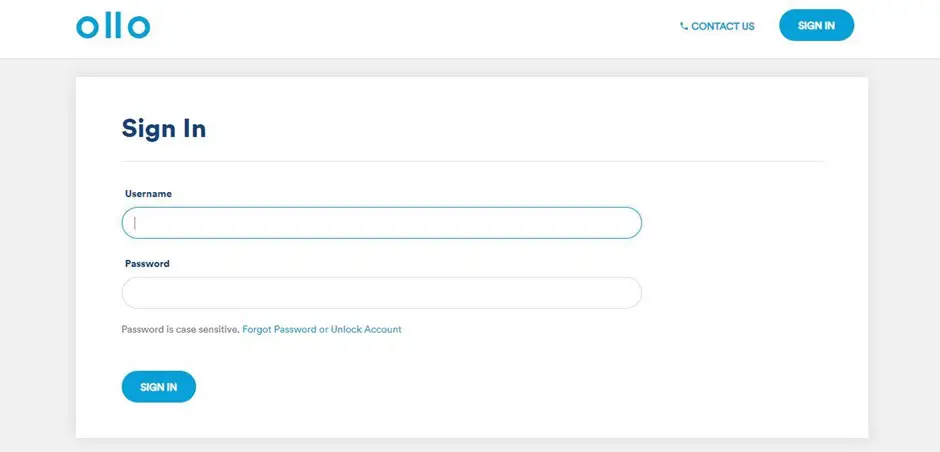 Since it's an invitation-only card, you'll need an invitation code and reservation number to access your account.
To log into your Ollo Credit Card Account, you have to:
However, if you haven't set up online access for your card yet, you can follow the steps outlined below:
Click on the Enroll here option that is under the login section
You will be directed to five steps that are necessary for registration.
You have to enter your personal details and set up your terms.
Next, you can set up Your Ollo account.
Finally, select your settings and you are all set to log in.
Once you've followed the instructions to sign up, you can use your username and password to log in online whenever you need. The option is on the top right corner of their website, and you can save your information on your device.
To activate your Ollo card, you'll need to enter their activate panel and enter your last name, date of birth, and the final four digits of your SSN. Next, you'll enter your Ollo card's 16-digit number and expiration date to activate it.
What Are the Basic Features of an Ollo Credit Card?
The card has no hidden fees, a meagre annual fee on the Rewards card, and valuable cashbacks.
As mentioned, there's no annual fee on the Platinum card. Both cards also let you see your FICO score (Fair Isaac Corporation) for free on their website.
Apart from no hidden fees, there aren't any excessive penalties, even for late payments or costs for foreign transactions.
Another attractive aspect is that you don't have to apply to increase your credit limit, which usually has a base limit of five months before you're eligible.
Even if you don't request it, your limit automatically increases as long as you have a good credit record.
Payments and Fees on an Ollo Credit Card
As mentioned, the annual fee ranges from $0 to $39, and minimum monthly payments depend on your card and limit.
The Platinum card doesn't have an annual fee, while the Rewards card can go up to $39 because of the added benefits. The cost is non-refundable and must be paid even if you cancel the card afterward.
Ollo also applies transaction fees. The fee for balance transfer is either $5 or 4% of the amount of each transfer, depending on which amount is more significant. There's also a fee on cash advances with a $10 minimum or 5% of the advance.
However, one perk that comes with both cards is that there's no fee for foreign transactions, which makes sending money overseas much more accessible.
There's also no over the limit or returned payment penalty fee, though there's a late fee of up to $40. You'll be charged $29 the first time you fail to make the minimum monthly payment and $40 every other time within six billing cycles.
If your New Statement Balance is lower than $27, then the minimum payment becomes the new balance. Otherwise, each month you'll receive your minimum with your bank statement.
This number will be over $27 or 1% of the New Statement Balance, including any late penalty and interest charges.
There are 3 ways you can pay for your Ollo Credit Card:
Online– Through Ollo's website or its mobile app. Play Store Or App Store
By phone– You can call the number on the back of your card and follow the instructions. 1-877-494-0020 or 1-877-494-0020
By mail– You can get a money order or a cashier's check from the bank or post office at this address: Ollo Card Services  | P.O. Box 660371 Dallas | TX 75266-0371
Interest in Ollo Credit Cards
There's a relatively high interest rate on Ollo credit cards, ranging from 24.99% to 28.99%.
Their website cites that this number depends on the Prime Rate (the lowest rate for commercial money borrowing). Their APR applies to all purchases, cash advances, and balance transfers. However, there's no penalty APR.
Their minimum interest is $1.50, and their due date is 25 days before the end of a billing cycle.
Another aspect to remember is that you won't be charged the APR on purchases if you pay before the due date, while cash advances and balance transfers are imposed once you make the transaction.
Ollo also uses Daily Periodic Rates to calculate interest over each day like other banks, though everything is listed once you receive your monthly statement.
The statement also has essential information like your minimum payment and when it's due.
How Good is Ollo Customer Service?
There have been some complaints saying that customer service is slow, but Ollo provides 24/7 support to their customers.
Although Ollo provides customer service and has its number and address listed on its website, many customers have stated that the issuer's support is insufficient.
Ollo's parent company, Fair Square Financial Holdings' chief marketing officer Florian Egg-Krings said they were working on improving the customer experience using surveys and data.
How to Cancel Your Ollo Credit Card
You must contact customer service to have your Ollo card cancelled.
It's relatively easy to cancel your card since you only have to inform customer support. However, you must remember that if there's any balance remaining on the account, you're still liable to pay it.
You have to make at least the minimum payments until it's paid in full, or you'll be charged the late fee.
FAQs
What Does Being Pre Approved for the Card Mean?
Simply put, being pre approved for the Ollo credit cards means you're a valued customer.
If a credit card issuer sends you a message that you've been preapproved for a card, you're associated with the organisation.
They've sent you the offer because they know what sort of customer you are and consider you valuable for their business. It also helps companies determine which customers won't cause issues down the line. Currently, the Ollo cards are invitation-only.
What is the Credit Limit on Ollo Cards?
Ollo credit cards have a limit ranging from $500 to $3500.
The issuer sets a credit limit, the maximum money the holder can spend on the card.
This number largely depends on the holder's previous card history and whether they're good at handling credit. One aspect is that you must have made all payments on time and never have gone over the limit.
The better your record, the higher your limit and the more likely a request for an increase will be approved.
How Often Does Ollo Increase the Credit Limit?
You can apply for an increase in credit limit five months after issuing your card.
But remember that this increase depends on many factors since you must prove that you can handle the higher limit. You'll be approved if your card history shows that you're good at managing credit.
If you have the Ollo Platinum Card, you won't have to apply for an increase because they'll do it automatically if you don't pass their limit.
How Will I Receive My Monthly Statements?
Ollo will send a billing statement at the end of each month to give you a record of your account.
The account must have a credit or debit balance of over $1, disregarding any interest imposed. It'll list aspects like the New Statement Balance, your credit limit, how much is still available, and any interest assessed.
The statement also lists the minimum monthly payment and when you must pay it.
One aspect you should remember is that the interest and any fees won't be stopped if you don't receive a monthly statement. So, you must contact customer service if you don't get yours.
How Can I Get a Cash Advance Using My Ollo Credit Card?
You must contact customer service to get a PIN if you don't have one and select the cash advance option at an ATM.
You'll be able to select how much you need quickly. But remember that it's an expensive transaction because there's a 5% cash advance fee with a $10 minimum limit. There's also an APR of 24.99% to 28.99%.
On top of that, you might also have to pay ATM-owner fees, which makes the entire transaction pricey. Consider these factors carefully if you're using the Ollo Platinum Card for a cash advance.