E*Trade does not offer direct investment options for cryptocurrencies. NFT trading is also not supported currently at this leading platform.
Let us discuss how you can buy cryptocurrencies through E*Trade and your alternative options to buy NFTs.
What is E*Trade?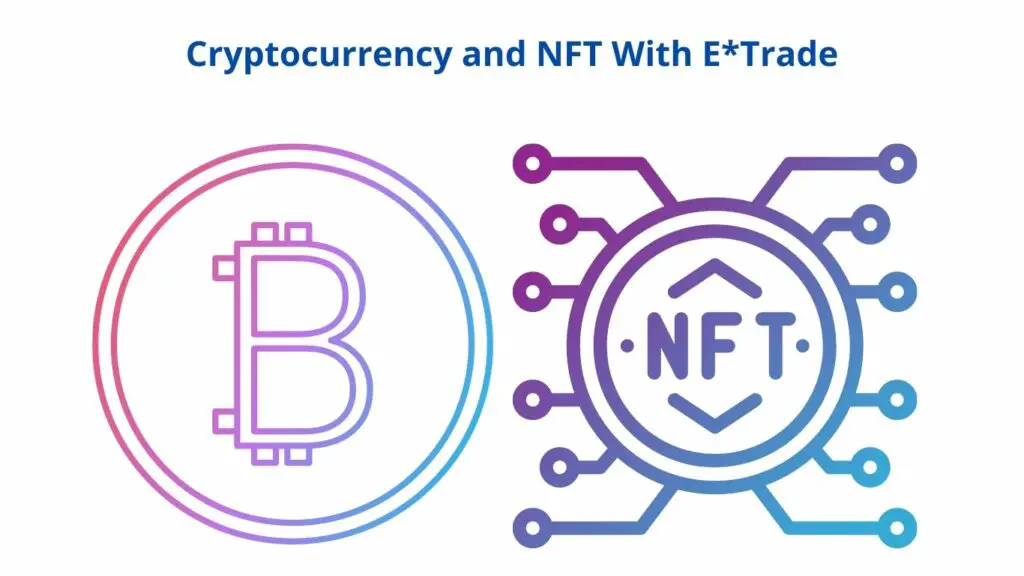 E*Trade is one of the leading stockbrokers in the world. It is a US-based broker and was founded in 1982. It has established itself as one of the leading online brokers since then.
E*Trade offers a wide range of US stock exchange products. It serves both individual and corporate investors.
Traders can buy and sell almost any stock exchange assets through this platform. It offers its services through two versions of trading platforms E-Trade and Power E-Trade.
E-Trade offers:
Stocks
ETFs
Bonds
Commodities
Cryptocurrency (derivatives)
Futures
Notably, E*Trade does not offer Forex and Cryptocurrencies for trading. Traders can only use trade derivative products like ETFs and Futures to trade forex and cryptos at E*Trade.
E*Trade offers comprehensive educational material, guides, and support to all kinds of traders. It comes with competitive pricing and a user-friendly trading platform that suits the needs of traders at different expertise levels.
This trading platform is suitable for beginners and traders looking for low-commission costs. Its trading platform also offers good market research tools and an easy-to-use interface.
Can you Buy Cryptocurrency with E*Trade?
Traders cannot buy cryptocurrency with E*Trade. Like most conventional trading platforms, it does not support crypto trading directly.
Conventional stock trading platforms offer stocks and derivative products. Similarly, E*Trade offers derivative products for cryptocurrency trading to its users.
Here are your two options if you want to invest in cryptocurrencies through E*Trade.
Cryptocurrency Futures at E*Trade
Futures are derivative products that derive prices from an underlying asset. Thus, a cryptocurrency future will follow the price of an underlying cryptocurrency.
Futures can be used for hedging against potential risks of price movements of an asset. However, experienced traders also use Futures for speculations and profits.
E*Trade offers cryptocurrency Futures. These contracts allow investors to own cryptocurrencies without owning or storing digital assets directly.
Top cryptocurrency Futures available at E*Trade include:
CME Micro Bitcoin contract, 1 Bitcoin (/MBT)
CME Bitcoin contract, 5 Bitcoins (/BTC)
CME Ether contract, 50 Ether (/ETH)
CME Micro Ether contract, 0.1 Ether (/MET)
One drawback of using cryptocurrency Futures is the settlement is made in the cash. It means traders do not receive Bitcoins at the end of the contract expiry.
Cryptocurrency Unit Trusts at E*Trade
The second option for you to invest in cryptos through E*Trade is through unit trusts.
Unit trusts are managed funds that track the performance of an underlying asset. These funds can be compared with mutual funds or ETFs but with varying characteristics.
Cryptocurrency unit trusts track the price and performance of crypto assets. Investors can buy a fraction of a digital asset by investing in these unit trusts. Investors do not need to own or store digital assets through this method as well.
Top unit trusts available at E*Trade are:
Grayscale Bitcoin Trust
Riot Blockchain, Inc.
Overstock.com, Inc.
MicroStrategy Incorporated
Osprey Bitcoin Trust
Both of these methods do not offer direct cryptocurrency investment options. Investors do not need to own a digital wallet or buy a full crypto asset through E*Trade. However, as with any other derivative trading, the profit and loss would vary and follow the trends of the underlying asset.
Can You Buy NFT with E*Trade?
At the moment, E*Trade does not offer non-fungible tokens (NFT) investment options. NFTs are another form of digital asset that represents the digital version of another asset like art, music, paintings, and so on.
Investing in NFTs requires opening a digital wallet. E*Trade does not offer digital wallets at the moment. It means you cannot directly own cryptos and NFTs through the E*Trade platform.
A key distinction of NFTs from other types of digital assets is these assets are non-fungible. It means every NFT is unique and cannot have an identical replacement like fiat currencies or Bitcoins.
Where You Can Buy Cryptocurrencies?
Although you can invest through ETFs and unit trusts to invest in cryptocurrencies with E*Trade. There are specialized trading platforms that offer to invest in cryptocurrencies directly.
Here are a few major crypto exchanges.
Binance
Binance is one of the leading crypto exchanges in the world. It is an established crypto exchange that offers an excellent trading platform and a mobile app for crypto traders.
Binance has the largest collection of digital assets. Moreover, you can also trade NFTs through this platform.
KuCoin
Kucoin is another major crypto exchange where traders can buy and sell digital assets. It offers an excellent trading platform and comes with a simple user interface.
Kucoin also offers intuitive mobile apps that enable users to trade cryptocurrencies from anywhere at any time. It also offers competitive pricing and a good range of digital assets.
The NFT trading is currently through a newer version of the NFT gaming option.
Kraken
If you are looking for another one-stop shop for cryptocurrencies and NFTs, you should look at Kraken. It is one of the leading crypto exchanges outside the US.
It comes with a wide range of learning and support materials for beginners. Its minimum account opening balance requirement is only $10.
Traders can buy from a limited and curated list of around 65 cryptocurrencies. NFT trading is also available at Kraken.
Coinbase
Coinbase comes with some distinctions from other digital asset exchanges around.
You can buy, sell, and store cryptocurrencies using Coinbase. It offers a trading platform as well as digital wallets to securely store your digital assets.
Similarly, you can create, sell, and buy NFTs at Coinbase. It offers a comprehensive trading range of products for individuals, business users, and developers as well.
FTX
FTX is another well-known cryptocurrency exchange despite a young history. It is a growing digital asset trading platform.
It offers a wide range of cryptocurrencies, derivatives, and digital tokens for its investors. Traders enjoy a clean and user-friendly trading platform with excellent trading tools.
FTX also offers some unique products like token leverage, OTC transactions, tokenized equity, and prediction markets.
You can trade both cryptos and NFTs at FTX.
How to Buy NFTs?
Trading NFTs is still an anonymous process for young traders. Creating NFTs and trading them are different experiences and require different platforms.
However, some leading platforms like Coinbase offer both services of creating and trading NFTs. We have listed above a few top exchanges that offer NFT trading.
Here is a brief guide on how to buy NFTs.
Find an Ethereum-compatible crypto wallet to buy NFTs. You'll need to buy Ethereum tokens to purchase an NFT as well.
An NFT built on Ethereum will usually require Ethereum tokens for a purchase transaction. Similarly, other NFTs may require other types of digital tokens.
Choose from one of the NFT marketplaces available at your selected trading platforms. Some of the leading NFT marketplaces are Opensea, Rarible, Mintable, etc.
Browse the NFT collection and find your favorite NFT item. The prices can vary from zero to millions.
You'll need to pay through a digital token like Ethereum for the NFT price plus the trading commission of the marketplace.
The selling of an NFT would follow similar steps as well. However, selling an NFT takes through a bidding process usually at NFT marketplaces.